We also have an API available if you have an external or customized solution to sell digital downloads with Shopify.
Getting started – Quick overview
Scroll down for an in-depth walkthrough. Please get in touch with us if you want any help with the setup.
After you have added products to your Shopify store, setting up the app is as simple as this:
1. Upload
Upload your digital assets to the app.
2. Attach
Attach those assets to your Shopify products or variants.
3. Customise
Customise your settings & branding.
Tutorials for specific requests:
Be sure to check our Shopify Academy if you want to learn more about setting up your Shopify store.
1. Install the DDA app to your Shopify store
Go to the DDA page on the Shopify app store and click the "Add app" button. You can install the free plan for now, or you can get a 7-day free trial.
Once installed, please follow the next steps.
2. Ensure you have products set up in Shopify
I assume you have already set up your products in Shopify. If you haven't, simply go to:
Shopify dashboard
Click on "Products"
Click on the "Create product" button
Make sure you mark the product as "Digital" if it's only a digital product. All you need to do is, go to the "Shipping" section and uncheck the option "This product requires shipping".
Marking the product as digital and that they don't need to be shipped allows the DDA app to fulfil the product in your orders automatically and disables the shipping email from Shopify. If the product is physical, then that is fine. Digital files will still be delivered.
Learn how to set up variants on your Shopify products.
3. How to set up the app
Step 1 – Upload your digital assets
From your Shopify dashboard, go to the "Apps" in the left navigation, and open the app.
Once you are in the app, go to the "Assets" page
Click the 'Upload new assets' button. From here, you can follow the steps to upload your assets/files or attach external URLs as assets.
Check our upload troubleshooting guide if you have trouble uploading.
Step 2 – Attach the uploaded assets to your Shopify products
Please make sure you have created your products in your Shopify store. Our app automatically syncs all your Shopify products to our app, making it easy to attach assets to them.
Method 1 – from the asset page
Click on the blue asset link after upload
Use the search box/drop-down to attach the asset to products
Method 2 – from the product page
Go to the 'Products' page
Click on your chosen product that you want to attach assets to
Use the search box/drop-down to attach assets
Step 3 – Customise your settings
Now you have to set your settings so your customers receive their delivery when they place an order. You can upgrade to unlock more features (already installed? Upgrade here), such as:
Find out the best practices to prevent customers from sharing digital products. Learn more by seeing our professional guidance on 19 mistakes to avoid when selling digital products.
Go to the 'Settings' page. Please take your time to go through these settings and make sure they suit your store. Example of the settings page on the Premium plan:
Step 4 – Read our Checklist! Be ready for digital products
We would highly advise you to read our 'Setup checklist' after installation. This ensures your store is set up correctly to deliver digital products without issues.
For example, some stores are set only to collect phone numbers on an order. This needs to be changed to collect emails so we can email the digital downloads to your customer. You can learn how to do this in the checklist.
Video Walkthrough
How will my customers receive their downloads?
Your customers can receive their downloads in three methods:
Via email
DDA's Email (enabled by default)
Via email using DDA's email delivery system.
Download emails are enabled by default upon installation and are available for all plans.
Learn how to disable the DDA email delivery.
Shopify's Order Confirmation Email
You can also add download links to Shopify's Order Confirmation email.
Order status Thank You page downloads
On the 'Thank you' Order status page after purchase (available on the Basic plan or higher). Already installed DDA? Upgrade here.
Learn how to enable Thank You page downloads.
This option uses a download box. Learn how to customise the download box text.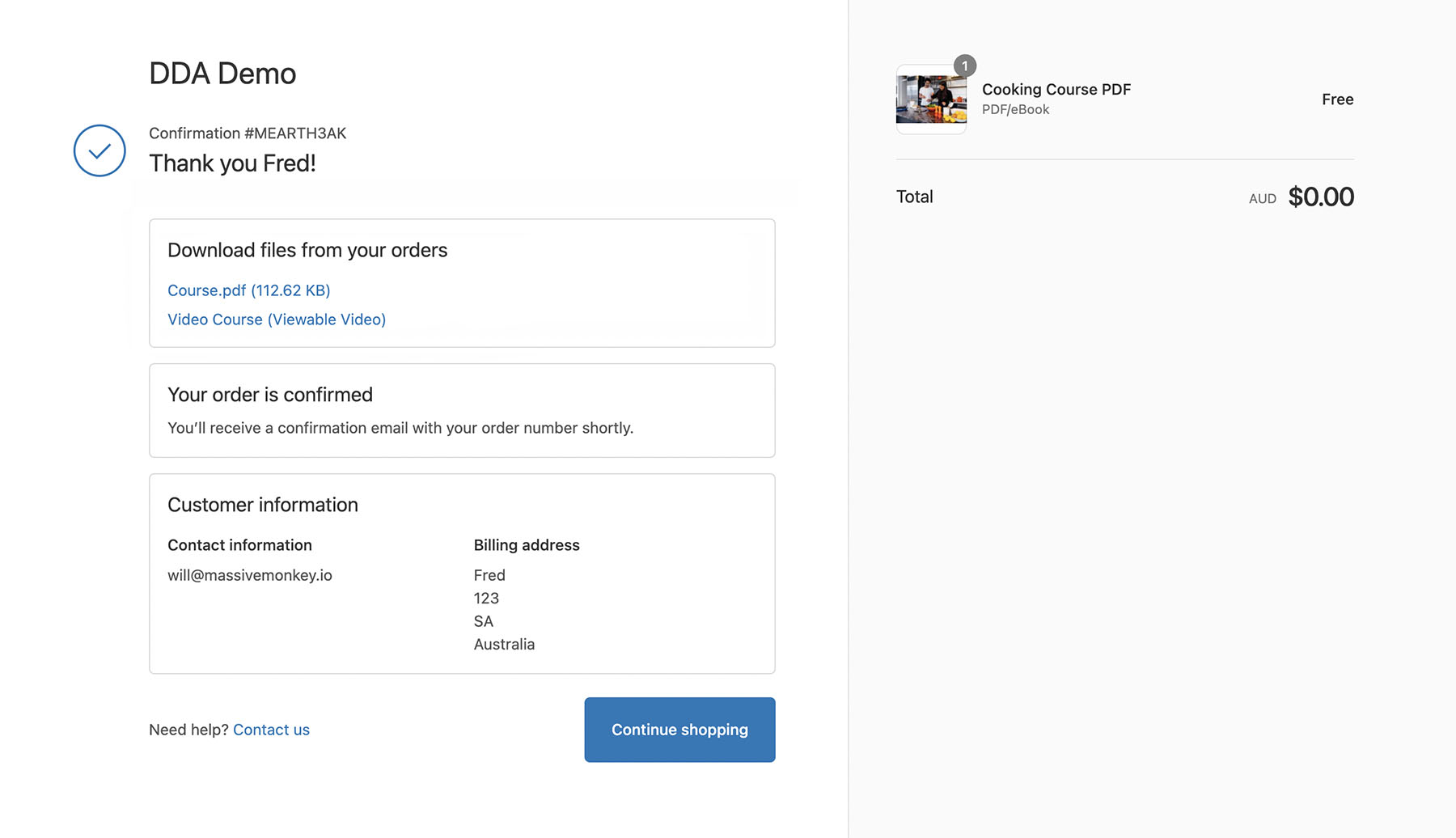 Customer accounts downloads
In the customer accounts order pages (available on the Premium plan). Already installed DDA? Upgrade here.
Learn how to enable customer account downloads.
If your customers didn't create an account at checkout, you could tell your customers that they can create a customer account using the email that they used to purchase. This will automatically create an account with their order inside.
This option uses a download box that uses the styling of your website's CSS. Learn how to customise the download box.
You can also use a customer account designing application called CustomerHub with DDA if you want to build your own customer accounts.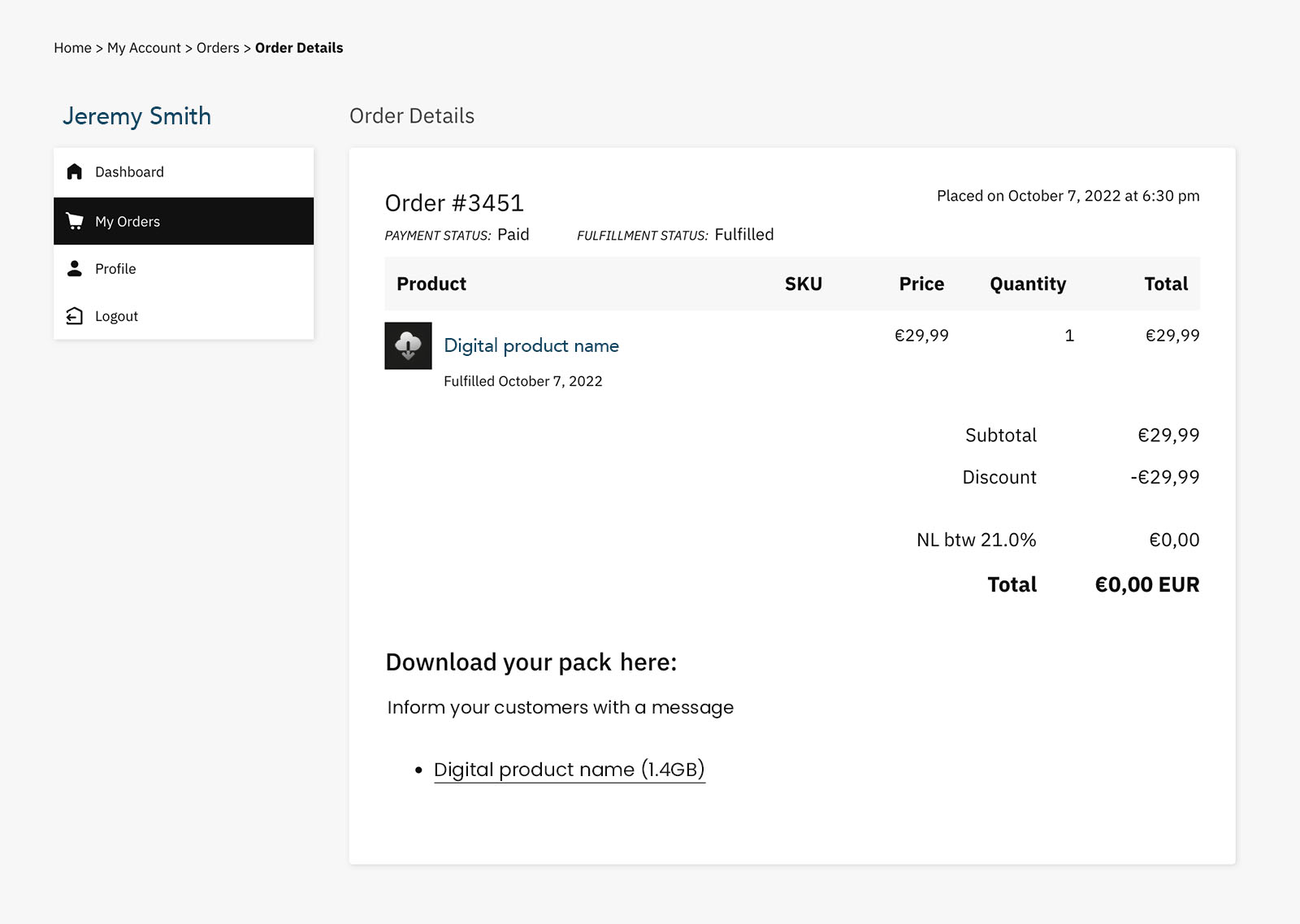 Recommendations
Add download info to Shopify's order confirmation email
I highly recommend adding information about the downloads in your Shopify Order Confirmation email template.
Shopify's email domain has a very high deliverability rate and rarely falls into spam. When using your custom email, there's a chance your emails could fall into the spam folder. Here you can add information telling your customers where to find their downloads.
Learn how to add information & download links to the Shopify Confirmation email.
Troubleshooting download issues for customers
In some rare cases, customers may run into download problems. This is usually caused by old browsers or operating systems that just need a quick restart. You can send the customer this download issue troubleshooting guide to find out what the issue could be.
Improve your knowledge
Things to know:
Upload & sell any file type or size (within your plan limits)
We use ultra-fast & secure download servers
We don't add code to your theme (unless you add customer account downloads)
Learn how to upgrade or downgrade your plan easily.
Some customers abuse the rules and learn how to block their downloads.
There are a few essential methods to help protect your digital products from fraud.
Learn from the experts in selling digital downloads online.
Final words
If you get stuck, just contact us, and we are here to help!