Die vertrauenswürdigste App für digitale Downloads Shopify
Integrate with your Shopify store & improve your customers' download experience selling digital products.
Created by Shopify experts.
DDA - A Shopify Digital Downloads App
Join us with the most advanced digital product delivery app on Shopify. Automatically deliver secure download links to your customers with our high-grade server infrastructure. It doesn't matter if you sell 1 or 100,000 products per day – everything is automated and reliable.
Don't worry about excessive bandwidth costs. Sell large digital files easily.
Stamp your customers' details on the PDF pages to prevent file sharing.
Keep an eye on your stats to understand how your customers are downloading.
Easily change the language of your messaging for your customers.
Easily sell digital products as pre-order and deliver the files on a set release date & time.
Deliver your digital products inside the customers' accounts portal.
Secure your precious digital products with our high-end secure system.
Set a limit on how many IP addresses can download files per order to prevent file sharing.
Enhance your Shopify Digital Product Delivery
Upgrade from Shopify's "Digital Downloads" app and get a more reliable experience with scaling options to grow.
Catering for everyone. Sell large files without worrying about hitting limitations. Give your customers the best experience.
Wir haben uns in das Betrugssystem von Shopifyintegriert, was eine vollständige Kontrolle über die Download-E-Mails ermöglicht.
Lassen Sie sich benachrichtigen, wenn eine Bestellung als Betrug mit hohem oder mittlerem Risiko eingestuft wird, und halten Sie die automatische Download-E-Mail an. Sie können dann die Download-E-Mail senden, sobald Sie sichergestellt haben, dass es sich um eine echte Bestellung handelt.
PDF-Stempeln ist wichtig, um Ihre Downloads vor Urheberrechten zu schützen. Dadurch wird verhindert, dass Kunden ihre PDF-Dateien mit anderen teilen, indem ihr Name, ihre E-Mail-Adresse und ihre Bestellnummer auf die PDF-Seiten gestempelt werden.
Sie können die PDF-Datei auch sperren, so dass sie von Ihrem Kunden nicht bearbeitet werden kann, und seine Daten dauerhaft auf die PDF-Datei drucken. Hier erfahren Sie mehr über den Verkauf von PDFs auf Shopify .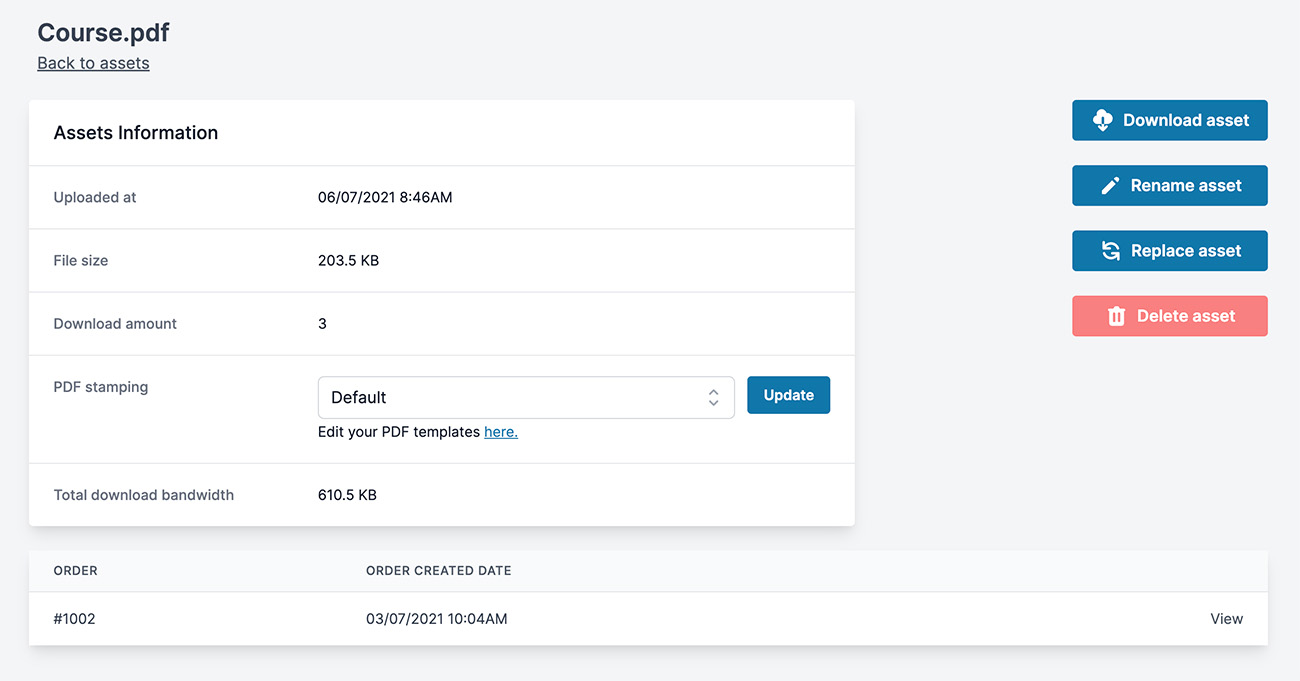 Eine einzigartige Funktion, die wir gegenüber anderen digitalen Download-Apps bieten, ist die Möglichkeit, alle E-Mails Ihrer Kunden zu verfolgen. So können Sie sehen, ob sie geöffnet, gebounct oder im Spam-Ordner gelandet sind.
Learn more about Email Tracking.
One of our proud features is being able to allow a certain amount of IP addresses to downloading the files.
An IP address is a way to see the location of your customer's computer. It's now possible to block other IP addresses at different locations from accessing the downloads.
For example, if you set that only one IP address can download, then if a customer sends the download email to another person, that second person will be blocked from downloading the files.
You can now set release dates on digital products.
If you have a new product coming out that is on pre-order, then you can set up your digital files to be released at a specific date and time.
Vollständige Kontrolle und Analyse des Auftragsdownloads
Mit unserer fortschrittlichen Verfolgung von Downloads haben Sie die vollständige Kontrolle über die digitalen Produkte Ihrer Kunden.
Sie sehen, wie oft eine Datei heruntergeladen wurde und wie viel Bandbreite insgesamt genutzt wurde. Außerdem erhalten Sie für jeden Download einen detaillierten Traffic-Bericht.
With our cutting-edge file uploader, we send your files directly to top-grade servers.
Dadurch entfällt die doppelte Verarbeitung von Daten und die Übertragungsgeschwindigkeiten werden deutlich erhöht. Ganz zu schweigen davon, dass dadurch der Mittelsmann in den traditionellen Uploadern wegfällt, so dass es weniger bewegliche Teile gibt und die Wahrscheinlichkeit, dass etwas schief geht, geringer ist!
DDA has the ability to upload any file type that you desire, and there's no limit on file size as long as you have enough storage allocated in your plan.
Also, one thing to mention, we allow you to use your own S3-compatible server if you want!
After an order has been placed, it's possible to attach more files to their order.
For example, if they request an exchange for a different digital product, you can attach those other assets directly to their order.
You can then resend the download email, or they will automatically show in their customer account if this is enabled.
You can also deliver URLs with an order, such as Dropbox links or YouTube videos.
For example, if you have an unlisted YouTube video or a Dropbox link you want to deliver to your customers when they order, you can attach the URL to the product using our URL assets feature.
Export data reports of all your assets, products, and the connection between them both.
This exports a Google Sheet (CSV) of all the files you have uploaded and attached. It allows you to also get the download links for each asset.
Schritt 1 - Installieren Sie die App
Install the app to your Shopify store for free, or get a 7-day free trial with any paid plan.
Simply go to the Shopify app store page
Click the "Add app" button to install it on your Shopify store
After you have installed the app to your Shopify store, follow these steps:
Go to your Shopify dashboard > Apps > open up the app
Then upload your files by going to the "Assets" page
Click on the "Upload new assets" button
Your Shopify products & variants are automatically imported from your store. Simply attach the uploaded files directly to the Shopify products or variants.
Now you're armed & ready to sell!
Next, you should make sure to customise the settings to give the best experience to your customers.
Sehen Sie sich unser Video-Walkthrough an
Wir zeigen Ihnen, wie Sie die App visuell nutzen können.
Es gibt nichts Besseres, als genau gezeigt zu bekommen, wie man etwas macht.
Supports all file tyes & sizes
Upload any file type & file size within your plan's storage limit, from eBooks to software &; much more.
We have crafted the easiest and most efficient UI to enhance user experience.
Don't worry about your customers not receiving their digital downloads. Deliver 100% of the time.
We use top-grade servers with the fastest content delivery networks in the world.
4 Methods to deliver digital downloads
Stellen Sie die digitalen Downloads Ihrer Kunden auf drei einfache Arten zu, um die Zustellbarkeit zu verbessern und Ihre Kunden zu beeindrucken. Sie können die
Download-E-Mails
auch
deaktivieren
, um Kunden nur den Download von ihren Kundenkonten zu ermöglichen, wenn Sie dies wünschen.
DDA Emails
Available on all plans, this is the easiest method to deliver your assets to customers.
Shopify Emails
Add a download button to Shopify's Order Confirmation email that delivers customer's downloads.
Dankeseite
The fastest way a customer can receive their digital downloads is on the Shopify Order Status page.​
Kundenkonten
Verleihen Sie Ihrer Marke ein professionelles Aussehen, indem Sie die digitalen Produkte in den Konten der Kunden zeigen.
A 7-day free trial is available on all paid plans. A free lifetime plan is available too.
Get 2 months free with yearly plans. Available in-app by going to the plan upgrade page.
Upgrade, downgrade, or cancel your plan at any time. No sneaky contracts or commitments.
With a decade of experience in the Shopify ecosystem, we've built the most user-friendly & reliable digital downloads app.
No order, product or bandwidth limitations. Install and get started today. Only pay for feature upgrades.
Improve your digital download delivery today
Our app is all you'll need to keep your digital products secure. View our Beginner's Guide or FAQ to get set up today. Contact us if you need any more information or help. We will get back to you as soon as possible.
Weltweit verfügbar im Shopify App Store.