We also have an API available if you have an external or customized solution to sell digital downloads with Shopify.
Getting started – Quick overview
Scroll down for an in-depth walkthrough. Please get in touch with us if you want any help with the setup.
After you have added products to your Shopify store, setting up the app is as simple as this:
1. Upload
Upload your digital assets to the app.
2. Attach
Attach those assets to your Shopify products or variants.
3. Customise
Customise your settings & branding.
Tutorials für spezielle Anfragen:
Be sure to check our Shopify Academy if you want to learn more about setting up your Shopify store.
1. Install the DDA app to your Shopify store
Go to the DDA page on the Shopify app store and click the "Add app" button. You can install the free plan for now, or you can get a 7-day free trial.
Nach der Installation folgen Sie bitte den nächsten Schritten.
2. Ensure you have products set up in Shopify
I assume you have already set up your products in Shopify. If you haven't, simply go to:
Shopify dashboard
Click on "Products"
Click on the "Create product" button
Make sure you mark the product as "Digital" if it's only a digital product. All you need to do is, go to the "Shipping" section and uncheck the option "This product requires shipping".
Marking the product as digital and that they don't need to be shipped allows the DDA app to fulfil the product in your orders automatically and disables the shipping email from Shopify. If the product is physical, then that is fine. Digital files will still be delivered.
Learn how to set up variants on your Shopify products.
3. How to set up the app
Step 1 – Upload your digital assets
From your Shopify dashboard, go to the "Apps" in the left navigation, and open the app.
Once you are in the app, go to the "Assets" page
Klicken Sie auf die Schaltfläche "Neue Assets hochladen". Von hier aus können Sie den Schritten zum Hochladen Ihrer Assets/Dateien folgen oder externe URLs als Assets anhängen.
Check our upload troubleshooting guide if you have trouble uploading.
Step 2 – Attach the uploaded assets to your Shopify products
Bitte vergewissern Sie sich, dass Sie Ihre Produkte in Ihrem Shopify Shop erstellt haben. Unsere App synchronisiert automatisch alle Ihre Shopify Produkte mit unserer App, so dass es einfach ist, ihnen Assets zuzuordnen.
Method 1 – from the asset page
Klicken Sie nach dem Hochladen auf den blauen Asset-Link
Verwenden Sie das Suchfeld/die Dropdown-Liste, um das Asset den Produkten zuzuordnen
Method 2 – from the product page
Gehen Sie zur Seite 'Produkte'.
Klicken Sie auf das ausgewählte Produkt, dem Sie Assets hinzufügen möchten
Verwenden Sie das Suchfeld/Dropdown, um Assets anzuhängen
Schritt 3 - Passen Sie Ihre Einstellungen an
Now you have to set your settings so your customers receive their delivery when they place an order. You can upgrade to unlock more features (already installed? Upgrade here), such as:
Find out the best practices to prevent customers from sharing digital products. Learn more by seeing our professional guidance on 19 mistakes to avoid when selling digital products.
Go to the 'Settings' page. Please take your time to go through these settings and make sure they suit your store. Example of the settings page on the Premium plan:
Schritt 4 - Lesen Sie unsere Checkliste! Seien Sie bereit für digitale Produkte
Wir empfehlen Ihnen dringend, nach der Installation unsere 'Checkliste für die Einrichtung' nach der Installation zu lesen. Damit stellen Sie sicher, dass Ihr Shop korrekt eingerichtet ist, um digitale Produkte ohne Probleme zu liefern.
Einige Geschäfte sind beispielsweise so eingestellt, dass sie bei einer Bestellung nur Telefonnummern erfassen. Dies muss geändert werden, um E-Mails zu erfassen, damit wir die digitalen Downloads per E-Mail an Ihren Kunden senden können. Wie Sie das machen, erfahren Sie in der Checkliste.
Video-Durchgang
Wie werden meine Kunden ihre Downloads erhalten?
Ihre Kunden können ihre Downloads auf drei Arten erhalten:
Per E-Mail
DDA's Email (enabled by default)
Via email using DDA's email delivery system.
Download emails are enabled by default upon installation and are available for all plans.
Learn how to disable the DDA email delivery.
Shopify's Order Confirmation Email
You can also add download links to Shopify's Order Confirmation email.
Order status Thank You page downloads
On the 'Thank you' Order status page after purchase (available on the Basic plan or higher). Already installed DDA? Upgrade here.
Learn how to enable Thank You page downloads.
This option uses a download box. Learn how to customise the download box text.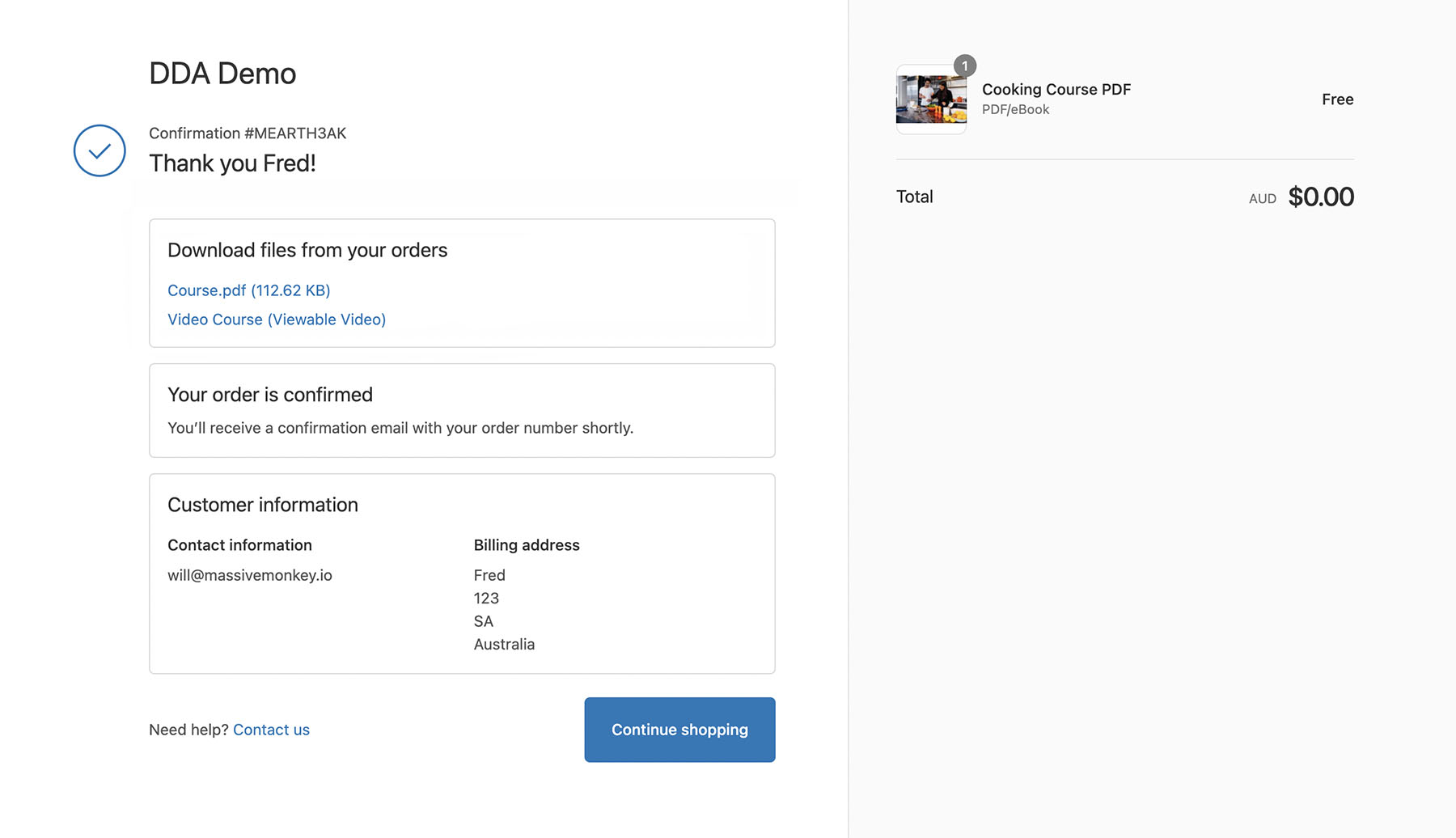 Customer accounts downloads
In the customer accounts order pages (available on the Premium plan). Already installed DDA? Upgrade here.
Learn how to enable customer account downloads.
If your customers didn't create an account at checkout, you could tell your customers that they can create a customer account using the email that they used to purchase. This will automatically create an account with their order inside.
This option uses a download box that uses the styling of your website's CSS. Learn how to customise the download box.
You can also use a customer account designing application called CustomerHub with DDA if you want to build your own customer accounts.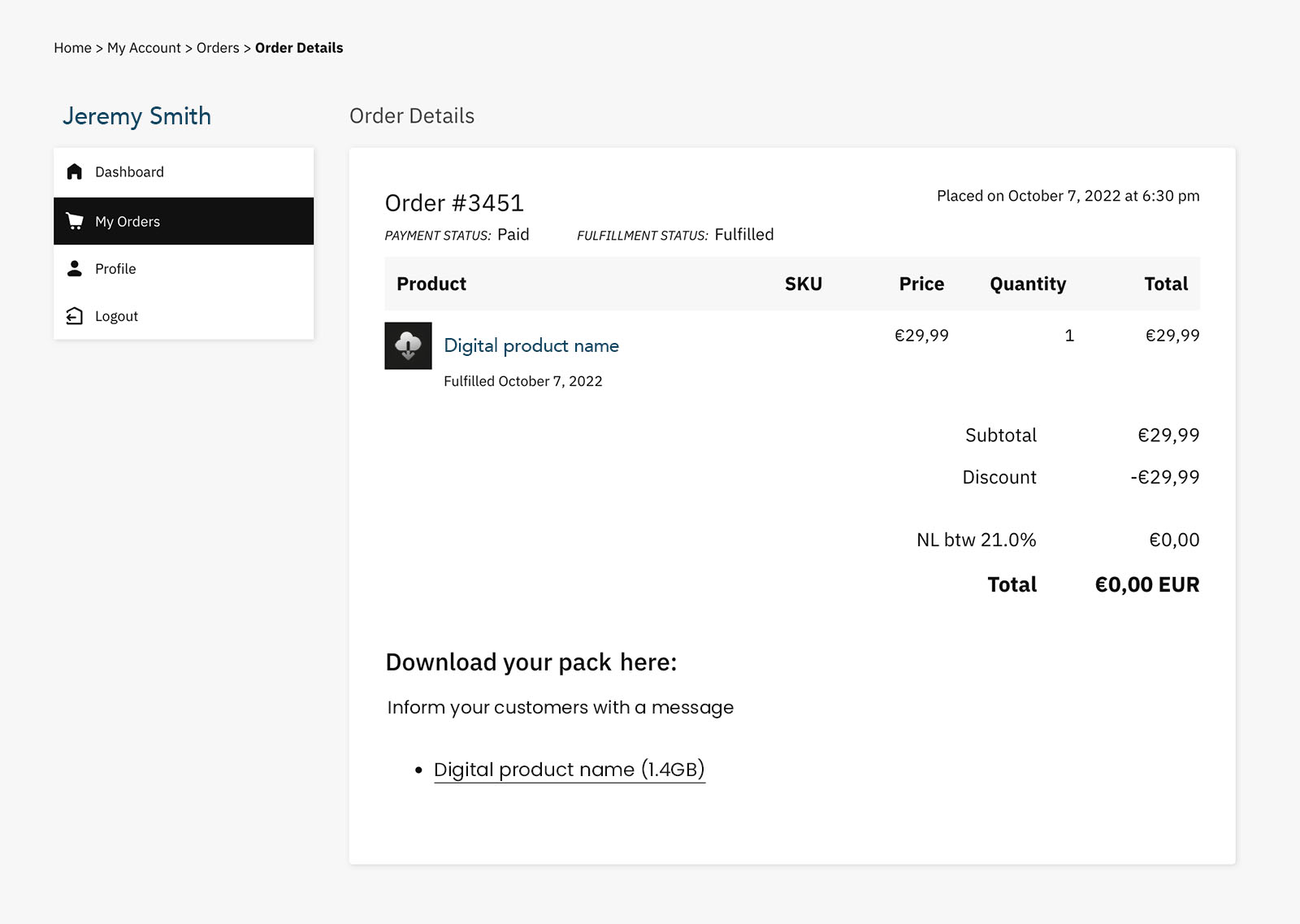 Empfehlungen
Download-Informationen in die E-Mail zur Bestellbestätigung von Shopifyeinfügen
Ich empfehle dringend, Informationen über die Downloads in Ihre E-Mail-Vorlage für die Bestellbestätigung Shopify aufzunehmen.
Shopifyhat eine sehr hohe Zustellbarkeitsrate und landet nur selten im Spam-Ordner. Wenn Sie Ihre eigene E-Mail verwenden, besteht die Möglichkeit, dass Ihre E-Mails im Spam-Ordner landen. Hier können Sie Informationen hinzufügen, die Ihren Kunden mitteilen, wo sie ihre Downloads finden können.
Learn how to add information & download links to the Shopify Confirmation email.
Fehlerbehebung bei Download-Problemen für Kunden
In some rare cases, customers may run into download problems. This is usually caused by old browsers or operating systems that just need a quick restart. You can send the customer this download issue troubleshooting guide to find out what the issue could be.
Verbessern Sie Ihr Wissen
Wissenswertes:
Hochladen und Verkaufen beliebiger Dateitypen und -größen (innerhalb der Grenzen Ihres Tarifs)
We use ultra-fast & secure download servers
We don't add code to your theme (unless you add customer account downloads)
Erfahren Sie, wie Sie Ihren Tarif ganz einfach upgraden oder downgraden können.
Einige Kunden missbrauchen die Regeln und lernen, wie sie ihre Downloads blockieren können.
Es gibt ein paar wichtige Methoden, um Ihre digitalen Produkte vor Betrug zu schützen.
Learn from the experts in selling digital downloads online.
Letzte Worte
Wenn Sie nicht weiterkommen, kontaktieren Sie uns einfach, wir helfen Ihnen gerne weiter!