Starting a business is much easier than it used to be, and Shopify is one of the popular platforms for doing so. Shopify is an eCommerce website that business owners can use to set up their stores online and offline. With this platform, you can sell products online or in person.
Eines der beliebtesten Dinge, die auf Shopify verkauft werden, sind digitale Produkte wie PDFs, ZIP-Dateien, Medien, Musik und mehr. Dies ist ein einfacher Leitfaden für den Verkauf von PDFs mit Ihrem Shopify Shop, aber er gilt auch für jede andere Art von Assets.
Welche digitalen Produkte zum Herunterladen kann ich auf Shopify verkaufen?
For convenience, you can sell digital products with Shopify. This is an intangible asset that can be sold online repeatedly without having to replenish inventory. It offers a high-profit margin; they are flexible, with low overhead costs and easy automation.
Ob Sie nun eBooks oder Tutorials verkaufen, Sie können dies ganz einfach mit PDF-Dokumenten tun und mit diesem immateriellen Vermögenswert Gewinn machen.
In diesem Leitfaden finden Sie weitere Arten von digitalen Produkten, die Sie auf Shopify verkaufen können.
What do I need for this tutorial?
Schritte für den Verkauf von PDFs auf Shopify
If you want to sell PDFs on Shopify, you can use the free Shopify app called DDA – Digital Downloads. The app allows you to upload PDFs and attach them to your products in your store. Then if a customer purchases the product, they automatically get the link to download the PDF.
Video-Anleitung (für die Schritte nach unten scrollen)
1. Erstellen Sie Ihr Produkt auf Shopify
Sign up to Shopify if you haven't already. It's got a free trial of 14 days, so that gives you plenty of time! If you have already signed up, log in, then go to your Shopify dashboard and click on the 'Products' page.
Klicken Sie dann auf die Schaltfläche "Produkt hinzufügen". Hier können Sie alle Produktdetails eingeben, um das Produkt zu erstellen.
2. Install the DDA app to deliver PDFs on Shopify
Shopify doesn't have its own built-in digital product delivery system. You will need to go to the app store to install an app to create the system workflow. Start by installing the DDA – Digital Downloads app from the Shopify app store.
It has a free plan which is great for beginners, and also has more advanced plans for professional stores, catering for everyone.
Der Grund, warum diese App die beste Wahl ist:
PDF Stamping – protect your PDFs from being shared by stamping your customers' personal details on the pages of the PDF. You also have the choice to lock the PDF so they cannot be removed.
Set IP address limitations – only allow your customers to download from a number of IP addresses. This helps prevent them from sharing the downloads with others.
Built by Shopify developers – first-hand knowledge of what the store owners need
The easiest-to-use user interface out of all the digital download apps
Ultra-fast download speeds using the fastest CDNs
Attach additional files to any order for personalised digital products
Email tracking to understand how customers are downloading files
Veröffentlichungstermine festlegen
Other apps, such as Shopify's Digital Downloads app, is very limited in features, and they give you the most basic options. There are no upgrade options, no PDF Stamping, no file protection, no way to brand the workflow for your customers and much more.
3. Laden Sie Ihre PDFs in die App hoch
Wir gehen davon aus, dass Sie Ihr PDF bereits erstellt haben. Als Nächstes laden Sie Ihre digitalen Dateien (PDFs) über die App hoch.
Gehen Sie zur Seite 'Assets'.
Click the 'Upload new assets' button, then follow the steps
Hier können Sie Ihre PDFs hochladen, damit Sie sie an Ihre Produkte anhängen können.
4. Hängen Sie Ihr PDF an Ihr Produkt an
Alle Ihre Produkte werden automatisch von Shopify synchronisiert, so dass das neue Produkt, das Sie in Schritt 1 erstellt haben, auf der Seite "Produkte" angezeigt wird.
Klicken Sie auf das Produkt.
Wenn die Seite geladen wird, sehen Sie ein Suchfeld mit einer Schaltfläche "Asset anhängen". Wählen Sie Ihre PDF-Datei aus oder suchen Sie danach und klicken Sie auf die Schaltfläche, um sie an das Produkt anzuhängen.
Hilfreiche Tipps für den Verkauf von PDFs
Tipp 1 - PDF-Stempeln
Mit Downloadable Digital Assets können Sie Ihre PDFs mit einem Stempel versehen, um zu verhindern, dass Kunden ihre PDF-Dateien mit anderen teilen. Wenn Sie den PDF-Stempel aktivieren, werden der Name, die E-Mail-Adresse oder die Bestellnummer des Kunden auf die PDF-Datei gestempelt.
Sie können die PDF-Datei auch sperren, damit sie vom Kunden nicht bearbeitet oder geändert werden kann. Dies erschwert es dem Kunden, die PDFs weiterzugeben, da seine persönlichen Daten dauerhaft auf dem PDF vermerkt werden.
Sie können das PDF-Stempeln aktivieren, indem Sie die Seite "Assets" aufrufen > auf Ihr PDF-Asset klicken > Ihre PDF-Stempelvorlage auswählen > auf "Aktualisieren" klicken.
Weitere Informationen zur Einrichtung von PDF-Stempeln finden Sie hier.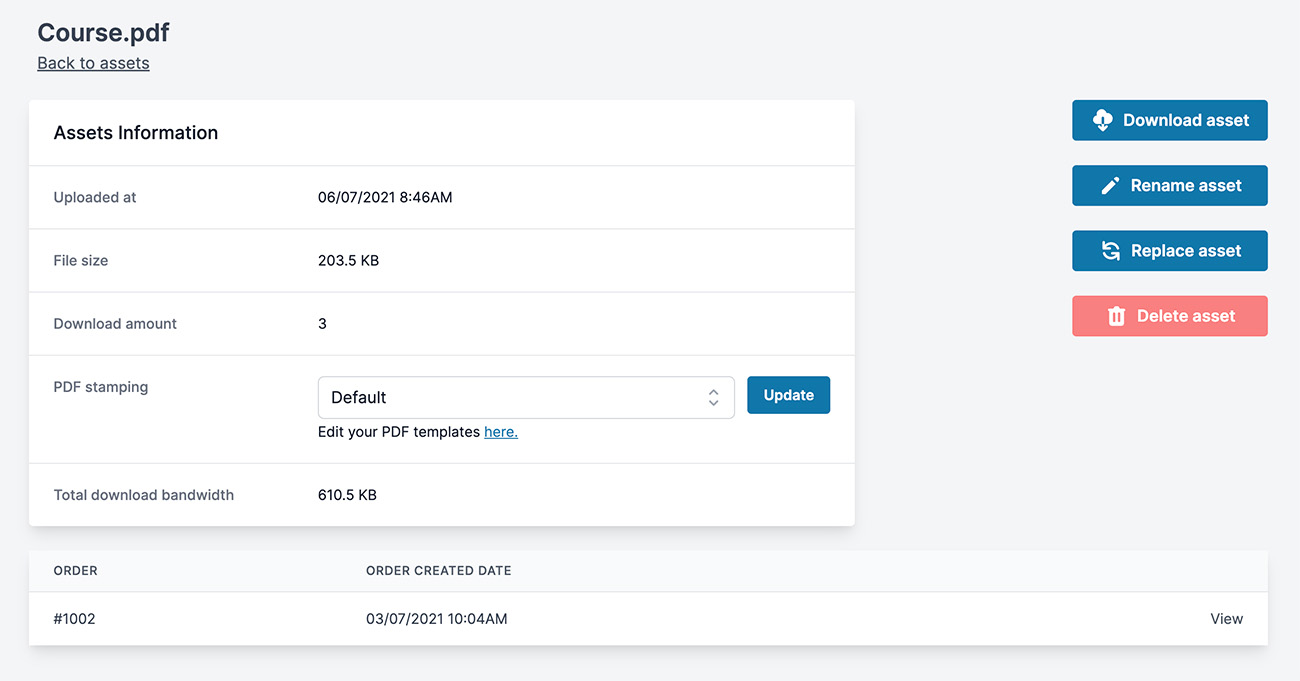 Tipp 2 - Festlegung von Download-Limits
Sie können sogar Beschränkungen für das Herunterladen festlegen, so dass die Kunden die PDF-Datei nur eine bestimmte Anzahl von Malen herunterladen können. Sie können dies tun, indem Sie auf der Seite "Einstellungen" das Feld "Beschränkungen" aufrufen.
Tip 3 – View the order analysis page
Whenever your customers make an order, you can view the order details on the 'Orders' page within the app.
Dies zeigt das Datum und die Uhrzeit, die E-Mail und den Namen des Kunden, die Bestellnummer, die Anzahl der Downloads pro Bestellung, die Bandbreitenverfolgung, die IP-Adresse und vieles mehr.
Wenn es ein Problem mit dem Download gibt, können Sie die Download-E-Mail erneut senden.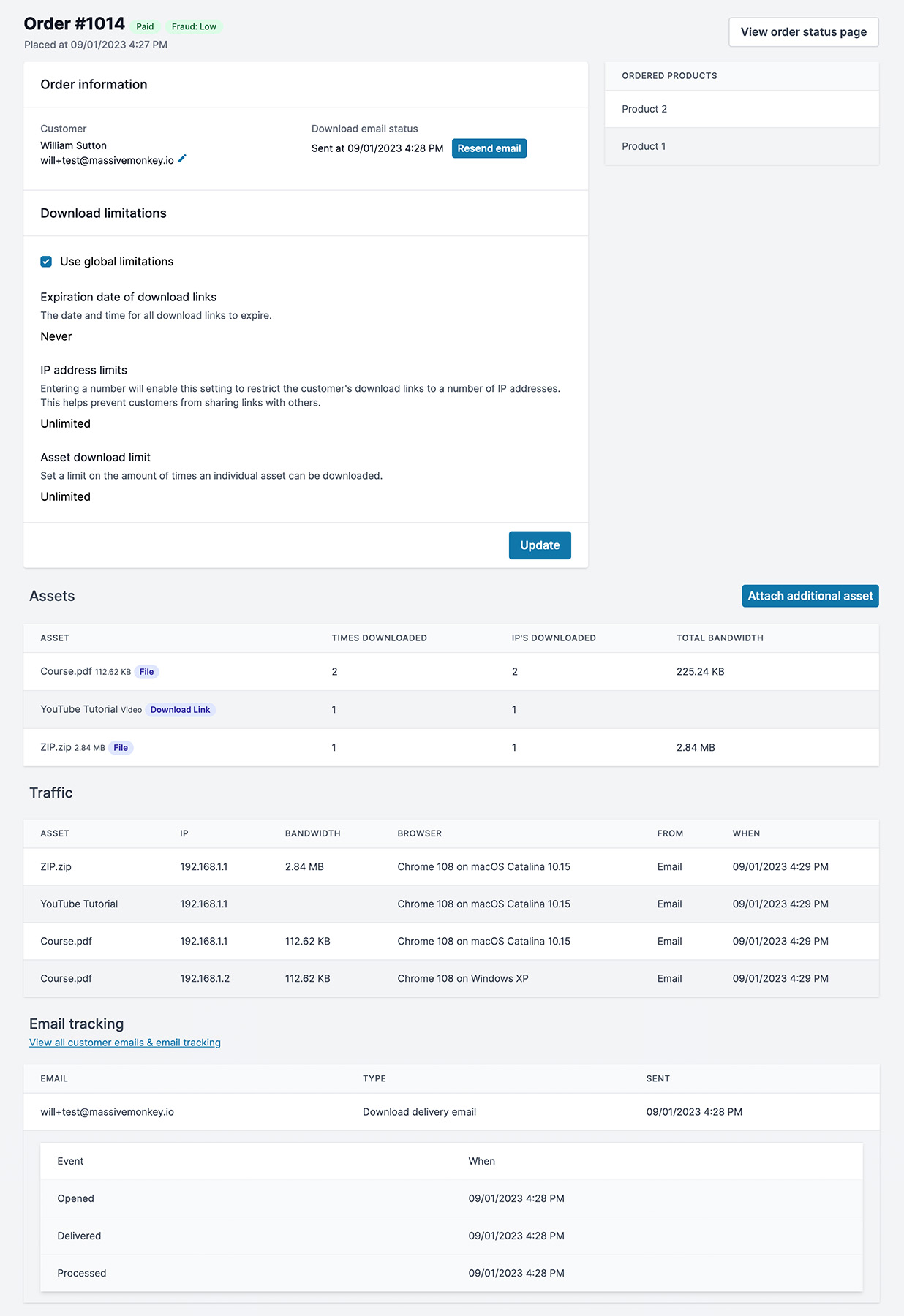 Click image to enlarge.
Tipp 4 - Blockieren Sie Downloads von unartigen Kunden
Wenn Sie verhindern möchten, dass der Kunde das Produkt herunterlädt, können Sie die Bestellung verfallen lassen. In dieser Anleitung erfahren Sie , wie Sie Kunden am Herunterladen der Dateien hindern können.
Tipp 5 - Liefern Sie PDF-Dateien auf verschiedene Arten
Um Ihren Kunden den Einkauf zu erleichtern, können Sie Downloads direkt auf den Kassenseiten Ihrer Kunden und in deren Konten anzeigen.
This allows your customers to download their PDFs on the checkout page or their accounts. Go to the 'Settings' page to enable these features.
Insgesamt stehen Ihnen diese 3 Methoden zur Verfügung, um Ihr PDF zu versenden:
Tipp 6 - Behebung von Download-Problemen
In some rare cases, customers may get an issue downloading files. This is usually caused by an issue on their computer that's caused by things like old browsers or software. You can see our download issue troubleshooting guide here that you can send to your customer.
You can also send this troubleshooting guide to your customers to help them understand how to solve their issues.
Schlussfolgerung
Selling PDFs on Shopify is easy and convenient for all online business owners. Once you download the DDA app onto your Shopify store, you can upload the PDF and start selling it to your customers quickly.
Deshalb empfehlen wir diese App als die beste App für digitale Downloads für Shopify.
Das Tolle an der App ist, dass sie von Shopify Experten entwickelt wurde, die genau wissen, was ein Ladenbesitzer braucht, weil sie im Laufe der Jahre viele Läden aufgebaut haben.
FAQ
Wie kann ich meine PDF-Datei online verkaufen?
The best place to sell your PDF online is using Shopify. This means you take 100% of your profits because you own the store. You can sell PDFs on Shopify really easy. All you need to do is install the DDA -Downloadable Digital Assets Shopify app for free onto your store, then you're ready to sell PDFs.
Wie kann ich ein PDF-eBook schützen?
Protecting a PDF eBook is very easy using the DDA – Downloadable Digital Assets Shopify app. It introduces the best protection features such as PDF Stamping & IP address limitations. This prevents customers from sharing the PDF eBooks with others.
Wie kann man ein eBook mit einem Wasserzeichen versehen?
Mit dieser App Shopify können Sie ein eBook mit einem Wasserzeichen versehen. Damit können Sie die persönlichen Daten des Kunden auf die Seiten stempeln und das eBook dann sperren, damit sie nicht entfernt werden können.
Ähnliche Artikel