La aplicación de descargas digitales más fiable Shopify
Integrate with your Shopify store & improve your customers' download experience selling digital products.
Created by Shopify experts.
DDA - A Shopify Digital Downloads App
Join us with the most advanced digital product delivery app on Shopify. Automatically deliver secure download links to your customers with our high-grade server infrastructure. It doesn't matter if you sell 1 or 100,000 products per day – everything is automated and reliable.
Don't worry about excessive bandwidth costs. Sell large digital files easily.
Stamp your customers' details on the PDF pages to prevent file sharing.
Keep an eye on your stats to understand how your customers are downloading.
Easily change the language of your messaging for your customers.
Easily sell digital products as pre-order and deliver the files on a set release date & time.
Deliver your digital products inside the customers' accounts portal.
Secure your precious digital products with our high-end secure system.
Set a limit on how many IP addresses can download files per order to prevent file sharing.
Enhance your Shopify Digital Product Delivery
Upgrade from Shopify's "Digital Downloads" app and get a more reliable experience with scaling options to grow.
Catering for everyone. Sell large files without worrying about hitting limitations. Give your customers the best experience.
Nos hemos integrado con el sistema de fraude de Shopify, lo que permite un control total de los correos electrónicos de descarga.
Reciba notificaciones cuando un pedido se marque como fraude de riesgo alto o medio, y detenga el correo electrónico de descarga automático. A continuación, puede enviar el correo electrónico de descarga una vez que haya verificado que se trata de un pedido auténtico.
El estampado de PDF es importante para proteger sus descargas de los derechos de autor. Esto ayuda a evitar que los clientes compartan sus archivos PDF con otros estampando su nombre, correo electrónico y número de pedido en las páginas PDF.
También puede bloquear el PDF para que no pueda ser editado por su cliente, imprimiendo permanentemente sus datos en el PDF. Obtenga más información sobre la venta de PDFs en Shopify aquí.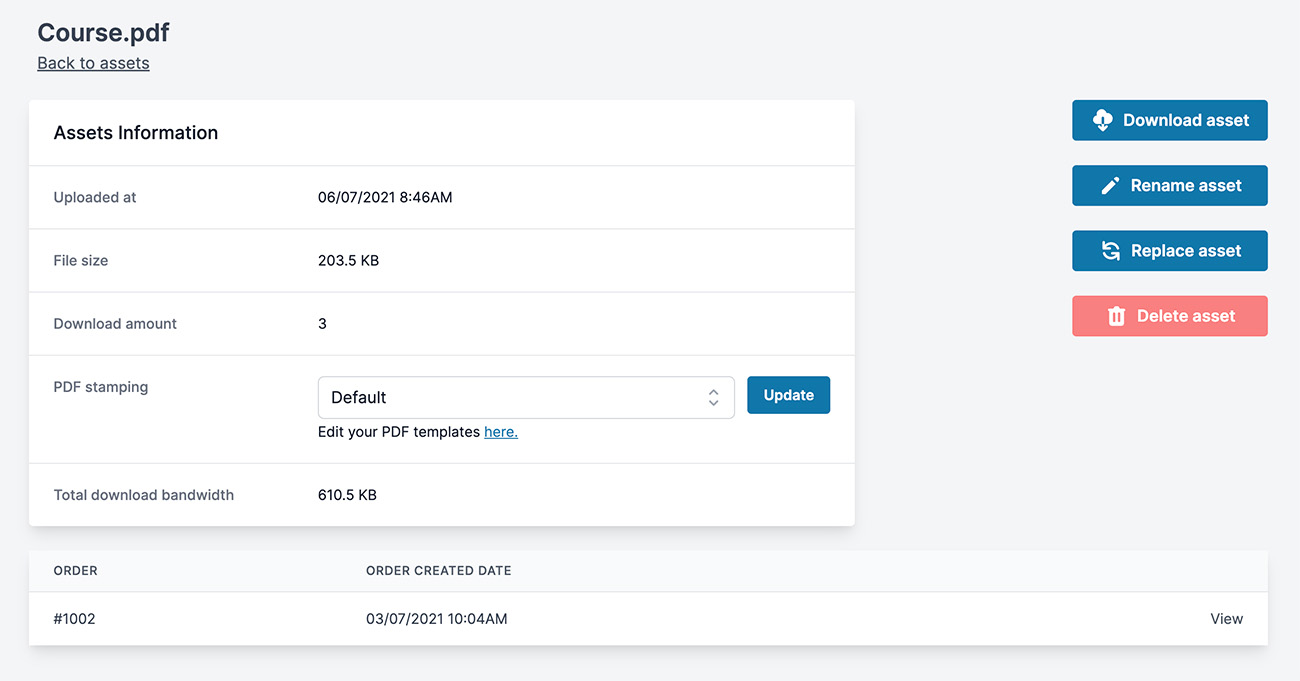 Seguimiento delcorreo electrónico
Una característica única que ofrecemos respecto a otras aplicaciones de descarga digital es la posibilidad de rastrear todos los correos electrónicos de sus clientes. Le da la posibilidad de ver si se han abierto, rebotado, o caído en la carpeta de spam.
Learn more about Email Tracking.
One of our proud features is being able to allow a certain amount of IP addresses to downloading the files.
An IP address is a way to see the location of your customer's computer. It's now possible to block other IP addresses at different locations from accessing the downloads.
For example, if you set that only one IP address can download, then if a customer sends the download email to another person, that second person will be blocked from downloading the files.
You can now set release dates on digital products.
If you have a new product coming out that is on pre-order, then you can set up your digital files to be released at a specific date and time.
Control total y análisis de descarga de pedidos
Con nuestro seguimiento avanzado de las descargas, tendrá un control total sobre los productos digitales de sus clientes.
Vea cuántas veces se ha descargado un archivo y el ancho de banda total utilizado. También le proporcionamos un informe de tráfico detallado para cada descarga.
With our cutting-edge file uploader, we send your files directly to top-grade servers.
Esto elimina la doble manipulación de los datos y permite velocidades de transferencia mucho más rápidas. Por no hablar de que se elimina el intermediario de los cargadores tradicionales, por lo que hay menos partes móviles y menos posibilidades de que las cosas vayan mal.
DDA has the ability to upload any file type that you desire, and there's no limit on file size as long as you have enough storage allocated in your plan.
Also, one thing to mention, we allow you to use your own S3-compatible server if you want!
After an order has been placed, it's possible to attach more files to their order.
For example, if they request an exchange for a different digital product, you can attach those other assets directly to their order.
You can then resend the download email, or they will automatically show in their customer account if this is enabled.
You can also deliver URLs with an order, such as Dropbox links or YouTube videos.
For example, if you have an unlisted YouTube video or a Dropbox link you want to deliver to your customers when they order, you can attach the URL to the product using our URL assets feature.
Export data reports of all your assets, products, and the connection between them both.
This exports a Google Sheet (CSV) of all the files you have uploaded and attached. It allows you to also get the download links for each asset.
Paso 1 - Instalar la aplicación
Install the app to your Shopify store for free, or get a 7-day free trial with any paid plan.
Simply go to the Shopify app store page
Click the "Add app" button to install it on your Shopify store
After you have installed the app to your Shopify store, follow these steps:
Go to your Shopify dashboard > Apps > open up the app
Then upload your files by going to the "Assets" page
Click on the "Upload new assets" button
Your Shopify products & variants are automatically imported from your store. Simply attach the uploaded files directly to the Shopify products or variants.
Now you're armed & ready to sell!
Next, you should make sure to customise the settings to give the best experience to your customers.
Vea nuestro vídeo de presentación
We will walk you through how to use the app visually.
There's nothing better than being shown exactly how to do things.
Supports all file tyes & sizes
Upload any file type & file size within your plan's storage limit, from eBooks to software &; much more.
We have crafted the easiest and most efficient UI to enhance user experience.
Don't worry about your customers not receiving their digital downloads. Deliver 100% of the time.
We use top-grade servers with the fastest content delivery networks in the world.
4 Methods to deliver digital downloads
Entregue las descargas digitales de los clientes de tres maneras sencillas para mejorar la entregabilidad e impresionar a sus clientes. También puede
desactivar los correos electrónicos de descarga
para que los clientes solo puedan descargar desde sus cuentas de cliente si así lo desea.
DDA Emails
Available on all plans, this is the easiest method to deliver your assets to customers.
Shopify Emails
Add a download button to Shopify's Order Confirmation email that delivers customer's downloads.
Página de agradecimiento
The fastest way a customer can receive their digital downloads is on the Shopify Order Status page.​
Cuentas de clientes
Haga que su marca parezca profesional mostrando los productos digitales dentro de las cuentas de los clientes.
A 7-day free trial is available on all paid plans. A free lifetime plan is available too.
Get 2 months free with yearly plans. Available in-app by going to the plan upgrade page.
Upgrade, downgrade, or cancel your plan at any time. No sneaky contracts or commitments.
With a decade of experience in the Shopify ecosystem, we've built the most user-friendly & reliable digital downloads app.
No order, product or bandwidth limitations. Install and get started today. Only pay for feature upgrades.
Improve your digital download delivery today
Our app is all you'll need to keep your digital products secure. View our Beginner's Guide or FAQ to get set up today. Contact us if you need any more information or help. We will get back to you as soon as possible.
Disponible en todo el mundo en la tienda de aplicaciones Shopify .