Añadir productos digitales a Shopify es mucho más fácil de lo que crees. Puede ser bastante abrumador si no has hecho esto antes, ¡así que voy a hacerlo lo más fácil posible!
Shopify's system doesn't have an in-built method for selling digital products. You need to install a free app from their app store. There are a few options, but most of them are not easy to use and have many limitations, but we have a solution that works for everyone.
What do I need?
Guía rápida
Simply start a Shopify store or log in to your current store.
Create your products within the Shopify admin "Products" page.
Go to Shopify's app store and install the DDA digital product app to your store for free, and begin uploading your digital files to the app.
Simply attach those digital files to your relevant Shopify products, and now you're done and ready to start selling.
Look at these easy-to-follow video steps to see exactly how to use the app.
Why choose the DDA Shopify app?
The DDA app was created by Shopify experts who know how digital files should be delivered. They have first-hand experience in how to build the right app.
It features the best file protection features out of any other digital download app for Shopify. It also features the most user-friendly options. See below:
Shopify's Digital Downloads app
Desventajas de la aplicación de Shopify:
Sólo se puede adjuntar 1 archivo a cada producto
No admite descargas de cuentas de clientes
No tiene seguimiento del correo electrónico
5 GB de almacenamiento total por archivo
Problemas con las cookies en algunos navegadores
Confusión en el uso
No hay opciones de actualización
No hay características de protección
No puede utilizar su propio correo electrónico
No hay características de la marca de la tienda
DDA app
Advantages of this app:
No hay límites de tamaño o tipo de archivo
Seguimiento del ancho de banda de los pedidos y de las descargas
Adjuntar un número ilimitado de activos a los productos
Expire an order (block customer's downloads)
Data reports
What are the best digital downloads to sell?
The question is, what digital products can I sell?
We have one of the most successful digital download apps on Shopify with tonnes of data. We've compiled the best-selling digital files to help give you inspiration on what you can sell.
See our guide on best-selling digital products to learn more.
In short, there are a few that really sell more than others. See our list of the best-selling digital files:
PDF files (best-seller)
Zip files
Images
Audio files
Video
Documents
Surprised? It's quite awesome seeing what the most popular file types are for selling on Shopify. If you are looking for more inspiration on what to sell, visit our guide above.
How to add digital downloads to Shopify
Es súper sencillo añadir productos digitales. Si quieres ver un video tutorial, desplázate hasta el final y echa un vistazo.
We'll talk about a specific app that's staff picked by Shopify. It gives you up to 2GB on the free plan and opens up many opportunities for you to grow when your store grows.
Step 1 – Sign up to Shopify
The first step is to sign up for a Shopify account. It's super quick and easy! Once you have created the account, continue to the next steps.
Step 2 – Create your products in Shopify admin
Go to your Shopify dashboard (Shopify admin)
Go to "Products"
Click the "Add product" button
Now, you will need to enter all the details for your product. You will also need to tell Shopify that it is digital. You need to do this because you want the shipping email to be disabled, and you want all the fulfilment to be automated.
Mark the product as digital:
Scroll down until you see the "Shipping" section.

New stores: enable the "Digital product or service" option.
Older stores: If Shopify hasn't upgraded it yet, you may still see a checkbox saying, "This is a physical product" – uncheck this box. (If using variants, this option will show inside the variant edit tab).
Now, what is the best practice is disabling the "Track quantity" option. This will make sure the products don't show as "Sold out".
Step 3 – Install the digital products app on your store
Once you have logged into Shopify, go to the Shopify app store and follow the next steps below.
You can click this link – DDA and then click the "App app" button to install it to your store. When you get to the pricing page, scroll down and click the free plan or select a free trial of a paid plan.
Step 4 – Upload your digital files
Go to the "Assets" page
Haga clic en el botón "Cargar nuevos activos".
Upload your digital files to the app
Step 5 – Attach your digital files to your Shopify products
Now you need to attach those digital files to the Shopify products that we created in Step 2. This will then deliver these files whenever those products are ordered.
Click on an uploaded asset (blue link on the asset name)
Go to the search box and select products to attach them to
Repeat the process for all assets
If you have a lot of assets and products, you can do this in bulk by attaching assets to products using a CSV. Please see our CSV guide to learn more.
A second method to attach assets to products
You can also attach files to your products from the "Product" page.
Go to "Products"
Then click on a product
Use the search box to attach assets to this product
Step 4 – Customize your settings to suit your brand
There are so many options to customize your store. Take a look through the settings and make sure it is all set up as you want. Here are a few you can take a look at: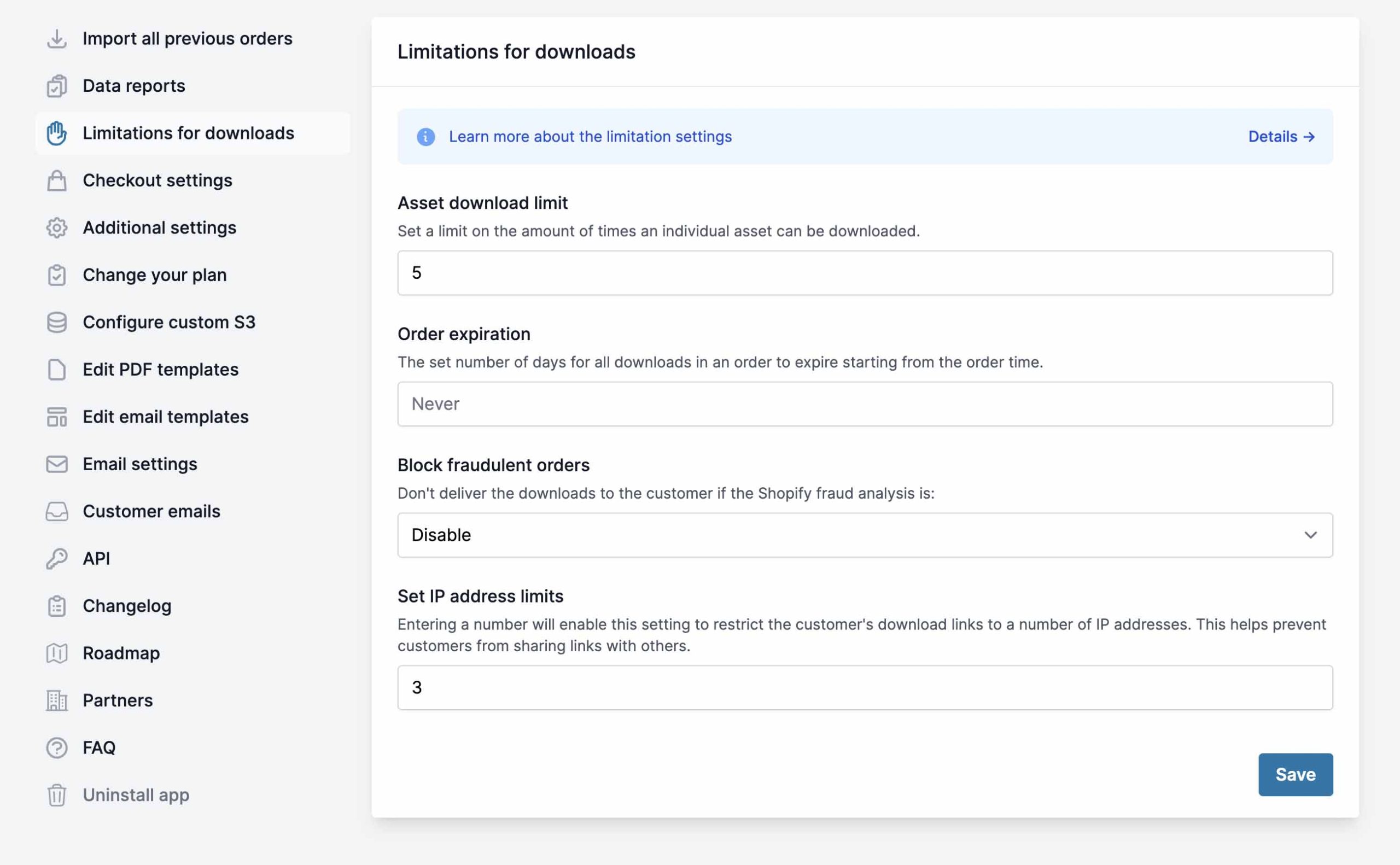 ¡Hecho!
Así de sencillo es añadir productos digitales a Shopify. Una vez que sus archivos digitales se adjunten a los productos correspondientes, la aplicación enviará automáticamente correos electrónicos de descarga a sus clientes una vez que hayan realizado la compra.
La aplicación también cumplirá automáticamente con todos los productos digitales de un pedido, dejando todos los productos físicos sin cumplir.
This means it completely automates your digital products while you can still control and manually fulfil your physical products (if you are selling both physical and digital).
¿Vender archivos digitales de gran tamaño? Consulte nuestra guía sobre la mejor manera de vender archivos digitales de gran tamaño en Shopify.
Video tutorial to sell digital downloads on Shopify
Assuming you have already got products in your Shopify store, you can follow this tutorial to find out exactly how to set up your digital products on Shopify.
What are the best-selling digital products?
If you've been wondering about what to sell, then we've got you covered. Sometimes it's quite hard to find a good digital product. Because we have first-hand experience with what sells the best on Shopify, we have created a valuable list of the best-sell digital products on Shopify.
Feel free to take a look at it and get some ideas! Don't forget to use our app to get the best possible experience selling digital products on Shopify. We are Shopify Experts, so we know how to do it well!
Marketing your digital downloadable products
Marketing is one of the most powerful skills in the world. You could have the best product, but if you don't know how to sell it, then you're not going to get any sales.
You need to make sure you have a solid list of platforms you can try and sell your digital files on. Make sure that you have a plan too.
The best marketing platforms (from our experience) are listed as follows:
Influyentes
Google ads (YouTube and Google)
Meta ads
TikTok ads
Twitter ads
Snapchat ads
Reddit ads
LinkedIn ads
You will also need to get some help with creating video or photo content. This isn't easy at all to do yourself as it takes so long to get the right stuff.
Where can I find content creators to help with marketing?
There is a wide range of places where you can find great content creators:
Social media
Simply look on social media and see their profiles. There are a lot of great creators out there these days who are super keen to create. Drop them a DM, and they will surely get back to you if you offer something.
Upwork or People Per Hour
Upwork or PeoplePerHour can be good for finding content creators, but don't expect the quality to be amazing. There are a lot of people on there who don't really know what they're doing. But you will find the odd gem here and there.
Word of mouth
Nothing is better than word of mouth, getting suggested someone by someone else who has had a great experience.
Mistakes to avoid when selling digital downloads
Also, I just wanted to make you aware of all the mistakes we've seen merchants make over the years. We have compiled a list together to help people like yourself sell well instantly.
Check out our 19 mistakes to avoid when selling digital products guide.
PREGUNTAS FRECUENTES
Are digital products compatible with Shopify?
Yes, digital products are sellable on Shopify. It's really easy to set up. All you need to do is sign up to Shopify, create your product, install the "DDA – Digital Downloads" app from the Shopify app store, and then upload your assets and attach them to your Shopify product.
Can selling digital downloads be profitable?
Yes, digital products are immensely profitable, especially when selling on Shopify. Shopify does not take large commissions, and you keep most of the profit. Digital products have high profit margins due to no shipping or physical labour required.
Do I need a license to sell digital products on Shopify?
No, you do not need a license to sell digital products as long as you are the product owner or have been approved to sell them. Digital products are widely compatible and sellable by anyone. Of course, this depends on the type of digital product you are selling. If you are selling dangerous digital goods or illegal digital goods, you will have problems with legal matters.
Recursos útiles