This involves placing an order on your online store, as a customer would do, to ensure the workflow runs as it should.
Test orders are practice transactions, and they are only for business owners. They help you to ensure that your store's checkout order processing system, email notifications, shipping, taxes, inventory, and every other technology are perfect and functioning correctly.
Test orders could be done when you change your store's payment settings, set up your online store, or test out new apps or features. Whatever the reason, you should know how to do a test order on Shopify, and this article outlines four methods. You can use this Shopify guide for tips on how to start your online store.
Are you selling digital products on Shopify?
Install our DDA Shopify digital downloads app for free. Solving digital product fraud with the best file protection features like no other. Get the app here.
5 Methods to place a test order
1. Use a Shopify Bogus Test Gateway – Only for new non-live stores
You can use Shopify's bogus gateway (a payment provider used to create test orders) to simulate a transaction and create test orders.
It's the best method for new online stores because it requires that you change your payment gateway to a bogus gateway. During this process, nobody will be able to place an order on your live store, which is why it is best for new stores with no traffic.
To enable testing gateway:
Go to "Settings"
Go to "Payments"
Select the hyperlinked text "See all other providers"
Select the top option "(for testing) Bogus Gateway"
Bogus testing card details:
Note: The test purchase amount must be more than $1 (USD) in any currency.
Field name
Details to enter
Card number
Enter each of these numbers to simulate different types of transactions:
– Enter 1 to simulate a successful transaction
– Enter 2 to simulate a failed transaction
– Enter 3 to simulate an exception (this generates a message indicating that an error has occurred with the provider)
Name on card
Type anything
CVV
Enter any 3-digit number (for example, 111)
Expiry Date
Enter any future date
2. Create an order – Fastest & easiest for all stores
This method is best most of the time unless you are testing cost amounts on orders. It works best if you are using our Digital Products delivery app.
You can actually create an order within Shopify's dashboard. This doesn't bring you through the checkout as well as the other options, but I thought I would inform you of this one in case it works for your process.
Go to the Shopify dashboard
Go to "Orders"
Click on "Create order"
Click the "Add discount" text and enter 100%
Choose a product
Enter a customer test email if you want
Once you have entered the details, click on "Collect payment" and the "Mark as paid"
Note: Please be aware that this will show as earnings in your Shopify accounts if you don't use the discount!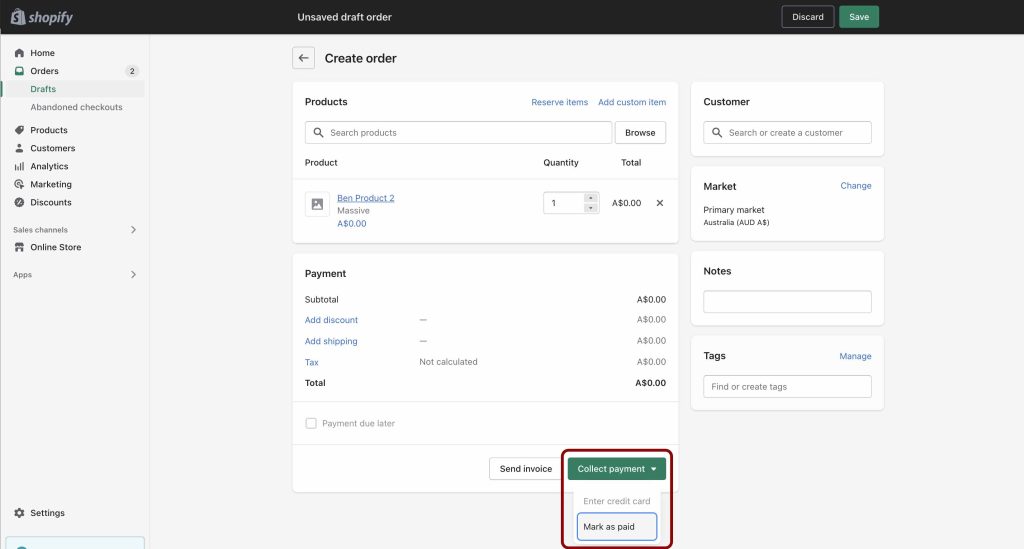 Video tutorial
3. Use a 100% discount code
This method is best for established and running stores, so you do not mess with the payment gateways. Unfortunately, you will not be able to test money or prices when you use this method.
Navigate to your Shopify dashboard
Click on "Discounts"
Click on "Create discount"
Choose "Amount off order"
Type "100%" and generate a code, then click "Save"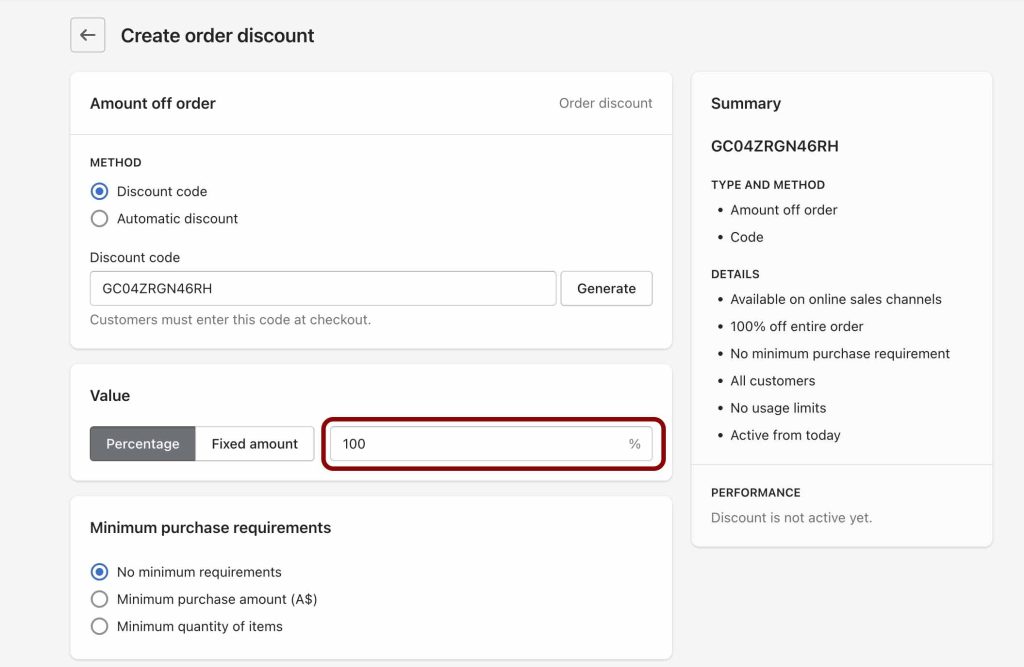 Now, purchase your product on your Shopify store but enter the discount code at checkout, and you will see the process.
4. Use Shopify Payments Test Mode -Only if you have Shopify Payments
Another method is to use Shopify payments as a payment gateway; you need to enable Shopify payments test mode to create test orders. Note that the test purchase amount must be more than $1 (USD) in any currency.
Name on the card – type any two words
Expiry date – enter any future date
Security code – type any 3 numbers
Card number – Use any of the following numbers:
| Card type | Test credit number |
| --- | --- |
| Visa | 4242424242424242 |
| Mastercard | 5555555555554444 |
| American Express | 378282246310005 |
| Discover | 6011111111111117 |
| Diners Club | 30569309025904 |
| JCB | 3530111333300000 |
5. Place a test order with a real transaction, then refund
The next method you can try is to place a real order and then refund yourself.
This method is advantageous because you get to see what customers go through at the checkout, but it is also disadvantageous because it is somewhat costly. After a refund, you will lose a small amount from payment processing fees.
Set up the payment provider you want to test.
Purchase something from your store and use your genuine credit card details during checkout.
If you use a third-party payment provider, log in to ensure that your payment has been processed.
Cancel and refund your order immediately after you are done.
Conclusión
Doing test orders on Shopify is a simple process; all you need to do is choose any of the methods above and follow the steps, and you will be done in no time. Do check out the different ways you can automatically capture your Shopify orders.
Be sure to check out our Shopify app: