What do I need?
Selling digital products on YouTube is much easier than you probably think. You will need to have two things:
A YouTube account
A Shopify $5/month plan – the system to take payments and deliver digital products

You will need to install the below free apps to your Shopify:

DDA Shopify app (Free plan if you want) for digital product delivery with file protection
Linkpop for adding your product checkout links to your YouTube profile (only if you are on the $5/m Shopify plan). If you have your own Shopify storefront on a higher plan, you can just add your store website link in the YouTube descriptions.
You need to think about how much you want to spend and what type of Shopify plan you want.
Shopify store $5/month plan – doesn't support your own store domain, but you can add the buy buttons on your own website (that's not Shopify) and on a landing page using Linkpop.
A Shopify $29/month or higher plan – allows you to have your own Shopify storefront on your own domain name. A website people can go to buy your products.
Both methods work well for this guide.
How do you plan on selling?
I'm guessing that you are here because you have a YouTube channel, and you want to sell digital products in the descriptions of your videos and even in your video content.
You've come to the right place! I will show you how to do both. QR codes are great for in-content advertising for your products.
Learn more about the best-selling digital products.
Method 1 – using your own store website domain
If you have your own Shopify store on the higher plans (starting at $29/m), you can just add this to your YouTube video descriptions.
You will still need to install the DDA Shopify app to your Shopify store.
Method 2 – using Linkpop
Using the Shopify $5/m plan, you must use Linkpop to have a landing page to show your products and let customers buy them. Think of it as a free website storefront to show your products.
You will still need to install the DDA Shopify app to your Shopify store.
Ideas to present links to viewers on YouTube
You can set up a Shopify store and then direct customers from your YouTube videos to visit your store to buy your digital products. You can do this by:
Add the links to your YouTube video descriptions
Add the link to your YouTube profile page
Use the QR code generator to sell digital products in your video content
Why use Shopify? Here's why
The best-proven method in recent years is using a platform called Shopify. Shopify allows you to set up an account where you can add payment gateways to take payments, track orders and chat with your customers, as well as much more!
Unlike other platforms, it is the leading platform because it connects directly with social media.
Pricing & zero commission
Shopify has a lot of great deals for new store creators. Get yourself a free trial for $1/month for 3 months.
The great thing about Shopify is that they don't take commission fees, unlike marketplaces such as Etsy and others that take large cuts. All you need to do is pay for a monthly subscription which varies from $5 USD per month upwards, depending on what you want.
You can pay for a $5 USD per month plan, but you will only be able to add the product Buy Buttons to your current socials or site. That means you cannot have a storefront on the $5 plan, but you can for higher plans. You can only integrate Shopify into your own website or social platforms using the $5 plan. This is perfect for our use case here.
Why Shopify is better than other platforms
More profits
Shopify doesn't take excessive commissions, unlike marketplaces such as Etsy etc. All you need to do is pay a monthly subscription with Shopify. Then every transaction will have a small transaction fee charged by the payment gateway. This happens on every payment transaction in the world, no matter the platform.
You own the domain
Marketplaces and social media are essentially "rented space". You sign up for a profile on their system and need to follow their rules. With Shopify, you own the domain name, and you own the store. You can design any way you like, charge how much you want and be in control.
Safety and speed
Safety is super important when it comes to customer information. Shopify has a brilliant safety system which stands by all of the worldwide rules, including GDPR.
Easiest to use
Shopify has proven to be the easiest-to-use platform for selling products. Their goal was to make it easy for anyone in the world to start a store without needing any computer knowledge.
Taxes and integrations
No matter where you live, Shopify will allow you to track taxes for digital goods. You can basically sell anywhere in the world without needing to set anything up yourself.
It also allows you to track multi-currency orders and let your customers pay in any currency they want.
Shopify also has one of the best app stores for eCommerce, allowing you to integrate with thousands of applications.
Loved by big YouTube creators
Many YouTube influencers are using Shopify. Just look at the latest, such as Mr Beast (the most subscribed), Nelk, and many more.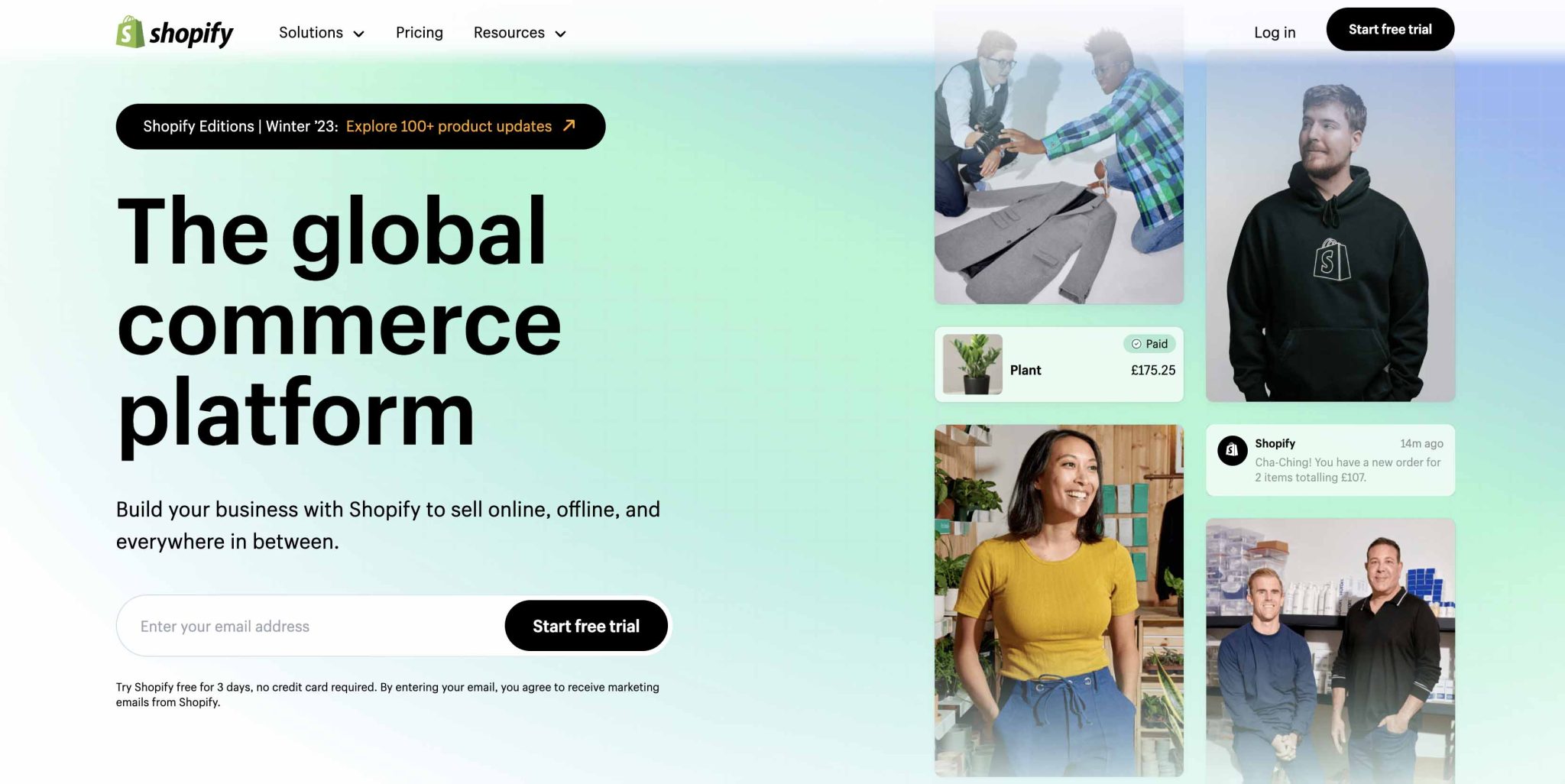 How to set up everything
Step 1 – Sign up to Shopify
What you need to do is sign up for Shopify. You can sign up for the $5 plan here.
Once you sign up, follow the steps, and then you will need to select the plan you choose to create your store. It will ask you to enter your card details. Once you have done this, we are ready to proceed.
Step 2 – Install the free digital product delivery app to your Shopify
Next, you will need to install the below app. This will allow your Shopify store to deliver a digital file instantly to your customers after they have purchased it. This also includes file protection to prevent file sharing.
You can do this by clicking the "Add app" button and following the installation steps. When you get to the pricing page, choose a plan 7-day free trial, or click the continue button to use the free plan.
Step 3 – Create your products in Shopify
Go back to your Shopify dashboard and go to "Products".
Here, you will click the "Add your products" button. If you have already created a product, it will show a green "Add product" button.
Now, enter your product details including the name etc.
Scroll down to the "Shipping" section and uncheck the "This is a physical product" box. This tells the system that it's a digital product. This is very important.
Because it's digital, it's good to uncheck the "Track quantity" box too. Click "Save" once you are complete.
Step 4 – Upload your digital products & attach them
Now, to add digital products to those Shopify products that you created, all you need to do is:
In your Shopify dashboard, click the "Apps" button that is on the left
Click "DDA". A new tab will open.
Now, go to the "Assets" page
Click the "Upload new asset" button and upload your digital products
Next, attach the file to the Shopify products
Click on the digital file that you just uploaded (blue text)
Enter the name of your Shopify product in the search box, select the relevant one and press the "Attach" button.
This will mean the digital file is now attached and armed. If someone purchases this product, a download email will be delivered.
Full video tutorial on setting up digital products
This is if you want to see the full walkthrough on setting up the digital files in the app.
Step 5 – Set up your payment gateway in Shopify
I recommend using Shopify Payments & PayPal as your gateways. It gives users two options, and sometimes they feel more comfortable using PayPal.
You will also get the best rates this way too. Shopify Payments have the best transaction costs compared to other gateways.
Go to Shopify
Click "Settings" > "Payments"
Here you can set up Shopify Payments, PayPal or any other gateway you choose.
Step 6 – Add the digital products to your YouTube
Method 1 – if you have your own store domain
This is if you are using the $29/m Shopify plan and have your own Shopify website store.
Simply add your store domain URL to the YouTube profile website slot.
You can also add links to your YouTube video descriptions.
If you haven't created your product page yet, now you can. The goal is to build an epic landing page that customers convert with. We have built a great guide on this. Take a look at how to build a high-converting landing page on Shopify.
Method 2 – if you are using Linkpop
This is if you are using the $5/m Shopify plan.
Simply sign up to Linkpop if you haven't
Install the Linkpop app to your Shopify store to sync all the products
Add your digital products to your Linkpop page
Add your Linkpop URL to the YouTube profile website slot and in the YouTube video descriptions
Step 7 – Pro tips
Sell using QR codes in content
Use a QR code generator if you want to sell products visually in your content! This allows people to scan your QR code with their phone camera and go directly to the buyable link.
Digital product tax
Digital products require different taxes depending on what countries you're selling in. Please check with your local laws regarding digital goods tax. Europe is required to pay VAT in the country your customer's billing address is in. Learn more about digital goods tax.
Step 8 (Optional) – Customize the "DDA" app
I recommend you return to the DDA app and add customisations to your digital product experience. You can do a lot of things! You can even prevent customers from sharing products with others.
Features & tutorials:
No hay límites de tamaño o tipo de archivo
Seguimiento del ancho de banda de los pedidos y de las descargas
Actualizar los activos y notificar a los clientes
Protección contra el fraude
Adjuntar un número ilimitado de activos a los productos
The digital download email template with brand styling
The customer will receive a digital download email instantly after purchase. This is completely customisable within the DDA (Downloadable Digital Assets) app. This allows you to add your company logo or any languages you like.
You can also show the download links on the checkout Thank You page if you have the Starter plan or higher. You are also able to customize the email templates to suit your brand; this is available on the Scale plan or higher.
Example of Thank You page
Here is an example of what the download links will look like after the customer has reached the Thank You page.
If you get stuck with anything, please feel free to contact us and ask anything you want! We can even provide custom plans if you are on a tight budget.