Last updated on 29 January 2023
The Downloadable Digital Assets Shopify app allows you, "the store", to deliver personalised assets to your customers.
For example, if you get a custom order that you need to edit before delivering, then now it's possible to deliver those personalised files to your customer with ease. Follow our guide below:
Firstly, this is what you will need
Which plan do I need to unlock the personalised digital products feature?
You will need the Starter plan or above for the Downloadable Digital Assets app to unlock the ability to attach files to any order.
There is no limit on attaching additional assets to an order. You can attach as many assets to an order as you like.
Unlocking the customer account downloads
If you want to show the digital files inside a customer's account, you will need to unlock the Customer Account downloads feature by using the Professional plan.
How to deliver your personalised files to your customer on Shopify
We will assume that you have already received the order from your store that you need to personalise for your customer.
Video tutorial
Scroll down for a written tutorial if you want to see a step-by-step process.
Step 1 – Upload the personalised asset/file
Go to the Downloadable Digital Assets app
Go to the 'Assets' page
Click the 'Upload new asset' button
Upload your personalised asset and wait until it's fully uploaded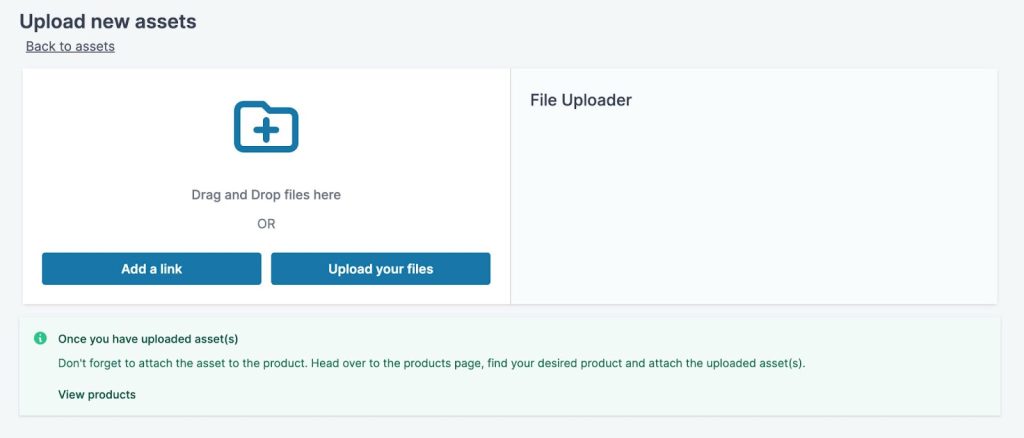 Step 2 – Go to the order to attach the asset/file
Navigate to the 'Orders' page
Click on your order that you want to attach the personalised asset to
Step 3 – Attach the personalised asset/file to the order
Click the 'Attach additional asset' button
Choose the personalised asset that you just uploaded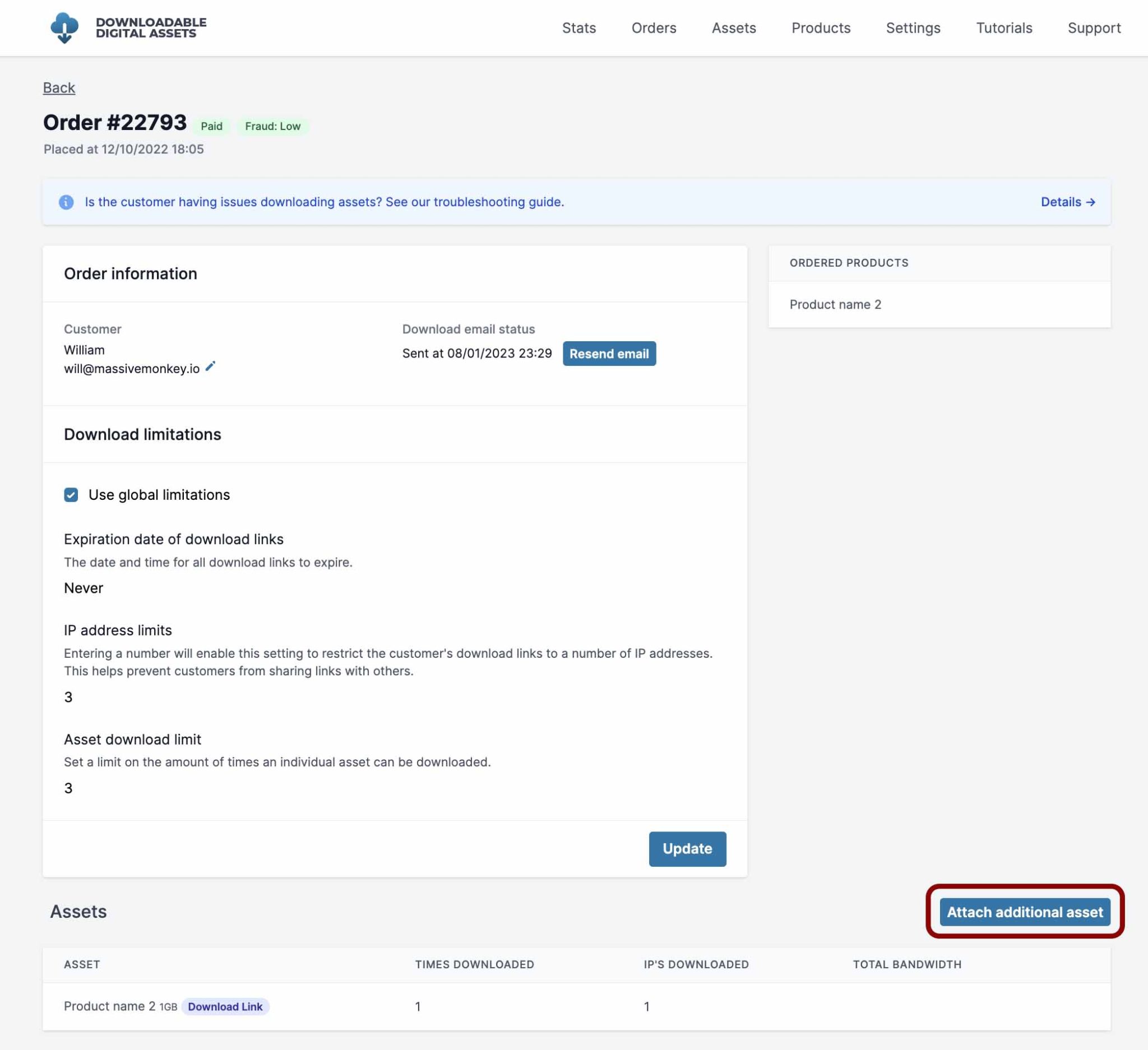 Step 4 – Inform the customer
Inform via email
Click the 'Send now' button (If you have sent an email on this order previously, the button will say 'Resend download email'). This will now send the download fulfilment email to your customer.
Inform via the customer account
If you have the customer account download links enabled in your settings, then you can inform your customer that they can access their downloads in their customer account by sending them an email or informing them in your own method.
You can let them know they can download from their accounts using a few methods:
Once the assets/files are attached to the order, they will automatically show in the customer's account order page (but only if you have this below setting enabled).
Pro tip for customer accounts
If you have the customer account download links setting enabled, you can inform your customers they can download their files in their customer account as well as the email. Add into your fulfilment email template that the customers can log in or sign up with an account on your store, then direct them where to go.
Go to 'Settings'
Click 'Edit email Template'
Go to 'Fulfillment Template'
Add text:
Thanks for ordering with us. You can also access your downloads in your customer account by logging in or signing up using the email that you used in the order.
FAQ
What are the most profitable digital products?
The most profitable digital products are software, subscription-based sales, courses, music production, visuals production, gaming add-ons & a lot more. Pro tip – people pay for convenience. So if you make someone's job easier and faster, you will make money.
Where is the best place to sell digital products?
The best place to sell digital products is Shopify because you will own the domain and have full control. You will want to avoid marketplaces such as Etsy and Envato because they take seriously high commissions (50%+ in some cases), and they have too many rules. You will want to build your own brand with your own digital real estate, meaning that you are in control of everything. You can do anything you want and build your own valuable brand.
How do you make money from digital downloads?
It all comes down to one thing – a good product. Build a digital product that provides value and helps someone speed up their job. People pay for convenience. Then build your own Shopify store and build a brand.