What you need:
How to set up product variants in Shopify
Step 1 – Create or go to a Shopify product
You can either create a new product or go to a current product that you want to add variants to.
Go to your Shopify dashboard
Go to "Products"
Click the "Add product" button to create one, or load up a current product
Here you can adjust and edit your settings of the product, such as name, price etc.
Step 2 – Scroll down to the "Variants" section
Once you are on the product page, scroll down until you see the "Variants" box.
Some older stores may show the older way of adding variants. It may show as an "Options" box.
Step 3 – Enter the values
Now you need to enter an Option name. This is basically a description of the variants. For example, "Size" is an Option name and can have many variants, such as Small, Medium, and Large.
Press "Done". Now the variants have been created. This will turn the single product into separate products known as variants.
Step 4 – Mark as digital if they are digital products
If your products and variants are digital only, then you should mark them as digital in Shopify.
This is important because it stops the Shipping options from showing up for a customer at checkout, and it also stops the Shopify shipping email from being sent to the customer.
You will need to follow these steps for all variants. You can bulk-edit these options by selecting all the variants checkboxes and clicking "Bulk edit".
4.1 – Click on "Edit"
4.2 – Disable "Track quantity"
Because it's digital, we don't need to add a quantity. Digital products have unlimited quantities.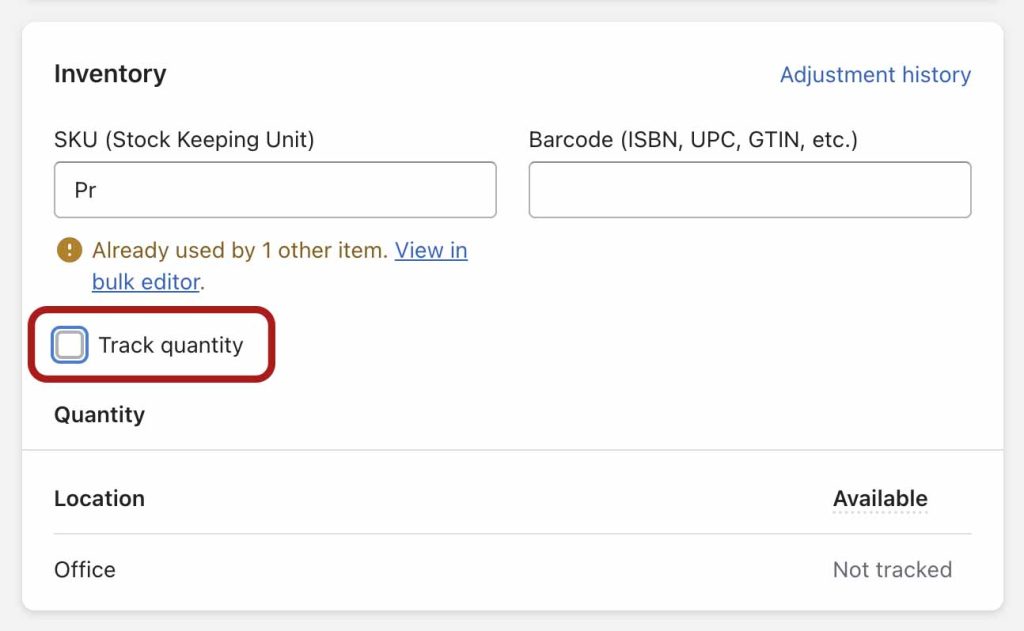 4.3 – Unselect "This is a physical product"
You will need to unselect "This is a physcial product" to tell Shopify that it's digital. This also allows DDA to automatically fulfil the digital product on an order.
Now follow to the next step below to learn how to attach digital files to your variants.
Adding digital files/products to your variants
When selling digital products on Shopify, Shopify does not have an in-built system to sell digital products. You need to install an app from the app store called DDA (Downloadable Digital Assets) to enable digital product delivery with file protection.
Step 1 – Install & go to the DDA app
I am assuming that you have already installed the app to your Shopify store. If not, install DDA here.
Go to your Shopify dashboard
Click "Apps" in the left panel
Click on the DDA app
Step 2 – Upload your files
Now you need to upload the files to the app.
Go to the "Assets" page
Click the "Upload new assets" button. Here is where you will upload your files or add URL assets.
Step 3 – Attach the files to the relevant variants
Now all you need to do is attach the files to the variants. All your new variants will automatically be synced to the app.
Click on one of the variants, and then use the search box to find the uploaded file to attach. You can also bulk-attach the files to the variants by using a CSV if you have a lot of variants.
That is all you need to do. Once the file is attached to the variant, then your store is armed and ready to deliver download emails along with your orders. If a customer purchases that variant, the file will be delivered by email to your customer.
You can now place a test order if you want to test the workflow yourself. You can also customise your email templates if you want to add your branding to the delivery email. Also, check out our other features if you want:
Full video tutorial – How to set up product variants & attach digital products