L'application la plus fiable pour les téléchargements numériques Shopify
Integrate with your Shopify store & improve your customers' download experience selling digital products.
Created by Shopify experts.
DDA - A Shopify Digital Downloads App
Join us with the most advanced digital product delivery app on Shopify. Automatically deliver secure download links to your customers with our high-grade server infrastructure. It doesn't matter if you sell 1 or 100,000 products per day – everything is automated and reliable.
Don't worry about excessive bandwidth costs. Sell large digital files easily.
Stamp your customers' details on the PDF pages to prevent file sharing.
Keep an eye on your stats to understand how your customers are downloading.
Easily change the language of your messaging for your customers.
Easily sell digital products as pre-order and deliver the files on a set release date & time.
Deliver your digital products inside the customers' accounts portal.
Secure your precious digital products with our high-end secure system.
Set a limit on how many IP addresses can download files per order to prevent file sharing.
Enhance your Shopify Digital Product Delivery
Upgrade from Shopify's "Digital Downloads" app and get a more reliable experience with scaling options to grow.
Catering for everyone. Sell large files without worrying about hitting limitations. Give your customers the best experience.
Nous nous sommes intégrés au système de lutte contre la fraude de Shopify, ce qui permet un contrôle total des e-mails de téléchargement.
Recevez des notifications lorsqu'une commande est signalée comme présentant un risque de fraude élevé ou moyen, et interrompez l'envoi automatique de l'e-mail de téléchargement. Vous pouvez ensuite envoyer l'e-mail de téléchargement une fois que vous avez vérifié qu'il s'agit d'une commande authentique.
L'estampillage des PDF est important pour protéger vos téléchargements contre les droits d'auteur. Cela permet d'empêcher les clients de partager leurs fichiers PDF avec d'autres personnes en apposant leur nom, leur adresse électronique et leur numéro de commande sur les pages PDF.
Vous pouvez également verrouiller le PDF afin qu'il ne puisse pas être modifié par votre client, en imprimant de manière permanente ses coordonnées sur le PDF. Pour en savoir plus sur la vente de PDF sur Shopify , cliquez ici.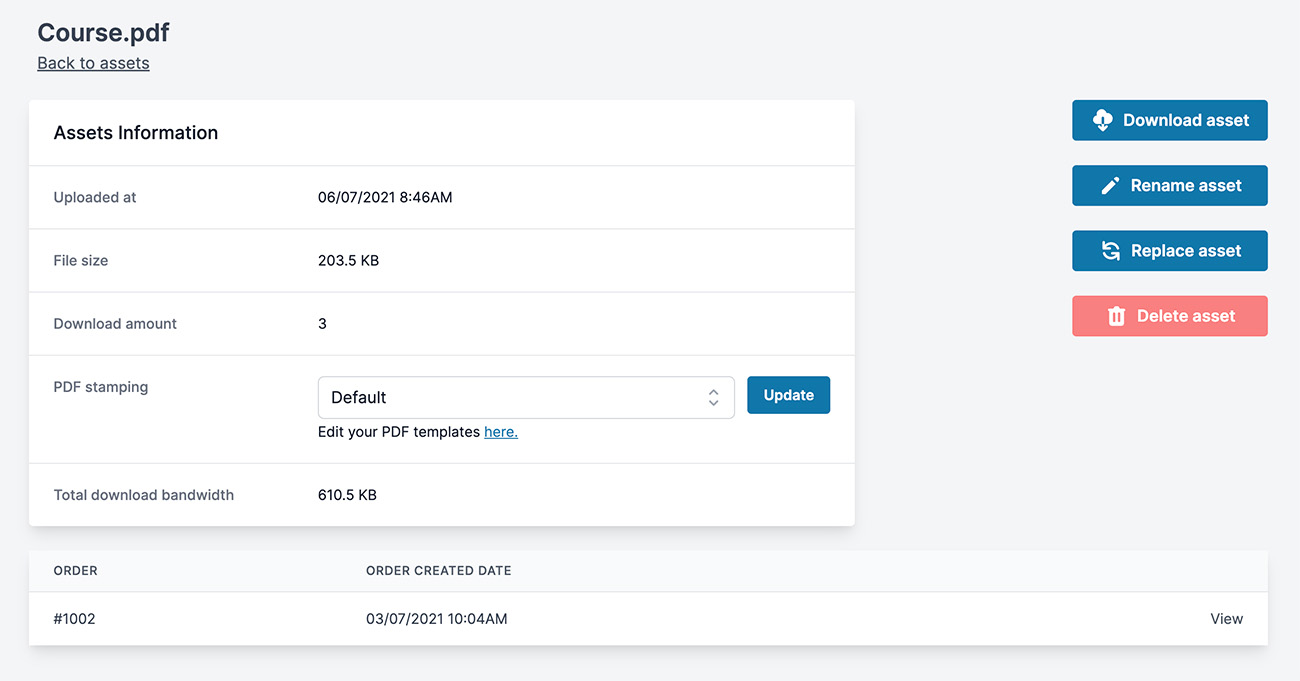 L'une des caractéristiques uniques que nous proposons par rapport aux autres applications de téléchargement numérique est de vous permettre de suivre tous les e-mails de vos clients. Vous pouvez ainsi savoir s'ils ont été ouverts, s'ils ont rebondi ou s'ils sont tombés dans le dossier spam.
Learn more about Email Tracking.
One of our proud features is being able to allow a certain amount of IP addresses to downloading the files.
An IP address is a way to see the location of your customer's computer. It's now possible to block other IP addresses at different locations from accessing the downloads.
For example, if you set that only one IP address can download, then if a customer sends the download email to another person, that second person will be blocked from downloading the files.
You can now set release dates on digital products.
If you have a new product coming out that is on pre-order, then you can set up your digital files to be released at a specific date and time.
Contrôle total et analyse des téléchargements de commandes
Grâce à notre suivi avancé des téléchargements, vous aurez un contrôle total sur les produits numériques de vos clients.
Voyez combien de fois un fichier a été téléchargé et la bande passante totale utilisée. Nous vous fournissons également un rapport de trafic détaillé pour chaque téléchargement.
Téléchargement defichiers
With our cutting-edge file uploader, we send your files directly to top-grade servers.
Cela supprime la double manipulation des données et permet des vitesses de transfert beaucoup plus rapides. Sans oublier qu'il n'y a plus d'intermédiaire dans les téléchargeurs traditionnels, donc moins de pièces mobiles et moins de risques que les choses tournent mal !
DDA has the ability to upload any file type that you desire, and there's no limit on file size as long as you have enough storage allocated in your plan.
Also, one thing to mention, we allow you to use your own S3-compatible server if you want!
After an order has been placed, it's possible to attach more files to their order.
For example, if they request an exchange for a different digital product, you can attach those other assets directly to their order.
You can then resend the download email, or they will automatically show in their customer account if this is enabled.
You can also deliver URLs with an order, such as Dropbox links or YouTube videos.
For example, if you have an unlisted YouTube video or a Dropbox link you want to deliver to your customers when they order, you can attach the URL to the product using our URL assets feature.
Export data reports of all your assets, products, and the connection between them both.
This exports a Google Sheet (CSV) of all the files you have uploaded and attached. It allows you to also get the download links for each asset.
Comment cela fonctionne-t-il ?
Étape 1 - Installer l'application
Install the app to your Shopify store for free, or get a 7-day free trial with any paid plan.
Simply go to the Shopify app store page
Click the "Add app" button to install it on your Shopify store
After you have installed the app to your Shopify store, follow these steps:
Go to your Shopify dashboard > Apps > open up the app
Then upload your files by going to the "Assets" page
Click on the "Upload new assets" button
Your Shopify products & variants are automatically imported from your store. Simply attach the uploaded files directly to the Shopify products or variants.
Now you're armed & ready to sell!
Next, you should make sure to customise the settings to give the best experience to your customers.
Regardez notre vidéo de présentation
Nous vous guiderons visuellement dans l'utilisation de l'application.
Il n'y a rien de mieux que de se voir montrer exactement comment faire les choses.
Supports all file tyes & sizes
Upload any file type & file size within your plan's storage limit, from eBooks to software &; much more.
We have crafted the easiest and most efficient UI to enhance user experience.
Don't worry about your customers not receiving their digital downloads. Deliver 100% of the time.
We use top-grade servers with the fastest content delivery networks in the world.
4 Methods to deliver digital downloads
Livrez les téléchargements numériques des clients de trois manières simples pour améliorer la délivrabilité et impressionner vos clients. Vous pouvez également
désactiver les e-mails de téléchargement
pour permettre aux clients de télécharger uniquement à partir de leur compte client si vous le souhaitez.
DDA Emails
Available on all plans, this is the easiest method to deliver your assets to customers.
Shopify Emails
Add a download button to Shopify's Order Confirmation email that delivers customer's downloads.
Page de remerciement
The fastest way a customer can receive their digital downloads is on the Shopify Order Status page.​
Comptes clients
Donnez à votre marque un aspect professionnel en montrant les produits numériques dans les comptes des clients.
A 7-day free trial is available on all paid plans. A free lifetime plan is available too.
Get 2 months free with yearly plans. Available in-app by going to the plan upgrade page.
Upgrade, downgrade, or cancel your plan at any time. No sneaky contracts or commitments.
With a decade of experience in the Shopify ecosystem, we've built the most user-friendly & reliable digital downloads app.
No order, product or bandwidth limitations. Install and get started today. Only pay for feature upgrades.
Improve your digital download delivery today
Our app is all you'll need to keep your digital products secure. View our Beginner's Guide or FAQ to get set up today. Contact us if you need any more information or help. We will get back to you as soon as possible.
Disponible dans le monde entier sur l'App Store Shopify .