We also have an API available if you have an external or customized solution to sell digital downloads with Shopify.
Getting started – Quick overview
Scroll down for an in-depth walkthrough. Please get in touch with us if you want any help with the setup.
After you have added products to your Shopify store, setting up the app is as simple as this:
1. Upload
Upload your digital assets to the app.
2. Attach
Attach those assets to your Shopify products or variants.
3. Customise
Customise your settings & branding.
Tutoriels pour les demandes spécifiques :
Be sure to check our Shopify Academy if you want to learn more about setting up your Shopify store.
1. Install the DDA app to your Shopify store
Go to the DDA page on the Shopify app store and click the "Add app" button. You can install the free plan for now, or you can get a 7-day free trial.
Une fois installé, veuillez suivre les étapes suivantes.
2. Ensure you have products set up in Shopify
I assume you have already set up your products in Shopify. If you haven't, simply go to:
Shopify dashboard
Click on "Products"
Click on the "Create product" button
Make sure you mark the product as "Digital" if it's only a digital product. All you need to do is, go to the "Shipping" section and uncheck the option "This product requires shipping".
Marking the product as digital and that they don't need to be shipped allows the DDA app to fulfil the product in your orders automatically and disables the shipping email from Shopify. If the product is physical, then that is fine. Digital files will still be delivered.
Learn how to set up variants on your Shopify products.
3. How to set up the app
Step 1 – Upload your digital assets
From your Shopify dashboard, go to the "Apps" in the left navigation, and open the app.
Once you are in the app, go to the "Assets" page
Cliquez sur le bouton "Télécharger de nouvelles ressources". À partir de là, vous pouvez suivre les étapes pour télécharger vos actifs/fichiers ou joindre des URL externes comme actifs.
Check our upload troubleshooting guide if you have trouble uploading.
Step 2 – Attach the uploaded assets to your Shopify products
Veuillez vous assurer que vous avez créé vos produits dans votre boutique Shopify . Notre application synchronise automatiquement tous vos produits Shopify avec la nôtre, ce qui permet d'y attacher facilement des actifs.
Method 1 – from the asset page
Cliquez sur le lien bleu de l'actif après le téléchargement
Utilisez la boîte de recherche/le menu déroulant pour attacher le bien aux produits.
Method 2 – from the product page
Allez à la page "Produits".
Cliquez sur le produit que vous avez choisi et auquel vous voulez attacher des actifs.
Utilisez le champ de recherche/le menu déroulant pour joindre des actifs.
Étape 3 - Personnalisez vos paramètres
Now you have to set your settings so your customers receive their delivery when they place an order. You can upgrade to unlock more features (already installed? Upgrade here), such as:
Find out the best practices to prevent customers from sharing digital products. Learn more by seeing our professional guidance on 19 mistakes to avoid when selling digital products.
Go to the 'Settings' page. Please take your time to go through these settings and make sure they suit your store. Example of the settings page on the Premium plan:
Étape 4 - Lisez notre liste de contrôle ! Soyez prêt pour les produits numériques
Nous vous conseillons vivement de lire notre 'Liste de contrôle de l'installationaprès l'installation. Cela permet de s'assurer que votre magasin est correctement configuré pour fournir des produits numériques sans problème.
Par exemple, certains magasins sont configurés pour recueillir uniquement les numéros de téléphone lors d'une commande. Il faut modifier ce paramètre pour recueillir les adresses électroniques afin que nous puissions envoyer les téléchargements numériques à votre client par courrier électronique. Vous pouvez apprendre comment faire cela dans la liste de contrôle.
Vidéo de présentation
Comment mes clients recevront-ils leurs téléchargements ?
Vos clients peuvent recevoir leurs téléchargements de trois manières différentes :
Par courriel
DDA's Email (enabled by default)
Via email using DDA's email delivery system.
Download emails are enabled by default upon installation and are available for all plans.
Learn how to disable the DDA email delivery.
Shopify's Order Confirmation Email
You can also add download links to Shopify's Order Confirmation email.
Order status Thank You page downloads
On the 'Thank you' Order status page after purchase (available on the Basic plan or higher). Already installed DDA? Upgrade here.
Learn how to enable Thank You page downloads.
This option uses a download box. Learn how to customise the download box text.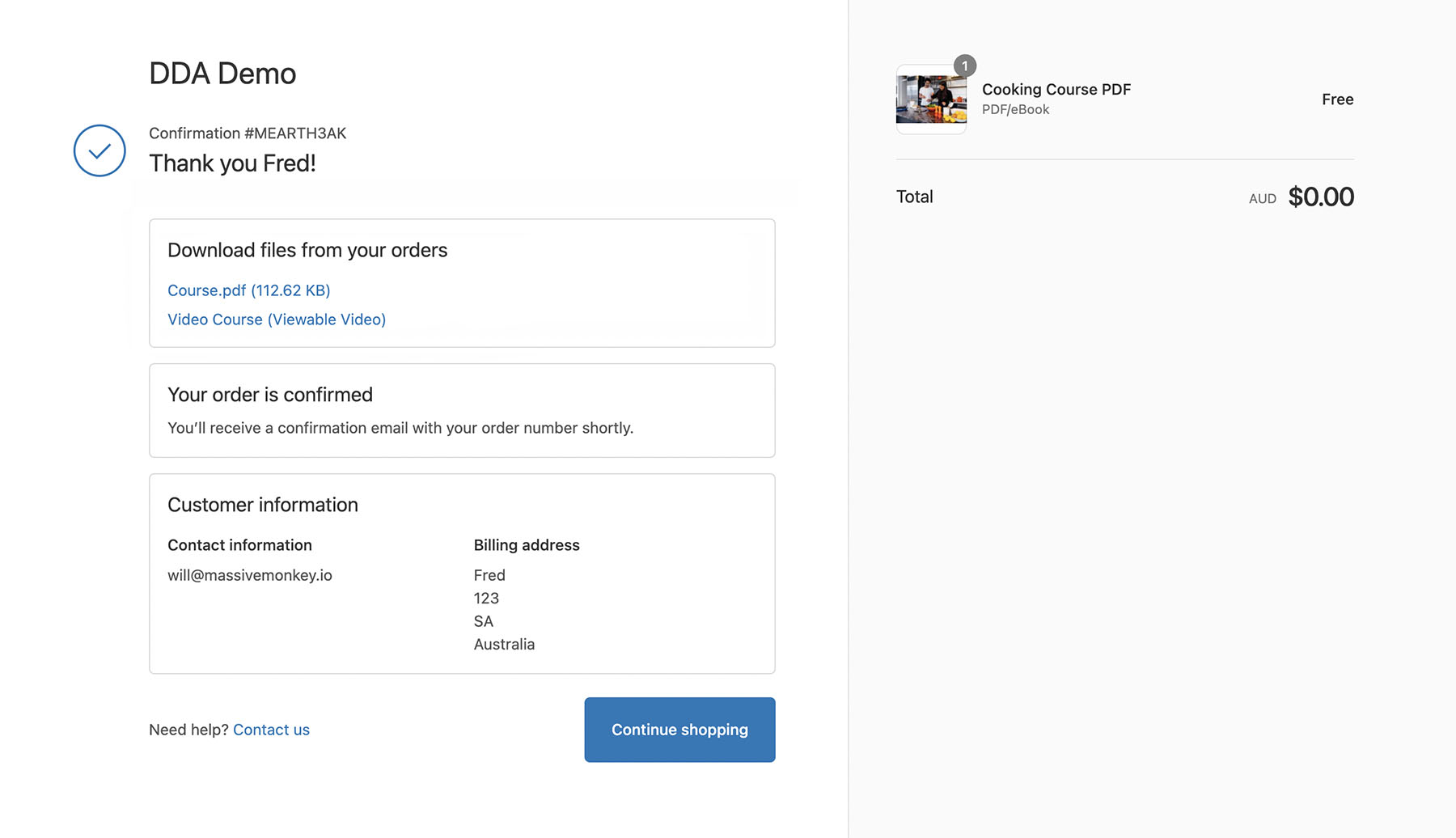 Customer accounts downloads
In the customer accounts order pages (available on the Premium plan). Already installed DDA? Upgrade here.
Learn how to enable customer account downloads.
If your customers didn't create an account at checkout, you could tell your customers that they can create a customer account using the email that they used to purchase. This will automatically create an account with their order inside.
This option uses a download box that uses the styling of your website's CSS. Learn how to customise the download box.
You can also use a customer account designing application called CustomerHub with DDA if you want to build your own customer accounts.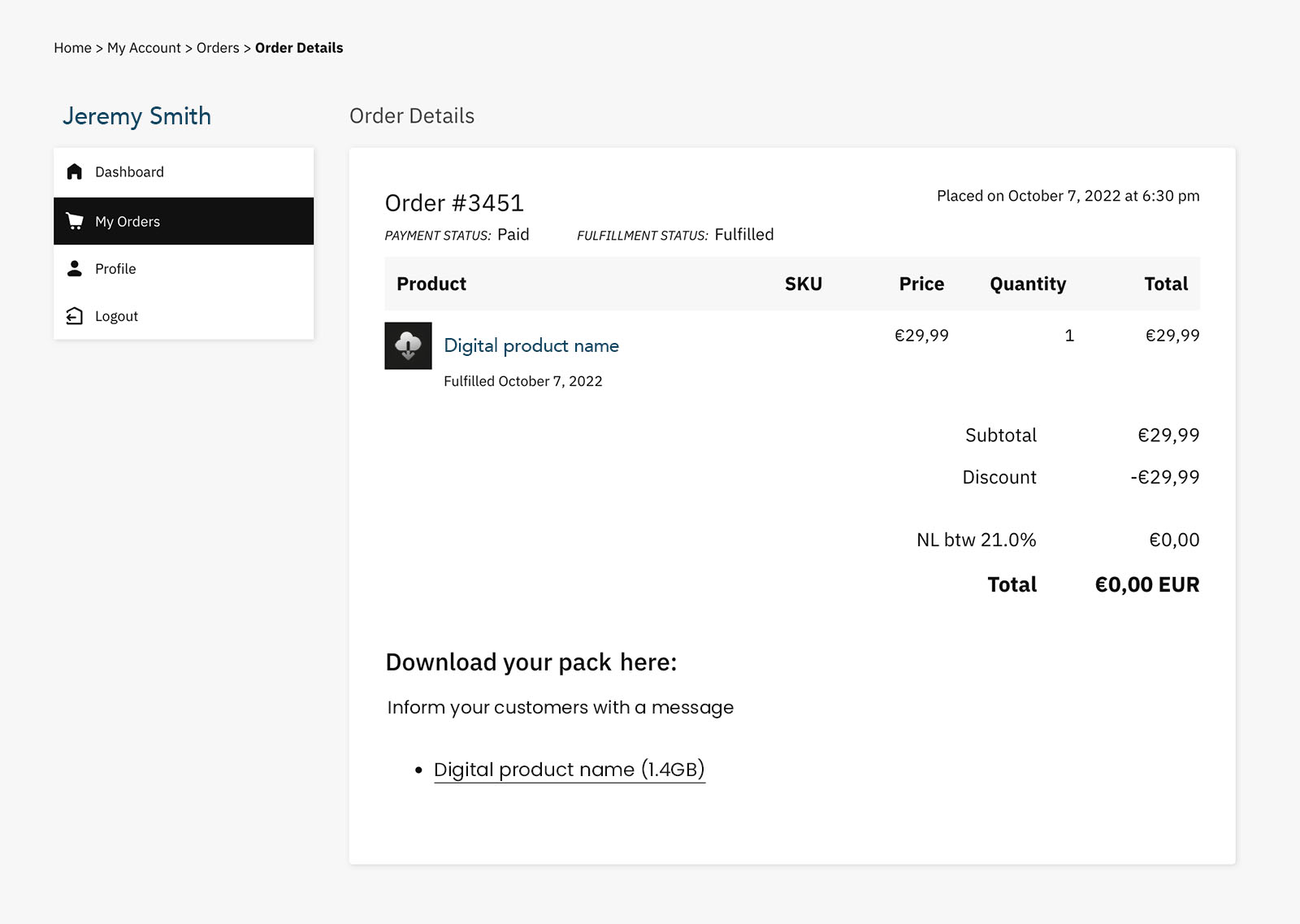 Recommandations
Ajouter les informations de téléchargement à l'e-mail de confirmation de commande de Shopify.
Je vous recommande vivement d'ajouter des informations sur les téléchargements dans votre modèle d'e-mail de confirmation de commande Shopify .
ShopifyLe domaine de messagerie électronique de l'UE a un taux de délivrabilité très élevé et tombe rarement dans le spam. Si vous utilisez votre adresse électronique personnalisée, il est possible que vos messages tombent dans le dossier spam. Vous pouvez ajouter ici des informations indiquant à vos clients où trouver leurs téléchargements.
Learn how to add information & download links to the Shopify Confirmation email.
Résolution des problèmes de téléchargement pour les clients
In some rare cases, customers may run into download problems. This is usually caused by old browsers or operating systems that just need a quick restart. You can send the customer this download issue troubleshooting guide to find out what the issue could be.
Améliorer vos connaissances
Ce qu'il faut savoir :
Téléchargez et vendez des fichiers de tout type et de toute taille (dans les limites de votre forfait).
We use ultra-fast & secure download servers
We don't add code to your theme (unless you add customer account downloads)
Apprenez comment mettre à niveau ou déclasser votre plan facilement.
Certains clients abusent des règles et apprennent à bloquer leurs téléchargements.
Il existe quelques méthodes essentielles pour aider à protéger vos produits numériques contre la fraude.
Learn from the experts in selling digital downloads online.
Dernières paroles
Si vous êtes bloqué, contactez-nous, nous sommes là pour vous aider !