Starting a business is much easier than it used to be, and Shopify is one of the popular platforms for doing so. Shopify is an eCommerce website that business owners can use to set up their stores online and offline. With this platform, you can sell products online or in person.
L'une des choses les plus populaires à vendre sur Shopify sont les produits numériques tels que les PDF, les fichiers ZIP, les médias, la musique et plus encore. Il s'agit d'un guide simple sur la vente de PDF avec votre boutique Shopify , mais il s'applique également à tout autre type de bien.
Quels produits numériques téléchargeables puis-je vendre sur Shopify?
For convenience, you can sell digital products with Shopify. This is an intangible asset that can be sold online repeatedly without having to replenish inventory. It offers a high-profit margin; they are flexible, with low overhead costs and easy automation.
Que vous vendiez des livres électroniques ou des didacticiels, vous pouvez le faire facilement en utilisant des documents PDF et réaliser des bénéfices avec cet actif immatériel.
Consultez ce guide pour découvrir d'autres types de produits numériques à vendre sur Shopify.
What do I need for this tutorial?
Étapes à suivre pour vendre des PDF sur Shopify
If you want to sell PDFs on Shopify, you can use the free Shopify app called DDA – Digital Downloads. The app allows you to upload PDFs and attach them to your products in your store. Then if a customer purchases the product, they automatically get the link to download the PDF.
Tutoriel vidéo (faites défiler la page pour les étapes)
1. Créez votre produit sur Shopify
Sign up to Shopify if you haven't already. It's got a free trial of 14 days, so that gives you plenty of time! If you have already signed up, log in, then go to your Shopify dashboard and click on the 'Products' page.
Cliquez ensuite sur le bouton "Ajouter un produit". Vous pouvez alors saisir tous les détails du produit pour le créer.
2. Install the DDA app to deliver PDFs on Shopify
Shopify doesn't have its own built-in digital product delivery system. You will need to go to the app store to install an app to create the system workflow. Start by installing the DDA – Digital Downloads app from the Shopify app store.
It has a free plan which is great for beginners, and also has more advanced plans for professional stores, catering for everyone.
La raison pour laquelle cette application est le meilleur choix :
PDF Stamping – protect your PDFs from being shared by stamping your customers' personal details on the pages of the PDF. You also have the choice to lock the PDF so they cannot be removed.
Set IP address limitations – only allow your customers to download from a number of IP addresses. This helps prevent them from sharing the downloads with others.
Built by Shopify developers – first-hand knowledge of what the store owners need
The easiest-to-use user interface out of all the digital download apps
Ultra-fast download speeds using the fastest CDNs
Attach additional files to any order for personalised digital products
Email tracking to understand how customers are downloading files
Fixer des dates de sortie
Other apps, such as Shopify's Digital Downloads app, is very limited in features, and they give you the most basic options. There are no upgrade options, no PDF Stamping, no file protection, no way to brand the workflow for your customers and much more.
3. Chargez vos PDF dans l'application
Nous supposons que vous avez déjà créé votre PDF. Ensuite, téléchargez vos fichiers numériques (PDF) à l'aide de l'application.
Allez à la page "Actifs".
Click the 'Upload new assets' button, then follow the steps
Vous pouvez y télécharger vos PDF afin d'être prêt à les joindre à vos produits.
4. Joignez votre PDF à votre produit
Tous vos produits seront automatiquement synchronisés à partir de Shopify, et le nouveau produit que vous avez créé à l'étape 1 apparaîtra sur la page "Produits".
Cliquez sur le produit.
Lorsque la page se charge, vous verrez un champ de recherche avec un bouton à côté indiquant "Attacher le bien". Sélectionnez ou recherchez votre PDF et cliquez sur le bouton pour le joindre au produit.
Conseils utiles pour la vente de PDF
Conseil 1 - Estampillage PDF
Grâce à Downloadable Digital Assets, vous pouvez apposer un cachet sur vos PDF pour empêcher les clients de partager leurs fichiers PDF avec d'autres personnes. L'activation de l'estampillage des PDF permet d'apposer le nom, l'adresse électronique ou le numéro de commande du client sur le PDF.
Vous pouvez également verrouiller le PDF afin qu'il ne puisse pas être édité ou modifié par le client. Ainsi, il est difficile pour le client de partager les PDF, car ses données personnelles seront marquées de façon permanente sur le PDF.
Vous pouvez activer l'estampillage PDF en allant sur la page "Actifs" > cliquez sur votre actif PDF > choisissez votre modèle d'estampillage PDF > cliquez sur "Mettre à jour".
Vous pouvez en savoir plus sur la mise en place de l'estampillage PDF ici.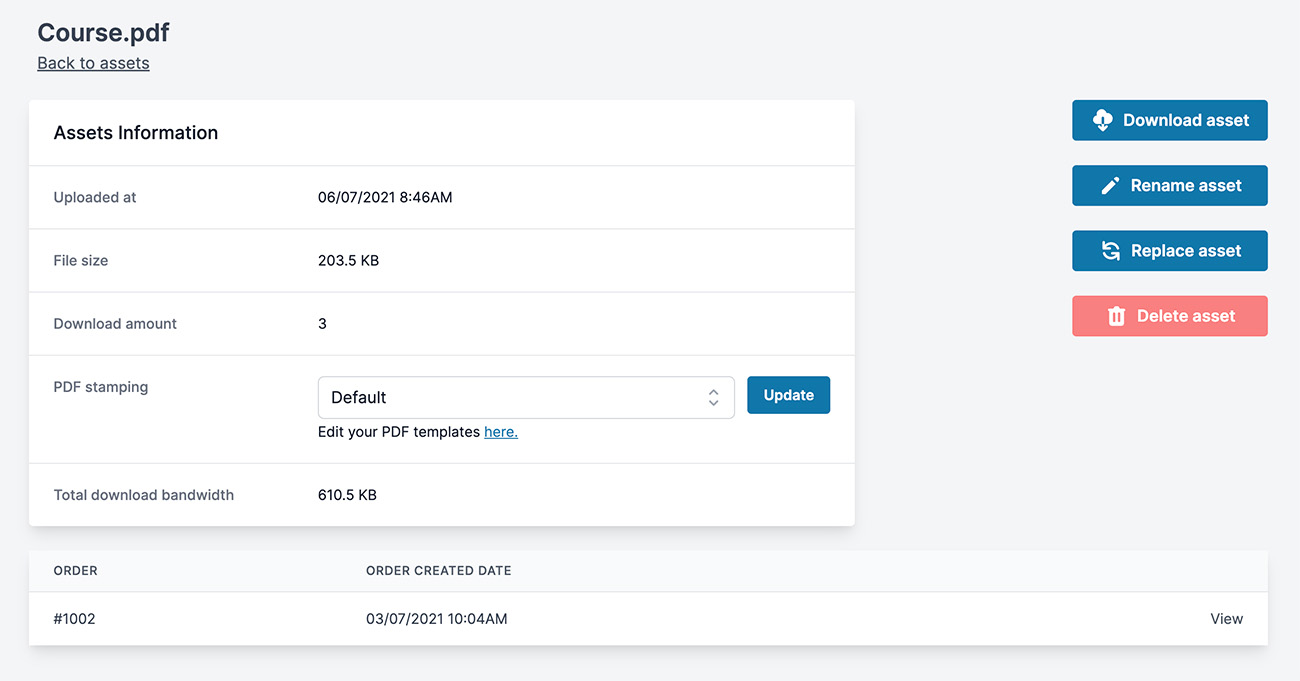 Conseil 2 - Fixer des limites de téléchargement
Vous pouvez même fixer des limites de téléchargement, en autorisant les clients à télécharger le PDF un certain nombre de fois seulement. Pour ce faire, il vous suffit d'accéder à la page "Paramètres" et à la case "Limites".
Tip 3 – View the order analysis page
Whenever your customers make an order, you can view the order details on the 'Orders' page within the app.
Il indique la date et l'heure, l'adresse électronique et le nom du client, le numéro de commande, le nombre de téléchargements par commande, le suivi de la bande passante, l'adresse IP et bien plus encore.
S'il y a un problème avec le téléchargement, vous pouvez renvoyer le courriel de téléchargement.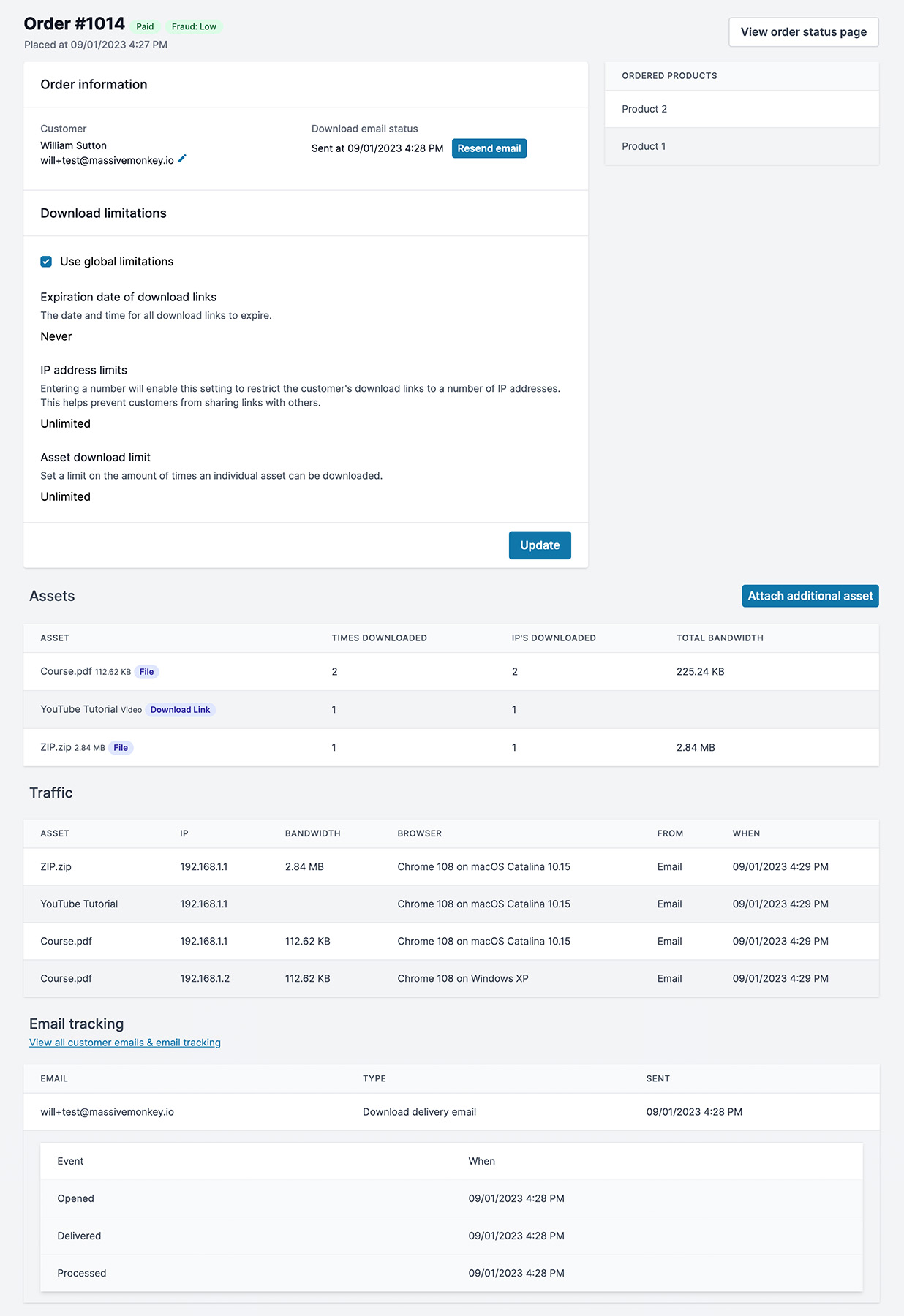 Click image to enlarge.
Conseil 4 - Bloquez les téléchargements des clients malveillants
Si vous voulez empêcher le client de télécharger le produit, vous pouvez faire en sorte que la commande expire. Suivez ce tutoriel pour apprendre comment empêcher les clients de télécharger les fichiers.
Conseil 5 - Livrez les fichiers PDF de plusieurs façons
Pour faciliter les achats de vos clients, vous pouvez afficher les téléchargements directement sur les pages de paiement de vos clients et dans les comptes des clients.
This allows your customers to download their PDFs on the checkout page or their accounts. Go to the 'Settings' page to enable these features.
Au total, ces 3 méthodes sont disponibles pour livrer votre PDF :
Conseil 6 - Dépannage des problèmes de téléchargement
In some rare cases, customers may get an issue downloading files. This is usually caused by an issue on their computer that's caused by things like old browsers or software. You can see our download issue troubleshooting guide here that you can send to your customer.
You can also send this troubleshooting guide to your customers to help them understand how to solve their issues.
Conclusion
Selling PDFs on Shopify is easy and convenient for all online business owners. Once you download the DDA app onto your Shopify store, you can upload the PDF and start selling it to your customers quickly.
C'est pourquoi nous recommandons cette application comme la meilleure application de téléchargements numériques pour Shopify.
Ce qui est génial, c'est que l'application est construite par des experts de Shopify qui savent exactement ce dont un propriétaire de magasin a besoin parce qu'ils ont construit des tonnes de magasins au fil des ans.
FAQ
Comment puis-je vendre mon PDF en ligne ?
The best place to sell your PDF online is using Shopify. This means you take 100% of your profits because you own the store. You can sell PDFs on Shopify really easy. All you need to do is install the DDA -Downloadable Digital Assets Shopify app for free onto your store, then you're ready to sell PDFs.
Comment protéger un livre électronique PDF ?
Protecting a PDF eBook is very easy using the DDA – Downloadable Digital Assets Shopify app. It introduces the best protection features such as PDF Stamping & IP address limitations. This prevents customers from sharing the PDF eBooks with others.
Comment mettre un filigrane sur un livre électronique ?
Vous pouvez créer un filigrane sur un livre électronique à l'aide de cette application Shopify . Elle vous permet d'apposer les données personnelles du client sur les pages et verrouille ensuite le livre électronique pour qu'elles ne puissent pas être effacées.
Articles similaires