Starting a business is much easier than it used to be, and Shopify is one of the popular platforms for doing so. Shopify is an eCommerce website that business owners can use to set up their stores online and offline. With this platform, you can sell products online or in person.
One of the popular things to sell on Shopify is digital products such as PDFs, ZIP files, media, music & more. This is a simple guide on selling PDFs with your Shopify store, but it also applies to any other type of asset.
What digital downloadable products can I sell on Shopify?
For convenience, you can sell digital products with Shopify. This is an intangible asset that can be sold online repeatedly without having to replenish inventory. It offers a high-profit margin; they are flexible, with low overhead costs and easy automation.
Whether you are selling eBooks or tutorials, you can do this easily using PDF docs and make a profit with this intangible asset.
View this guide to find out more types of digital products to sell on Shopify.
What do I need for this tutorial?
Steps on how to sell PDFs on Shopify
If you want to sell PDFs on Shopify, you can use the free Shopify app called DDA – Digital Downloads. The app allows you to upload PDFs and attach them to your products in your store. Then if a customer purchases the product, they automatically get the link to download the PDF.
Video tutorial (scroll down for steps)
1. Create your product on Shopify
Sign up to Shopify if you haven't already. It's got a free trial of 14 days, so that gives you plenty of time! If you have already signed up, log in, then go to your Shopify dashboard and click on the 'Products' page.
Then click the 'Add product' button. Here you can enter all your product details to create the product.
2. Install the DDA app to deliver PDFs on Shopify
Shopify doesn't have its own built-in digital product delivery system. You will need to go to the app store to install an app to create the system workflow. Start by installing the DDA – Digital Downloads app from the Shopify app store.
It has a free plan which is great for beginners, and also has more advanced plans for professional stores, catering for everyone.
The reason this app is the best choice:
PDF Stamping – protect your PDFs from being shared by stamping your customers' personal details on the pages of the PDF. You also have the choice to lock the PDF so they cannot be removed.
Set IP address limitations – only allow your customers to download from a number of IP addresses. This helps prevent them from sharing the downloads with others.
Built by Shopify developers – first-hand knowledge of what the store owners need
The easiest-to-use user interface out of all the digital download apps
Ultra-fast download speeds using the fastest CDNs
Attach additional files to any order for personalised digital products
Email tracking to understand how customers are downloading files
Set release dates
Other apps, such as Shopify's Digital Downloads app, is very limited in features, and they give you the most basic options. There are no upgrade options, no PDF Stamping, no file protection, no way to brand the workflow for your customers and much more.
3. Upload your PDFs to the app
We're assuming you already have your PDF created. Next, upload your digital files (PDFs) using the app.
Go to the 'Assets' page
Click the 'Upload new assets' button, then follow the steps
Here you can upload your PDFs so you're ready to attach them to your products.
4. Attach your PDF to your product
All your products will be automatically synced from Shopify, so the new product you created in step 1 will show on the 'Products' page.
Click on the product.
When the page loads, you will see a search box with a button next to it saying 'Attach asset'. Select or search for your PDF and click the button to attach it to the product.
Helpful tips for selling PDFs
Tip 1 – PDF Stamping
Using Downloadable Digital Assets, you can stamp your PDFs to prevent customers from sharing their PDF files with others. Enabling PDF stamping stamps the customers' name, email or order number onto the PDF.
You can also lock the PDF so it cannot be edited or changed by the customer. This makes it difficult for the customer to share the PDFs because their personal details will be permanently stamped on the PDF.
You can enable PDF Stamping by going to the 'Assets' page > click on your PDF asset > choose your PDF Stamping template > click 'Update'.
You can learn more about setting up PDF stamping here.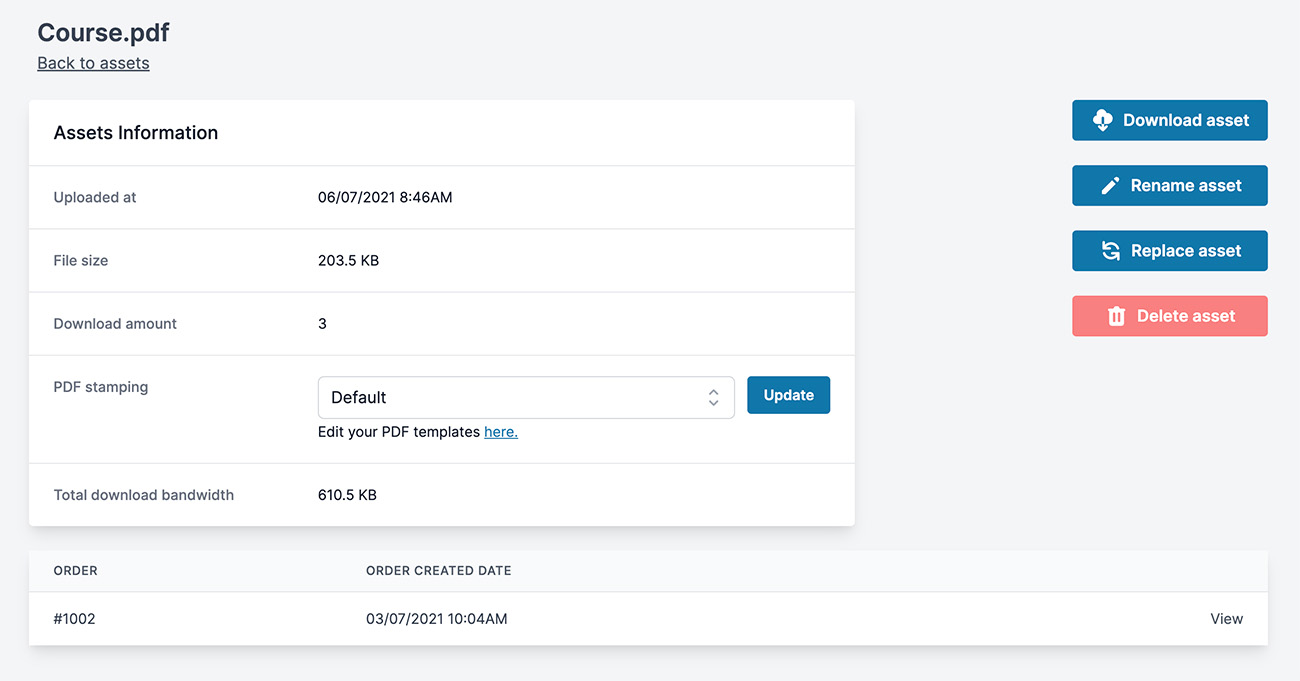 Tip 2 – Setting download limits
You can even set your download limits, only allowing customers to download the PDF a specific number of times. You can do this by going to the 'Settings' page and going to the 'Limitations' box.
Tip 3 – View the order analysis page
Whenever your customers make an order, you can view the order details on the 'Orders' page within the app.
This shows the date and time, customer's email and name, order number, number of downloads per order, bandwidth tracking, IP address & much more.
If there is a problem with the download, you can resend the download email.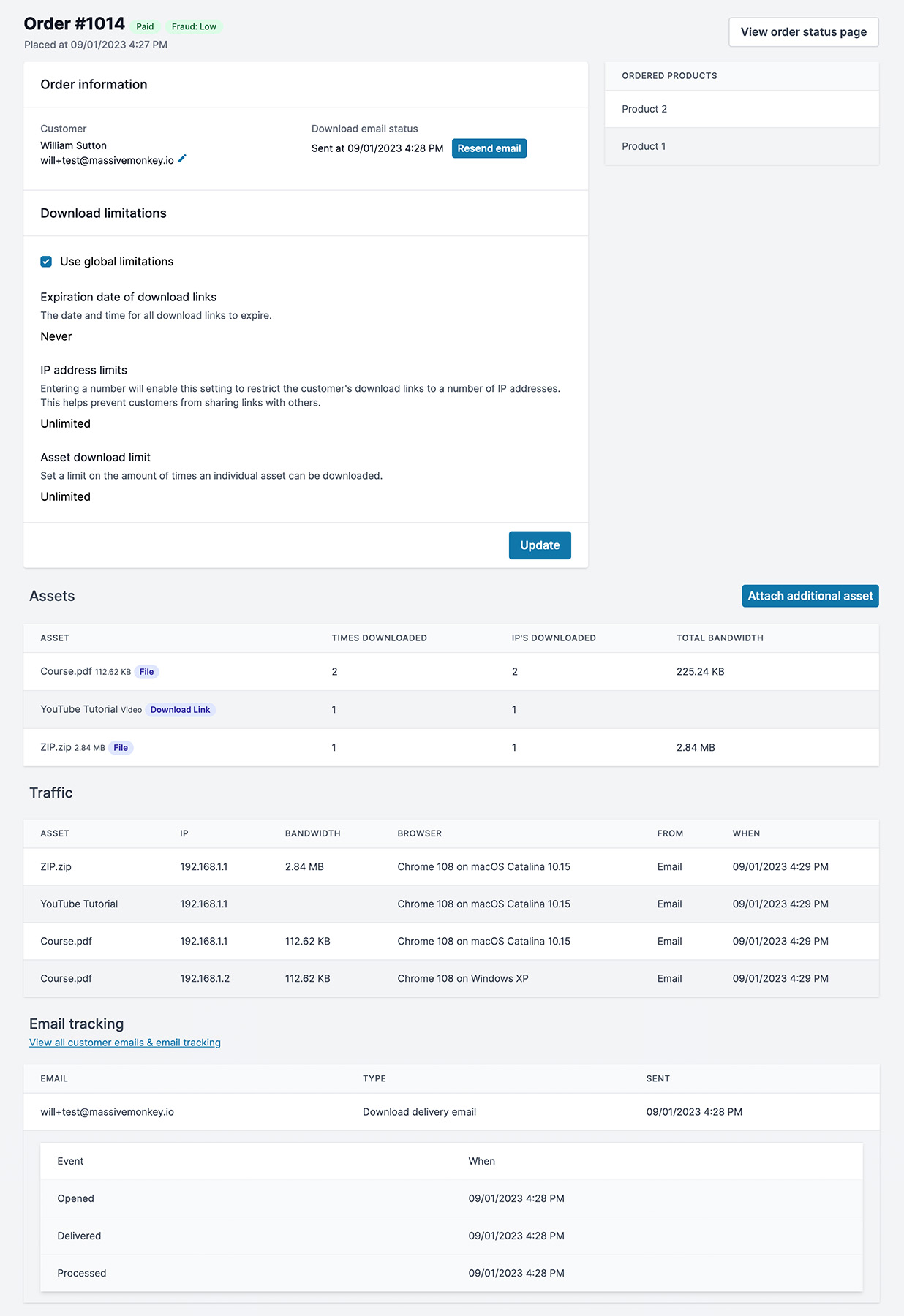 Click image to enlarge.
Tip 4 – Block downloads from naughty customers
If you want to stop the customer from downloading the product, you can make the order expire. Follow this tutorial to learn how to block customers from downloading the files.
Tip 5 – Deliver PDF files in a few ways
To make purchases easier for your customers, you can display downloads directly on your customers' checkout pages & in the customers' accounts.
This allows your customers to download their PDFs on the checkout page or their accounts. Go to the 'Settings' page to enable these features.
Altogether, these 3 methods are available to deliver your PDF:
Tip 6 – Troubleshooting download issues
In some rare cases, customers may get an issue downloading files. This is usually caused by an issue on their computer that's caused by things like old browsers or software. You can see our download issue troubleshooting guide here that you can send to your customer.
You can also send this troubleshooting guide to your customers to help them understand how to solve their issues.
Conclusion
Selling PDFs on Shopify is easy and convenient for all online business owners. Once you download the DDA app onto your Shopify store, you can upload the PDF and start selling it to your customers quickly.
That's why we recommend this app as the best digital downloads app for Shopify.
The great thing is the app is built by Shopify experts who know exactly what a store owner needs because they have built tons of stores over the years.
FAQ
How can I sell my PDF online?
The best place to sell your PDF online is using Shopify. This means you take 100% of your profits because you own the store. You can sell PDFs on Shopify really easy. All you need to do is install the DDA -Downloadable Digital Assets Shopify app for free onto your store, then you're ready to sell PDFs.
How do I protect a PDF eBook?
Protecting a PDF eBook is very easy using the DDA – Downloadable Digital Assets Shopify app. It introduces the best protection features such as PDF Stamping & IP address limitations. This prevents customers from sharing the PDF eBooks with others.
How do you watermark an eBook?
You can watermark an eBook using this Shopify app. It allows you to stamp the customer's personal details onto the pages and then locks the eBook so they cannot be removed.
Similar articles