We also have an API available if you have an external or customized solution to sell digital downloads with Shopify.
Getting started – Quick overview
Scroll down for an in-depth walkthrough. Please get in touch with us if you want any help with the setup.
After you have added products to your Shopify store, setting up the app is as simple as this:
1. Upload
Upload your digital assets to the app.
2. Attach
Attach those assets to your Shopify products or variants.
3. Customise
Customise your settings & branding.
Tutorial per richieste specifiche:
Be sure to check our Shopify Academy if you want to learn more about setting up your Shopify store.
1. Install the DDA app to your Shopify store
Go to the DDA page on the Shopify app store and click the "Add app" button. You can install the free plan for now, or you can get a 7-day free trial.
Una volta installato, seguire i passaggi successivi.
2. Ensure you have products set up in Shopify
I assume you have already set up your products in Shopify. If you haven't, simply go to:
Shopify dashboard
Click on "Products"
Click on the "Create product" button
Make sure you mark the product as "Digital" if it's only a digital product. All you need to do is, go to the "Shipping" section and uncheck the option "This product requires shipping".
Marking the product as digital and that they don't need to be shipped allows the DDA app to fulfil the product in your orders automatically and disables the shipping email from Shopify. If the product is physical, then that is fine. Digital files will still be delivered.
Learn how to set up variants on your Shopify products.
3. How to set up the app
Step 1 – Upload your digital assets
From your Shopify dashboard, go to the "Apps" in the left navigation, and open the app.
Once you are in the app, go to the "Assets" page
Fare clic sul pulsante "Carica nuove risorse". Da qui è possibile seguire i passaggi per caricare le risorse/file o allegare URL esterni come risorse.
Check our upload troubleshooting guide if you have trouble uploading.
Step 2 – Attach the uploaded assets to your Shopify products
Assicuratevi di aver creato i prodotti nel vostro negozio Shopify . La nostra applicazione sincronizza automaticamente tutti i prodotti Shopify con la nostra applicazione, rendendo più facile allegare gli asset.
Method 1 – from the asset page
Fare clic sul link blu della risorsa dopo il caricamento
Utilizzate la casella di ricerca/il menu a tendina per associare l'asset ai prodotti.
Method 2 – from the product page
Andate alla pagina "Prodotti
Fare clic sul prodotto scelto a cui si desidera allegare le attività
Utilizzate la casella di ricerca/il menu a tendina per allegare le risorse.
Passo 3 - Personalizzare le impostazioni
Now you have to set your settings so your customers receive their delivery when they place an order. You can upgrade to unlock more features (already installed? Upgrade here), such as:
Find out the best practices to prevent customers from sharing digital products. Learn more by seeing our professional guidance on 19 mistakes to avoid when selling digital products.
Go to the 'Settings' page. Please take your time to go through these settings and make sure they suit your store. Example of the settings page on the Premium plan:
Fase 4 - Leggete la nostra lista di controllo! Essere pronti per i prodotti digitali
Si consiglia vivamente di leggere il nostro 'Lista di controllo per la configurazione' dopo l'installazione. Questo assicura che il vostro negozio sia configurato correttamente per fornire prodotti digitali senza problemi.
Ad esempio, alcuni negozi sono impostati per raccogliere solo i numeri di telefono su un ordine. È necessario modificare questa impostazione per raccogliere i messaggi di posta elettronica, in modo da poter inviare via e-mail i download digitali ai clienti. Per sapere come fare, consultare la lista di controllo.
Video guida
Come riceveranno i download i miei clienti?
I vostri clienti possono ricevere i download in tre modi:
Via e-mail
DDA's Email (enabled by default)
Via email using DDA's email delivery system.
Download emails are enabled by default upon installation and are available for all plans.
Learn how to disable the DDA email delivery.
Shopify's Order Confirmation Email
You can also add download links to Shopify's Order Confirmation email.
Order status Thank You page downloads
On the 'Thank you' Order status page after purchase (available on the Basic plan or higher). Already installed DDA? Upgrade here.
Learn how to enable Thank You page downloads.
This option uses a download box. Learn how to customise the download box text.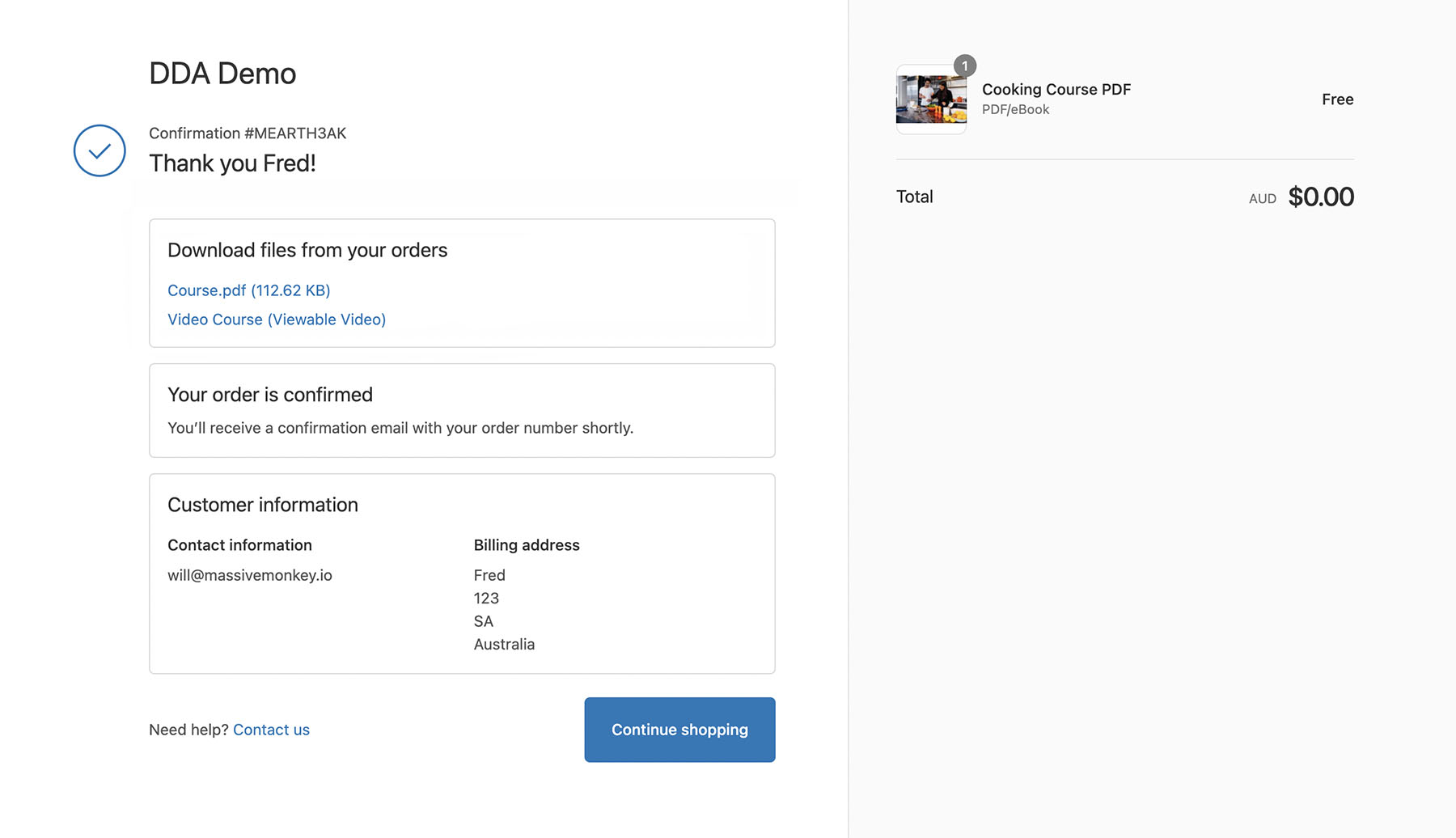 Customer accounts downloads
In the customer accounts order pages (available on the Premium plan). Already installed DDA? Upgrade here.
Learn how to enable customer account downloads.
If your customers didn't create an account at checkout, you could tell your customers that they can create a customer account using the email that they used to purchase. This will automatically create an account with their order inside.
This option uses a download box that uses the styling of your website's CSS. Learn how to customise the download box.
You can also use a customer account designing application called CustomerHub with DDA if you want to build your own customer accounts.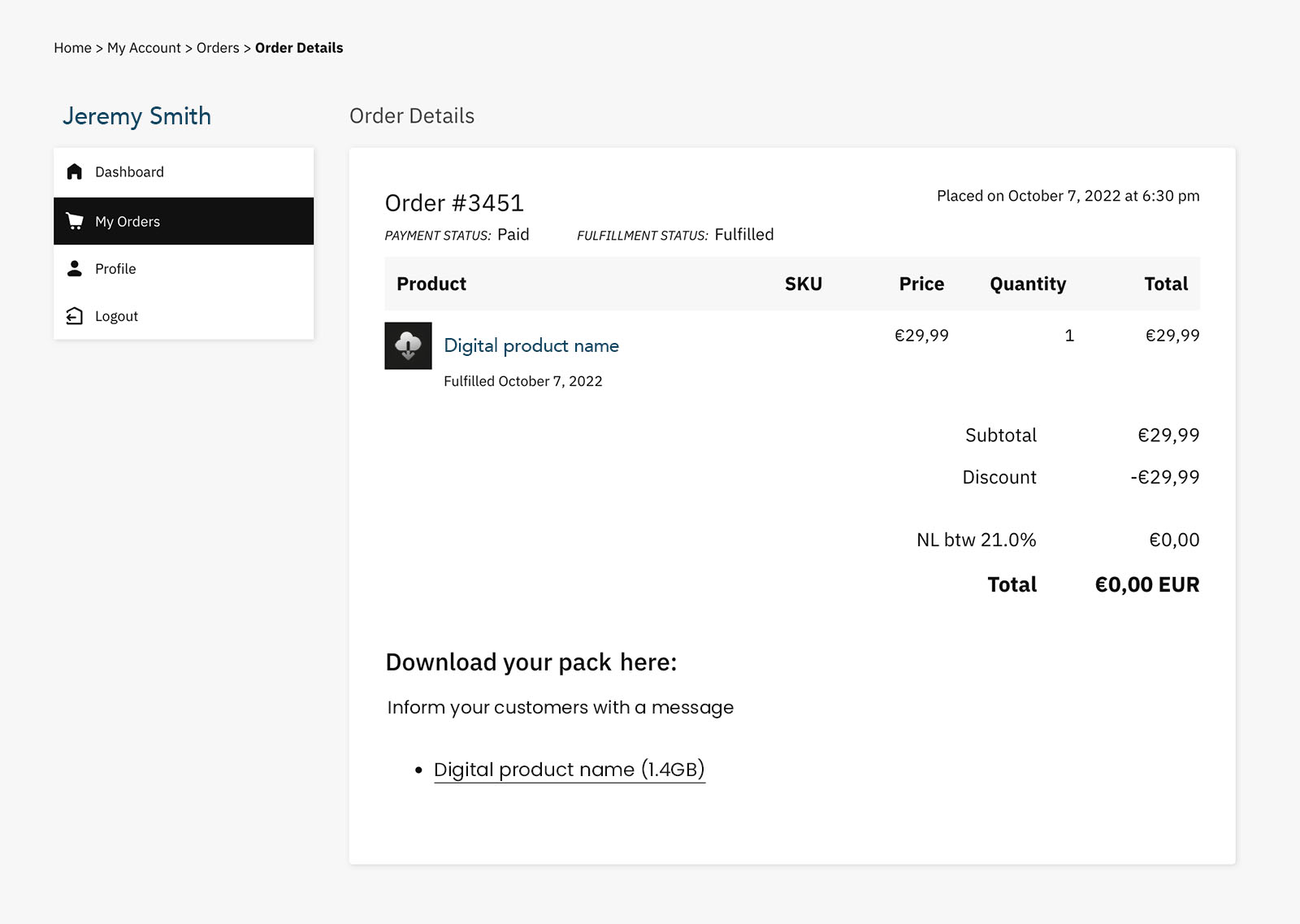 Raccomandazioni
Aggiungere informazioni sul download all'e-mail di conferma dell'ordine di Shopify
Consiglio vivamente di aggiungere informazioni sui download nel modello di e-mail di conferma dell'ordine Shopify .
ShopifyIl dominio di posta elettronica del nostro sito ha un tasso di recapito molto elevato e raramente finisce nella cartella spam. Quando si utilizza un'e-mail personalizzata, è possibile che le e-mail finiscano nella cartella spam. Qui è possibile aggiungere informazioni che indicano ai clienti dove trovare i loro download.
Learn how to add information & download links to the Shopify Confirmation email.
Risoluzione dei problemi di download per i clienti
In some rare cases, customers may run into download problems. This is usually caused by old browsers or operating systems that just need a quick restart. You can send the customer this download issue troubleshooting guide to find out what the issue could be.
Migliorare le proprie conoscenze
Cose da sapere:
Caricare e vendere qualsiasi tipo o dimensione di file (entro i limiti del vostro piano)
We use ultra-fast & secure download servers
We don't add code to your theme (unless you add customer account downloads)
Scoprite come aggiornare o ridurre il vostro piano in modo semplice.
Alcuni clienti abusano delle regole e imparano a bloccare i loro download.
Esistono alcuni metodi essenziali per proteggere i vostri prodotti digitali dalle frodi.
Learn from the experts in selling digital downloads online.
Parole finali
Se vi bloccate, contattateci: siamo qui per aiutarvi!