Starting a business is much easier than it used to be, and Shopify is one of the popular platforms for doing so. Shopify is an eCommerce website that business owners can use to set up their stores online and offline. With this platform, you can sell products online or in person.
Una delle cose più popolari da vendere su Shopify sono i prodotti digitali come PDF, file ZIP, media, musica e altro ancora. Questa è una semplice guida alla vendita di PDF con il vostro negozio Shopify , ma si applica anche a qualsiasi altro tipo di bene.
Quali prodotti digitali scaricabili posso vendere su Shopify?
For convenience, you can sell digital products with Shopify. This is an intangible asset that can be sold online repeatedly without having to replenish inventory. It offers a high-profit margin; they are flexible, with low overhead costs and easy automation.
Se vendete eBook o tutorial, potete farlo facilmente utilizzando i documenti PDF e ottenere un profitto con questo bene immateriale.
Guarda questa guida per scoprire altri tipi di prodotti digitali da vendere su Shopify.
What do I need for this tutorial?
Passi su come vendere PDF su Shopify
If you want to sell PDFs on Shopify, you can use the free Shopify app called DDA – Digital Downloads. The app allows you to upload PDFs and attach them to your products in your store. Then if a customer purchases the product, they automatically get the link to download the PDF.
Video tutorial (scorrere verso il basso per i passaggi)
1. Creare il prodotto su Shopify
Sign up to Shopify if you haven't already. It's got a free trial of 14 days, so that gives you plenty of time! If you have already signed up, log in, then go to your Shopify dashboard and click on the 'Products' page.
Quindi fare clic sul pulsante "Aggiungi prodotto". Qui è possibile inserire tutti i dettagli del prodotto per crearlo.
2. Install the DDA app to deliver PDFs on Shopify
Shopify doesn't have its own built-in digital product delivery system. You will need to go to the app store to install an app to create the system workflow. Start by installing the DDA – Digital Downloads app from the Shopify app store.
It has a free plan which is great for beginners, and also has more advanced plans for professional stores, catering for everyone.
Il motivo per cui questa app è la scelta migliore:
PDF Stamping – protect your PDFs from being shared by stamping your customers' personal details on the pages of the PDF. You also have the choice to lock the PDF so they cannot be removed.
Set IP address limitations – only allow your customers to download from a number of IP addresses. This helps prevent them from sharing the downloads with others.
Built by Shopify developers – first-hand knowledge of what the store owners need
The easiest-to-use user interface out of all the digital download apps
Ultra-fast download speeds using the fastest CDNs
Attach additional files to any order for personalised digital products
Email tracking to understand how customers are downloading files
Stabilire le date di uscita
Other apps, such as Shopify's Digital Downloads app, is very limited in features, and they give you the most basic options. There are no upgrade options, no PDF Stamping, no file protection, no way to brand the workflow for your customers and much more.
3. Caricare i PDF nell'applicazione
Presumiamo che abbiate già creato il vostro PDF. Quindi, caricare i file digitali (PDF) utilizzando l'applicazione.
Andare alla pagina "Attività".
Click the 'Upload new assets' button, then follow the steps
Qui potete caricare i vostri PDF, in modo da essere pronti ad allegarli ai vostri prodotti.
4. Allegare il PDF al prodotto
Tutti i prodotti verranno sincronizzati automaticamente da Shopify, quindi il nuovo prodotto creato al punto 1 apparirà nella pagina "Prodotti".
Fare clic sul prodotto.
Quando la pagina viene caricata, viene visualizzata una casella di ricerca con accanto un pulsante che indica "Allega risorsa". Selezionate o cercate il vostro PDF e fate clic sul pulsante per allegarlo al prodotto.
Consigli utili per la vendita di PDF
Suggerimento 1 - Timbratura PDF
Utilizzando Downloadable Digital Assets, è possibile timbrare i PDF per impedire ai clienti di condividere i loro file PDF con altri. Abilitando la timbratura dei PDF, il nome, l'e-mail o il numero d'ordine del cliente vengono impressi sul PDF.
È inoltre possibile bloccare il PDF in modo che non possa essere modificato o cambiato dal cliente. In questo modo è difficile per il cliente condividere i PDF perché i suoi dati personali saranno impressi in modo permanente sul PDF.
È possibile attivare la timbratura PDF accedendo alla pagina 'Risorse' > fare clic sulla risorsa PDF > scegliere il modello di timbratura PDF > fare clic su 'Aggiorna'.
Per saperne di più sull'impostazione della timbratura in PDF, cliccate qui.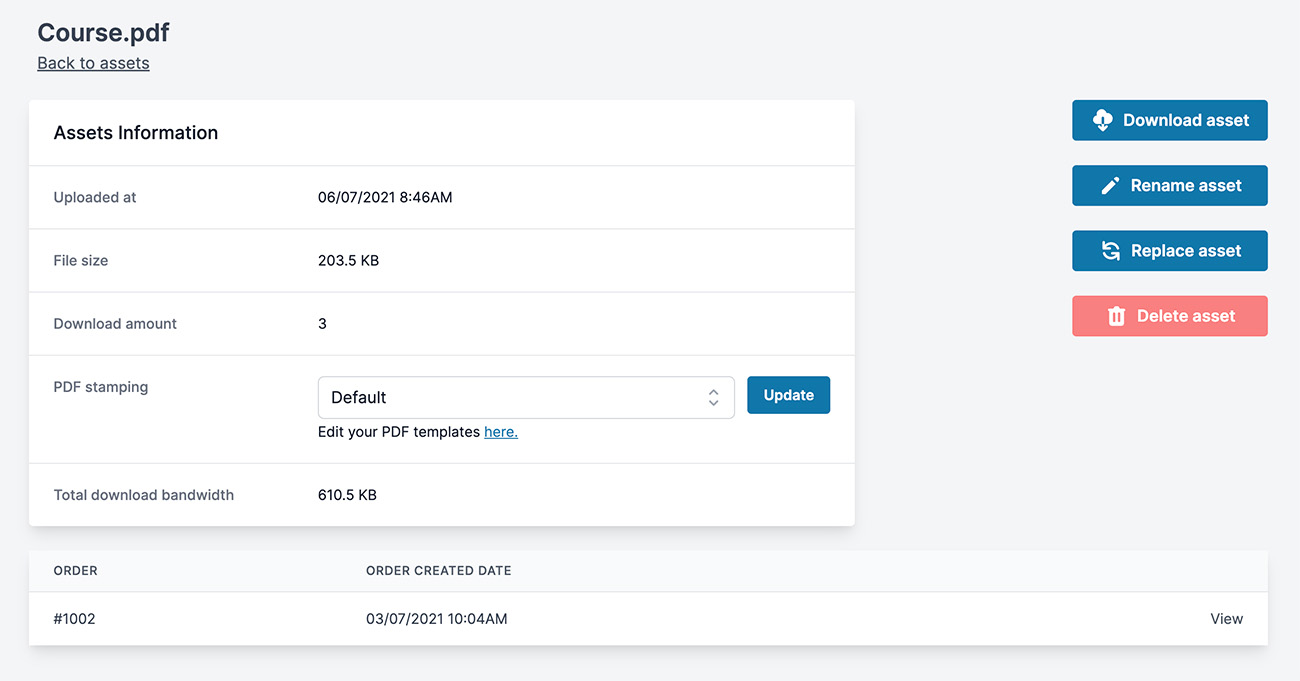 Suggerimento 2 - Impostazione dei limiti di download
È anche possibile impostare i limiti di download, consentendo ai clienti di scaricare il PDF solo per un numero specifico di volte. È possibile farlo accedendo alla pagina "Impostazioni" e selezionando la casella "Limitazioni".
Tip 3 – View the order analysis page
Whenever your customers make an order, you can view the order details on the 'Orders' page within the app.
Questo mostra la data e l'ora, l'e-mail e il nome del cliente, il numero d'ordine, il numero di download per ordine, il monitoraggio della larghezza di banda, l'indirizzo IP e molto altro ancora.
Se si verifica un problema con il download, è possibile inviare nuovamente l'e-mail di download.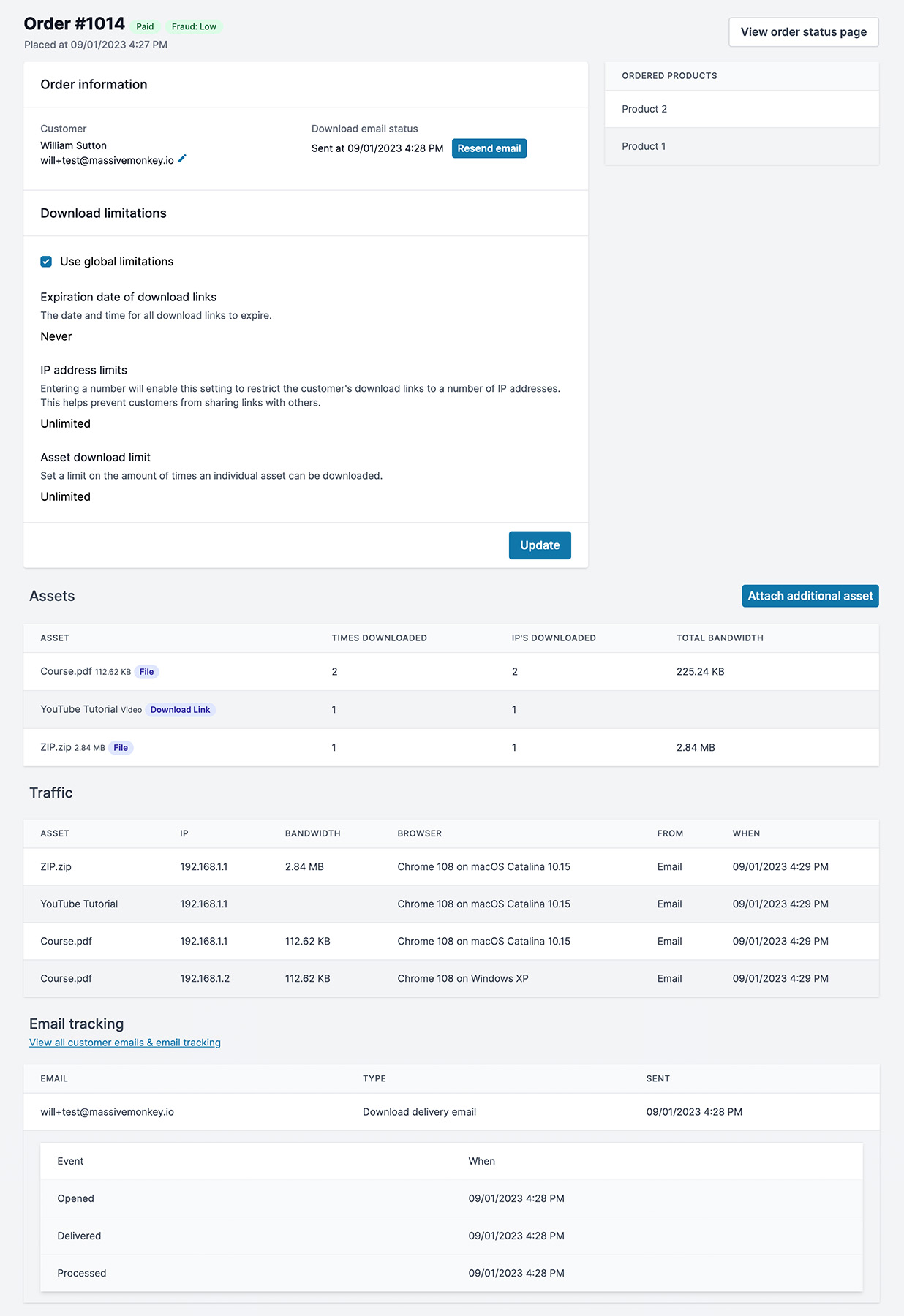 Click image to enlarge.
Suggerimento 4 - Bloccate i download dei clienti più cattivi
Se volete impedire al cliente di scaricare il prodotto, potete far scadere l'ordine. Seguite questa guida per imparare a bloccare i clienti dal download dei file.
Suggerimento 5 - Consegnate i file PDF in diversi modi
Per facilitare gli acquisti dei vostri clienti, potete visualizzare i download direttamente nelle pagine di checkout e negli account dei clienti.
This allows your customers to download their PDFs on the checkout page or their accounts. Go to the 'Settings' page to enable these features.
Complessivamente, questi 3 metodi sono disponibili per consegnare il vostro PDF:
Suggerimento 6 - Risoluzione dei problemi di download
In some rare cases, customers may get an issue downloading files. This is usually caused by an issue on their computer that's caused by things like old browsers or software. You can see our download issue troubleshooting guide here that you can send to your customer.
You can also send this troubleshooting guide to your customers to help them understand how to solve their issues.
Conclusione
Selling PDFs on Shopify is easy and convenient for all online business owners. Once you download the DDA app onto your Shopify store, you can upload the PDF and start selling it to your customers quickly.
Ecco perché raccomandiamo questa app come la migliore applicazione per i download digitali per Shopify.
Il bello è che l'app è stata realizzata da esperti di Shopify che sanno esattamente di cosa ha bisogno il proprietario di un negozio perché hanno costruito tonnellate di negozi nel corso degli anni.
FAQ
Come posso vendere il mio PDF online?
The best place to sell your PDF online is using Shopify. This means you take 100% of your profits because you own the store. You can sell PDFs on Shopify really easy. All you need to do is install the DDA -Downloadable Digital Assets Shopify app for free onto your store, then you're ready to sell PDFs.
Come si protegge un eBook PDF?
Protecting a PDF eBook is very easy using the DDA – Downloadable Digital Assets Shopify app. It introduces the best protection features such as PDF Stamping & IP address limitations. This prevents customers from sharing the PDF eBooks with others.
Come si filigrana un eBook?
È possibile filigranare un eBook utilizzando questa applicazione Shopify . Permette di imprimere i dati personali del cliente sulle pagine e poi blocca l'eBook in modo che non possano essere rimossi.
Articoli simili