Last updated on 29 January 2023
The Downloadable Digital Assets Shopify app allows you, "the store", to deliver personalised assets to your customers.
Ad esempio, se ricevete un ordine personalizzato che dovete modificare prima della consegna, ora è possibile consegnare i file personalizzati al cliente con facilità. Seguite la nostra guida qui sotto:
Innanzitutto, ecco cosa vi serve
Which plan do I need to unlock the personalised digital products feature?
You will need the Starter plan or above for the Downloadable Digital Assets app to unlock the ability to attach files to any order.
There is no limit on attaching additional assets to an order. You can attach as many assets to an order as you like.
Unlocking the customer account downloads
If you want to show the digital files inside a customer's account, you will need to unlock the Customer Account downloads feature by using the Professional plan.
How to deliver your personalised files to your customer on Shopify
Si presuppone che abbiate già ricevuto dal vostro negozio l'ordine che dovete personalizzare per il vostro cliente.
Video tutorial
Scorrete in basso per vedere un'esercitazione scritta se volete vedere il procedimento passo dopo passo.
Fase 1 - Caricare il bene/file personalizzato
Go to the Downloadable Digital Assets app
Andare alla pagina "Attività".
Fare clic sul pulsante "Carica nuova risorsa".
Caricate il vostro asset personalizzato e attendete che sia completamente caricato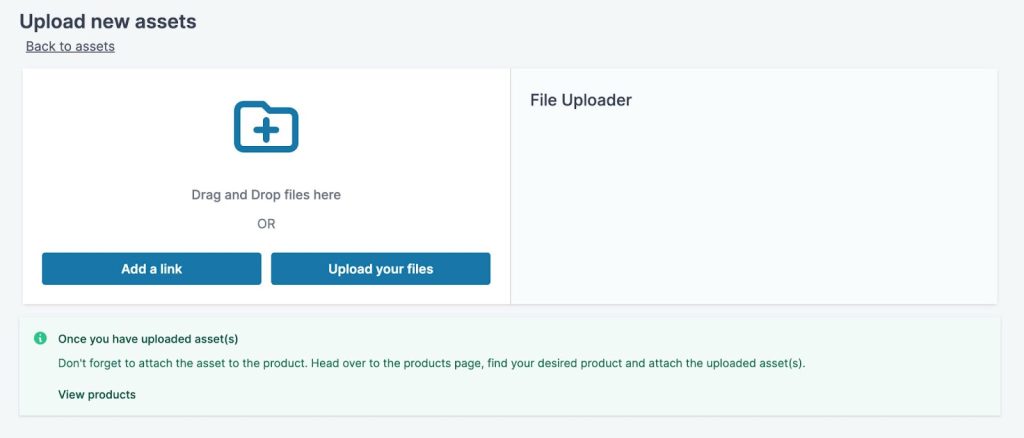 Fase 2 - Andare all'ordine per allegare il bene/file
Andare alla pagina "Ordini
Cliccare sull'ordine a cui si desidera allegare il bene personalizzato
Fase 3 - Allegare il bene/fascicolo personalizzato all'ordine
Fare clic sul pulsante "Allega risorsa aggiuntiva".
Choose the personalised asset that you just uploaded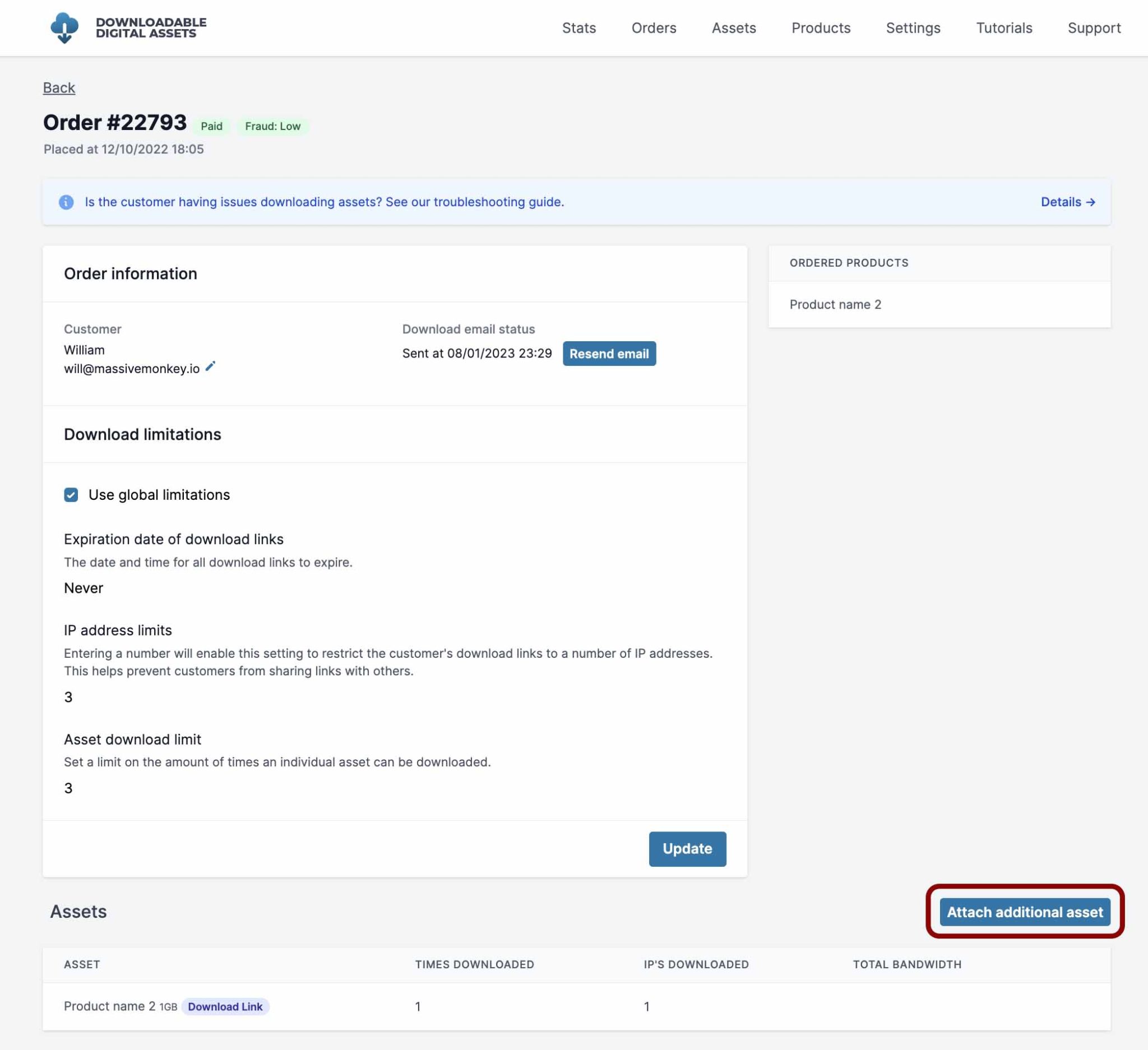 Fase 4 - Informare il cliente
Informare via e-mail
Fare clic sul pulsante "Invia ora" (se è stata inviata un'e-mail per questo ordine in precedenza, il pulsante dirà "Invia nuovamente l'e-mail di download"). A questo punto il cliente riceverà l'e-mail di esecuzione del download.
Informare tramite il conto cliente
If you have the customer account download links enabled in your settings, then you can inform your customer that they can access their downloads in their customer account by sending them an email or informing them in your own method.
You can let them know they can download from their accounts using a few methods:
Once the assets/files are attached to the order, they will automatically show in the customer's account order page (but only if you have this below setting enabled).
Suggerimento per i conti dei clienti
Se avete abilitato l'impostazione dei link per il download dell'account cliente, potete informare i vostri clienti che possono scaricare i loro file nel loro account cliente oltre che nell'e-mail. Aggiungete nel vostro modello di e-mail di adempimento che i clienti possono accedere o registrarsi con un account sul vostro negozio, quindi indirizzateli dove andare.
Andare a "Impostazioni".
Fare clic su "Modifica modello e-mail".
Andare a "Modello di adempimento".
Aggiungere il testo:
Thanks for ordering with us. You can also access your downloads in your customer account by logging in or signing up using the email that you used in the order.
FAQ
Quali sono i prodotti digitali più redditizi?
I prodotti digitali più redditizi sono i software, le vendite in abbonamento, i corsi, la produzione musicale, la produzione di immagini, i componenti aggiuntivi per i giochi e molto altro ancora. Un consiglio: le persone pagano per la convenienza. Quindi, se rendete il lavoro di qualcuno più facile e veloce, farete soldi.
Qual è il posto migliore per vendere prodotti digitali?
The best place to sell digital products is Shopify because you will own the domain and have full control. You will want to avoid marketplaces such as Etsy and Envato because they take seriously high commissions (50%+ in some cases), and they have too many rules. You will want to build your own brand with your own digital real estate, meaning that you are in control of everything. You can do anything you want and build your own valuable brand.
Come si fa a guadagnare con i download digitali?
It all comes down to one thing – a good product. Build a digital product that provides value and helps someone speed up their job. People pay for convenience. Then build your own Shopify store and build a brand.