Last updated on 8 November 2022
Setting up SMTP will allow you to send the download emails from your own email address. You will have two options to send emails from your own email address:
Using our default email address – [email protected]
SMTP to send from your email address

This will allow you to connect your email via SMTP settings. You will not be able to use Email Tracking when using this option

Using our account on SendGrid to send from your email address
Which plan do I need for this feature?
You will need the Professional plan or above.
Step 1 – Go to "Settings", then "Email settings"
Please load up Downloadable Digital Assets and go to the Settings menu.
Step 2 – Choose SMTP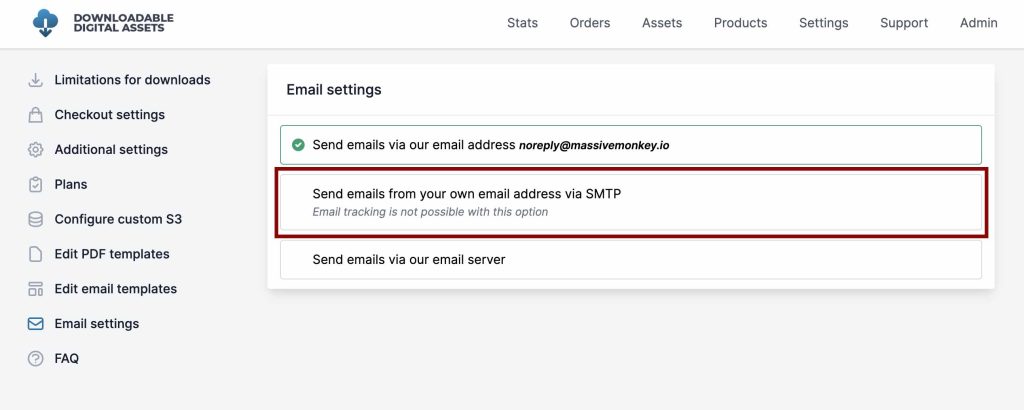 Step 3 – Find your email SMTP settings
You can find your SMTP settings by searching through your email provider platform or searching on Google (eg. Gmail SMTP settings).
Outlook / Hotmail
Server Address: smtp-mail.outlook.com
Username: Your Outlook Email Address (e.g. [email protected])
Password: Your Outlook Password
Port Number: 587
Encryption method: TLS
Sending Limits by Outlook: 300 Emails a day or 100 recipients a day
Yahoo
Server: smtp.mail.yahoo.com
Port: 587
Encryption: TLS
Username: Your full email address ([email protected])
Password: Generate App Password
Requires authentication: Yes
How to get an app password
Step 1
Hover over your name and then go to "Account info".
Step 2
Click on "Account security" & then "Generate app password".
Step 3
Fill in the fields and call it a name. Then you will be presented with the password. Copy and paste this into the app.
Gmail
Gmail has some heavy security measures which you will need to set up before entering your details. You cannot use your normal password for your email account, you will need to set up an app password.
Gmail SMTP server address: smtp.gmail.com
Gmail SMTP username: Your Gmail address (for example, [email protected])
Gmail SMTP password: Use an App Password (see below)
Gmail SMTP port (TLS): 587
Gmail SMTP TLS/SSL required: Yes, use TLS
How to get an app password
First, you will need 2-step verification on your Gmail account otherwise you are not allowed to make an app password. So please set that up before attempting to create one.
If you receive the below sign in-attempt email from Gmail, you will need to go into your Google account and allow access to "Less secure apps". This does not mean our app is not secure, it's because we are not a verified application by Google.
Step 1
Click "Check activity"
Step 2
Press "Yes, it was me"
Step 2
Go to your Google Security settings
Scroll down to the "Less secure app access" box and click on the "Off" button
Step 3
Enable the "Allow less secure apps" option. This will allow our app to send emails on your behalf.
Step 4
Go back to your Google Security Settings
Scroll down to the "Signing in to Google" box
Click on "App passwords"
Step 5
Click on "Other (Custom name)"
Enter a name such as "Digital Assets"
Click "Generate"
Step 4 – Enter your SMTP details into our app
You will receive an email verification to confirm that the SMTP settings have worked. Click the verify button and you will confirm the changes. Once this is confirmed, you are good to go.
Copy & paste the password to the email settings
Click "Save"
Go to your email and click "Verify".
Make sure that the email is sent from the correct email address. It should say that it was sent by the email address you have added to the SMTP settings under "Username". In this example, it will be [email protected] as you can see in the image above.
You should receive the below confirmation that the SMTP is set up correctly.
Done
Now you have set up your SMTP correctly, there is nothing else that you need to do. Check our tutorial if you want to learn how to customise email templates.