The Shopify Digital Downloads app has been the default method for store owners to upload and sell digital files. Whether you have eBooks or music to sell, the Digital Downloads app provides a basic way to get it done. Below, you'll find out how to use the Shopify Digital Downloads app to its full potential.
Consider using DDA to sell digital downloads
The DDA app provides your store with the ability to sell digital products to your customers. It works better than Shopify's "Digital Downloads" app by providing more functionality, better file protection, and more scalability as you grow.
DDA is the second most popular digital downloads app on the Shopify app store:
We always advise merchants to choose the right app at the start so that they don't need to go through the pain of switching. Once you switch your digital downloads app, it will cause all previous links to be broken from the old app, and customers will get in touch complaining.
Shopify's app doesn't have scalability options for when your store grows. It gives you the basics, and that's it. DDA has a free plan, so you can still use it for free if you are starting out.
Setting up the Shopify Digital Downloads app in 3 steps
Adding digital products to your store through this app is a three-step process:
Install the app
Adding the product listing
Uploading the digital file to the product
Below are some further details on each step.
1. Install the Digital Downloads app to your store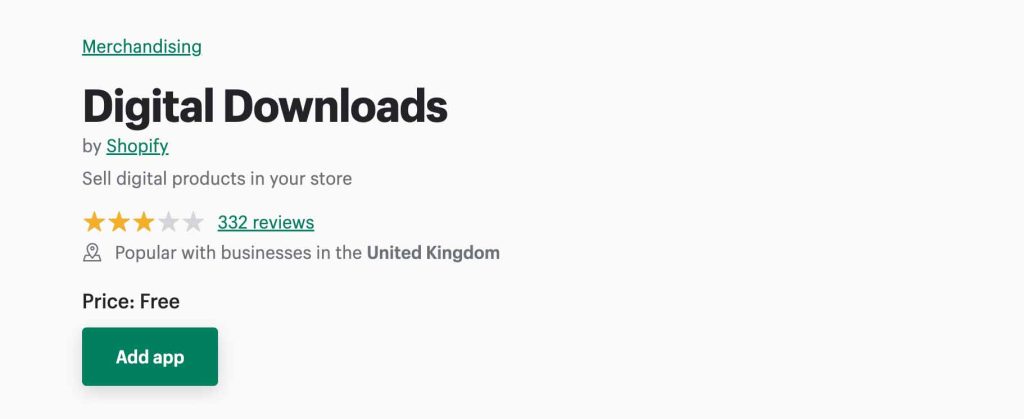 To install this app on your Shopify store, all you need to do is go to this link on the Shopify App Store and click the "Add app" button.
Clicking the "Add app" button will bring you to the next page, where you can confirm the installation. You know you have it right when you see the recent addition under the "Apps" section of your Shopify dashboard.
2. Create the digital product in your Shopify store
After you install the app:
Go to the "Products" tab on the left-hand Shopify dashboard
From there, you click "Add product" and begin creating your product
To ensure shipping isn't part of this process, you'll want to uncheck the "This is a physical product" box. Doing so will remove any need for shipping and handling.
3. Upload the digital file to your Shopify product
From the Digital Downloads app, you'll be able to upload your files directly onto your products. All you need to do is:
Access the app
Go to your product in the product list
Click the "Upload file" button
Keep in mind you'll need a new upload for each variant.
When uploading, keep these requirements in mind:
You cannot upload files larger than 5GB
You only have one digital file per product
Uploading multiple files to a single product
If you want to upload and attach multiple files to a single product or variant, you can look at an alternative app that's created by Shopify Experts and staff-picked by Shopify themselves, DDA. You can see a tutorial on how to use it here.
DDA features some unique features that Shopify's app doesn't:
Upload any file size
Attach unlimited files to a product
PDF Stamp protection
Protect your files with IP address limits
Use your company email address to send downloads
Full brand customization
Personalizzare i modelli di e-mail
Sell personalized digital products
& Much more
Is there an alternative to the Shopify Digital Downloads app?
Shopify's default app for digital downloads is weak in features and has zero upgrade options. So the question is: what if I need to scale larger when I grow? You will hit a wall, so best start with a scalable app at the beginning.
Because of this, the most trusted alternative that maintains simplicity is DDA.
This enhanced alternative lets you automate your digital store for a professional and simple setup. Its most powerful feature is the ability to secure your files through PDF stamping, almost eliminating the chance of someone stealing and reselling your digital products.
DDA also have a free version offering unlimited products and orders. Check the Premium plan out as well with a seven-day free trial.
Her you can see a video walkthrough of how the app works.
FAQ
What is the best digital downloads app?
The most trusted and favourite is the "DDA – Digital Downloads" app, built by Shopify experts. It includes the most unique file protection features on Shopify and was Shopify staff-picked.
Can you sell digital downloads on Shopify?
Yes, Shopify has a brilliant workflow for selling digital downloads. Ensure to use the Shopify-approved DDA Digital Downloads app to sell digital products on your Shopify store.