The most trusted Digital Downloads Shopify app
Integrate with your Shopify store & improve your customers' download experience selling digital products.
Created by Shopify experts.
DDA - A Shopify Digital Downloads App
Join us with the most advanced digital product delivery app on Shopify. Automatically deliver secure download links to your customers with our high-grade server infrastructure. It doesn't matter if you sell 1 or 100,000 products per day – everything is automated and reliable.
Don't worry about excessive bandwidth costs. Sell large digital files easily.
Stamp your customers' details on the PDF pages to prevent file sharing.
Keep an eye on your stats to understand how your customers are downloading.
Easily change the language of your messaging for your customers.
Easily sell digital products as pre-order and deliver the files on a set release date & time.
Deliver your digital products inside the customers' accounts portal.
Secure your precious digital products with our high-end secure system.
Set a limit on how many IP addresses can download files per order to prevent file sharing.
Enhance your Shopify Digital Product Delivery
Upgrade from Shopify's "Digital Downloads" app and get a more reliable experience with scaling options to grow.
Catering for everyone. Sell large files without worrying about hitting limitations. Give your customers the best experience.
PDFスタンプは、ダウンロードしたファイルを著作権から保護するために重要です。これは、PDFのページにお客様の名前、電子メール、注文番号をスタンプすることで、お客様がPDFファイルを他の人と共有するのを防ぐことができます。
You can also lock the PDF so it cannot be edited by your customer, permanently printing their details on the PDF. Learn more about selling PDFs on Shopify here.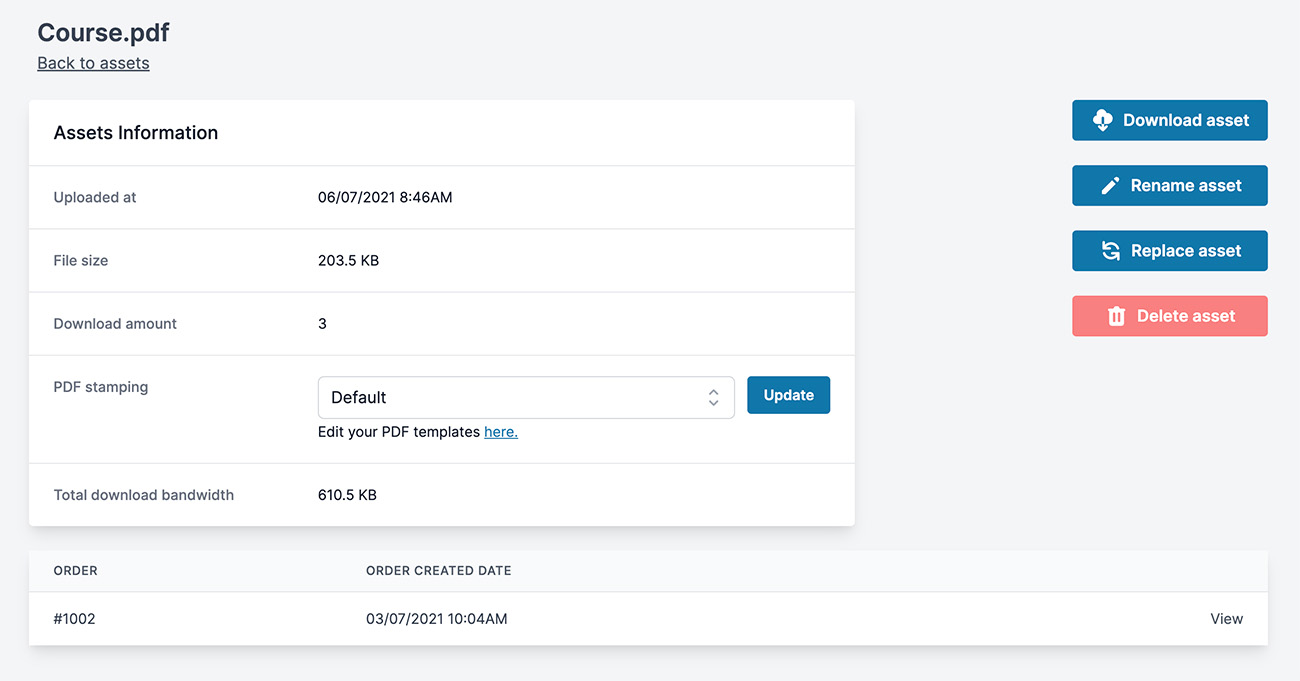 他のデジタルダウンロードアプリにはないユニークな機能として、すべての顧客の電子メールを追跡することができます。開封、バウンス、スパムフォルダに落ちたかどうかを確認することができます。
Learn more about Email Tracking.
One of our proud features is being able to allow a certain amount of IP addresses to downloading the files.
An IP address is a way to see the location of your customer's computer. It's now possible to block other IP addresses at different locations from accessing the downloads.
For example, if you set that only one IP address can download, then if a customer sends the download email to another person, that second person will be blocked from downloading the files.
You can now set release dates on digital products.
If you have a new product coming out that is on pre-order, then you can set up your digital files to be released at a specific date and time.
ダウンロードの高度なトラッキングにより、顧客のデジタル製品を完全に管理することができます。
ファイルが何回ダウンロードされたか、使用された帯域幅の合計を確認できます。また、各ダウンロードの詳細なトラフィックレポートを提供します。
With our cutting-edge file uploader, we send your files directly to top-grade servers.
これにより、データの二重処理がなくなり、転送速度が格段に速くなります。もちろん、従来のアップローダーのような中間業者を排除できるため、可動部品が少なく、物事がうまくいかない可能性が低くなります。
DDA has the ability to upload any file type that you desire, and there's no limit on file size as long as you have enough storage allocated in your plan.
Also, one thing to mention, we allow you to use your own S3-compatible server if you want!
After an order has been placed, it's possible to attach more files to their order.
For example, if they request an exchange for a different digital product, you can attach those other assets directly to their order.
You can then resend the download email, or they will automatically show in their customer account if this is enabled.
You can also deliver URLs with an order, such as Dropbox links or YouTube videos.
For example, if you have an unlisted YouTube video or a Dropbox link you want to deliver to your customers when they order, you can attach the URL to the product using our URL assets feature.
Export data reports of all your assets, products, and the connection between them both.
This exports a Google Sheet (CSV) of all the files you have uploaded and attached. It allows you to also get the download links for each asset.
Install the app to your Shopify store for free, or get a 7-day free trial with any paid plan.
Simply go to the Shopify app store page
Click the "Add app" button to install it on your Shopify store
After you have installed the app to your Shopify store, follow these steps:
Go to your Shopify dashboard > Apps > open up the app
Then upload your files by going to the "Assets" page
Click on the "Upload new assets" button
Your Shopify products & variants are automatically imported from your store. Simply attach the uploaded files directly to the Shopify products or variants.
Now you're armed & ready to sell!
Next, you should make sure to customise the settings to give the best experience to your customers.
We will walk you through how to use the app visually.
There's nothing better than being shown exactly how to do things.
Supports all file tyes & sizes
Upload any file type & file size within your plan's storage limit, from eBooks to software &; much more.
We have crafted the easiest and most efficient UI to enhance user experience.
Don't worry about your customers not receiving their digital downloads. Deliver 100% of the time.
We use top-grade servers with the fastest content delivery networks in the world.
4 Methods to deliver digital downloads
顧客のデジタルダウンロードを3つの簡単な方法で配信し、配信性を向上させ、顧客を感動させることができます。また、必要に応じて、
ダウンロードメールを無効にして
、顧客のアカウントからしかダウンロードできないようにすることも可能です。
DDA Emails
Available on all plans, this is the easiest method to deliver your assets to customers.
Shopify Emails
Add a download button to Shopify's Order Confirmation email that delivers customer's downloads.
お礼のページ
The fastest way a customer can receive their digital downloads is on the Shopify Order Status page.​
顧客勘定
顧客のアカウント内にデジタル製品を表示することで、ブランドをプロフェッショナルに見せることができます。
A 7-day free trial is available on all paid plans. A free lifetime plan is available too.
Get 2 months free with yearly plans. Available in-app by going to the plan upgrade page.
Upgrade, downgrade, or cancel your plan at any time. No sneaky contracts or commitments.
With a decade of experience in the Shopify ecosystem, we've built the most user-friendly & reliable digital downloads app.
No order, product or bandwidth limitations. Install and get started today. Only pay for feature upgrades.
Improve your digital download delivery today
Our app is all you'll need to keep your digital products secure. View our Beginner's Guide or FAQ to get set up today. Contact us if you need any more information or help. We will get back to you as soon as possible.
Available worldwide on the Shopify App Store.