Shopify doesn't have any in-built functions for digital products because they have their own digital product delivery app called "Digital Downloads". Their app is the most basic version of an app for selling digital products, and DDA is a much more versatile, feature-rich, scalable alternative.
We have had a lot of merchants feeling stuck with Shopify's app as it doesn't provide any protection functionality, storage expansions, control over customers' downloads, or scalability. So we have created this guide to show merchants how they can migrate to the DDA app to unlock many more features for growing stores.
Whether you are using SendOwl, Fetch App, EDP, or Shopify's Digital Downloads app, it's super easy to migrate over to DDA. I have broken down the steps below so you can understand how it works.
Why switch to our DDA app?
乗り換えたい理由はいくつかあります。他のアプリを使うと、欲しい特定の機能がなかったり、バグが多かったり、開発者が気にかけてくれなかったり、サポートが悪かったり、他にもいろいろあります。私たちは、あなたが直面する可能性のあるすべての問題を解決するためにやってきました。
One of our main goals is to help store owners protect their digital downloads. See our comprehensive guide to preventing customers from sharing your digital products.
Limitations of the Shopify "Digital Downloads" app
Please note – It is possible to use DDA alongside any other digital downloads app on Shopify. It won't mess up your current application, and everything will run as normal.
Migrated stores reviews
We've had a lot of stores migrate over to ours now. Here's what they had to say.
ビデオウォークスルー
ステップバイステップをご覧になりたい方は、さらに下にスクロールしてください。
1.弊社アプリをインストールする(DDA)
Go to the Shopify app store and install DDA (Downloadable Digital Assets).
2. Disable automatic email delivery
If you have a store that has orders coming in, this is important.
Before we carry on, we need to disable automatic download emails that are sent by DDA, so that we can set up the app. This makes sure that your other Digital Downloads app can keep delivering files while we complete the new setup.
設定」ページに移動し、一番下までスクロールしてください。ここで、アプリのセットアップ中に自動送信されるメールを無効にすることができます。この設定は、現在お使いのデジタルダウンロードアプリケーションには影響しません。
After everything is set up, we can enable this option again later in the tutorial.
3. Upload your digital files to our app
You will need to upload your digital products to the DDA app.
There isn't a method to transfer files from another app to DDA. You will need to download them from the old app or find them on your computer, then upload them to DDA.
Uploading files to DDA is the safest option and provides the best protection for preventing customers from sharing digital downloads. You can learn more about preventing customers from sharing downloads here.
You can also attach your own S3 server to DDA if you choose to host files yourself. This means you can manage your own storage limitations.
Method 1 – Uploading files directly to DDA
If you are already logged into the app, click here to upload files.
アップローダーに移動する場合、必要なのは
資産」のページに移動します
新しいアセットをアップロードする」ボタンをクリックします。
アセットをアップロードしてください。直接アップロードする場合は、「ファイルをアップロードする」ボタンをクリックするか、アップローダーへファイルをドラッグ&ドロップしてください。
Method 2 – Sell links at checkout using "URL Assets"
If you want to sell external URLs at checkout, such as Dropbox, Google Drive etc., follow this URL Asset tutorial.
短く言えば
"資産 "のページへ
"新しいアセットをアップロードする "をクリック
Click "Add URL Asset"
これにより、外部リンクにリダイレクトするアセットが作成されます。このアセットは商品に添付することができます。
Bulk-add URL Assets
You can do this in bulk if you follow this bulk CSV guide. This helps if you have thousands of them.
4. Attach the files to your Shopify products
All of your Shopify products are automatically synced to DDA's Products page.
This is important because DDA doesn't need you to create products twice like other apps do (that's confusing when other apps do that). DDA simply works alongside Shopify's platform and delivers digital files alongside your Shopify products, making it super simple.
Go to the "Products" page in DDA
製品をクリックする
Then attach your files to your product using the search box/drop-down menu
Repeat this until all of your files are attached to the products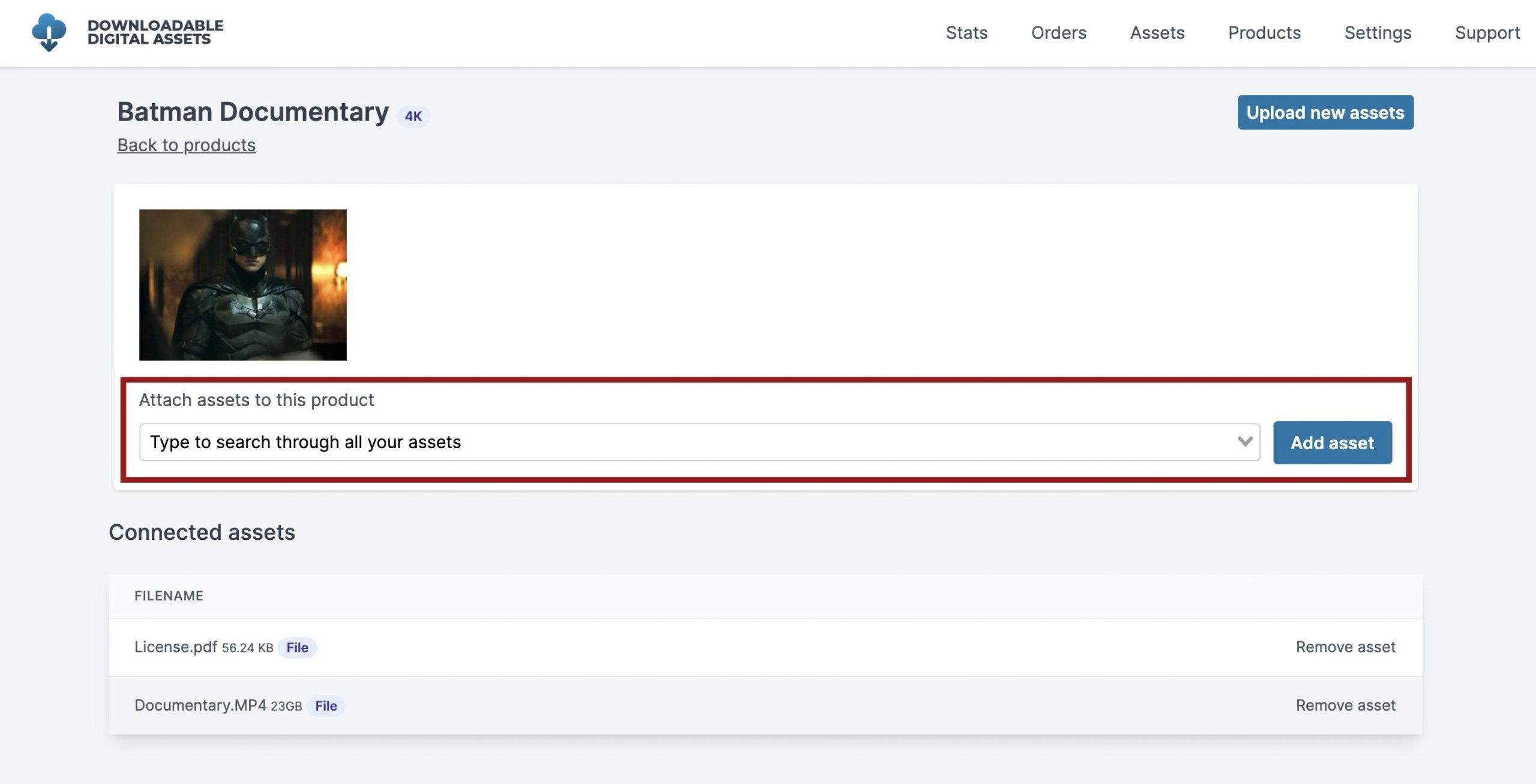 5.設定する
Here you can build your settings to suit your business's needs. Depending on your plan, you may have access to some extra features.
Take a good look at the Settings page to make sure everything is in line and set up the way you want it.
Add downloads to Shopify's Order Confirmation email
Using DDA, you can add a method to deliver downloads using the Shopify Order confirmation email that gets sent with every order. You will need the Checkout links enabled for this to work.
This is available on the Basic plan.
カスタマーアカウントダウンロードリンク
If you want your download links to appear in the customers' accounts order pages, you can this guide to enable this. You can also enable download links using the CustomerHub app.
This is available on the Premium plan.
Checkout (Thank you) page download links
This setting allows customers to download their assets from the 'Thank you' checkout page directly after purchase. This is a great option in case the email goes to spam, allowing users to download them without logging into their email.
This is available on the Basic plan.
Set release dates on digital files
Learn how to set release dates on files so that you can sell pre-orders.
This is available on the Premium plan.
Sell digital products as a subscription
Sell your digital products with a subscription plan by following our guide.
This is available on all plans.
Prevent customers from sharing assets
お客様が資産を他人と共有するのを防ぐ方法について、詳細なチュートリアルを用意しています。ぜひご一読いただき、Digital Downloadsアプリを使った最適な方法を学んでください。
その他の機能
6. Disable your old digital downloads app & enable DDA
The final step is to switch over to the new app.
Go to DDA > go to the "Settings" page
Disable the checkbox below as shown below. This will enable all download emails to be sent from DDA. Or you can leave it enabled if you do not want DDA to send download emails to your customers.
Now disable your other digital download app so it doesn't send downloads to your customers. If you want, you can keep it installed while you ensure DDA is running perfectly, or you can just go ahead and uninstall the old app if you are happy.
完了!
There you have it, an easy guide to migrate over to our digital downloads app on Shopify. If you have any questions, please contact us, and we will reply to you as quickly as possible.