Last updated on 24 January 2023
Whether you are using SendOwl, Fetch App, Shopify Digital Downloads or any other app, it's super easy to migrate over to our Downloadable Digital Assets application. I have broken down the steps below so you can understand how it works.
It's possible to use our app alongside any other digital downloads app on Shopify. It won't mess up your current application, and everything will still run smoothly.
Why switch to our app?
There are some huge reasons why you would want o switch. Using other apps may not have the specific features you want, have too many bugs, developers don't care, bad support and much more. We have come along to solve every issue you could be running into.
One of our main goals is to help store owners protect their digital downloads. See our comprehensive guide to preventing customers from sharing your digital products.
Limitations of the Shopify Digital Downloads app
Migrated stores
We've had a lot of stores migrate over to ours now. Here's what a couple of them have to say.
Video walkthrough
If you want to read a step-by-step process, please scroll down further.
1. Install our app (DDA)
Go to the Shopify app store and install Downloadable Digital Assets (DDA).
2. Disable automatic emails
Before we carry on, we need to disable automatic emails. This makes sure that your other Digital Downloads app can keep delivering files while you set up our app.
Go to the 'Settings' page and scroll down to the bottom. Here you can disable the automatic emails while we set up your app. This will not affect your current digital downloads app.
3. Add your assets to our app
You will need to re-upload your assets to our servers, or if you host them somewhere else like Google Drive or Dropbox, then you can add the URLs as assets.
Uploading assets to our servers is the safest option and provides the best protection for preventing customers from sharing digital downloads. You can learn more about preventing customers from sharing downloads here.
You can also attach your own Amazon S3 server so you are in control of all storage and bandwidth.
Method 1 – Uploading assets to our app
If you are already logged into the app, click here to upload assets.
If you want to navigate to the uploader, all you need to do is:
Go to the 'Assets' page
Click the 'Upload new assets' button
Upload your assets here. To directly upload, click the 'Upload your files' button, or drag & drop the files into the uploader.
Method 2 – Adding external URLs as Assets
If you want to add external URLs (Dropbox etc.) as assets, follow this tutorial.
To put it short:
Go to "Assets"
Click "Upload new assets"
Click "Add a link"
This will create an asset that redirects to your external link. You can then attach this asset to products.
Method 3 – Adding external URLs as Assets using CSV
If you want to import a large number of URLs as assets and automatically attach them to your products, you can now do this by using a CSV template.
Please make a copy of this CSV template and fill in the details correctly. Then contact us and send us the updated CSV, and then we will import it for you.
This will import all your URLs as assets, and they will automatically attach to the products, meaning you can skip step 4.
All details need to be accurate, otherwise, the import will fail.
Instructions for the CSV
All assets are automatically linked to the products via the SKU. Please make sure the SKU is correct otherwise the asset will not connect to the product
SKU – This is your stock-keeping unit. You can assign a unique code (SKU) to each product & variant on the Shopify products page
Asset name – the display name of your asset for you and your customer
Asset size – Make sure you enter the byte size after the number; otherwise, it will not work. For example, do this – 2GB
Asset URL – This needs to be the final download URL where your customer can download the file
4. Attach your assets to your products
Go to the 'Products' page
Click on a product
Then attach your assets to your product using the search box/drop-down menu
Repeat this until all of your assets are attached to the products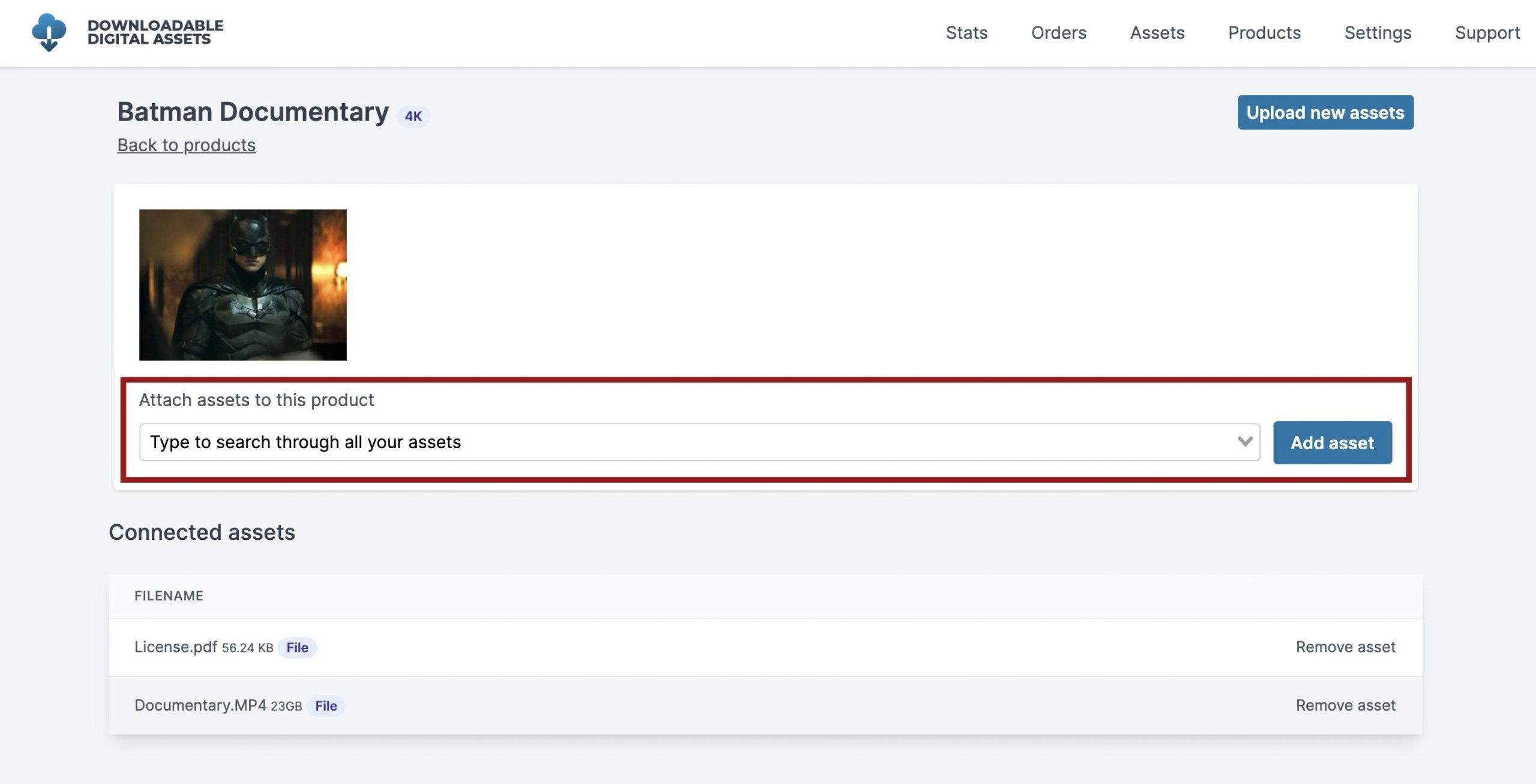 5. Set up your settings
Here you can build your settings to suit your business's needs. Depending on your plan, you may have access to some extra features.
Take a good look at the Settings page to make sure everything is in line and set up the way you want it.
Customer account download links
If you want your download links to appear in the customers' accounts, you can follow this guide to learn how to do it.
This is available on the Professional plan.
Checkout page download links
This setting allows customers to download their assets from the 'Thank you' checkout page directly after purchase. This is a great option in case the email goes to spam, giving users the chance to download them without having to log into their email.
This is available on the Starter plan.
Prevent customers from sharing assets
We have an in-depth tutorial on how to prevent customers from sharing their assets with others. Please read it and learn the best methods using our Digital Downloads app.
Other features:
6. Disable your current app and enable Downloadable Digital Assets
The final step is to switch over the settings.
Go to the 'Settings' page and untick the checkbox below to enable all download emails to be sent. Or you can leave it ticked if you do not want to send emails to your customers.
Now disable your other application so it doesn't send downloads to your customers. If you like, you can keep it installed while you make sure our app is running perfectly, or you can just go ahead and uninstall the old app if you are happy.
Done!
There you have it, an easy guide to migrate over to our digital downloads app on Shopify. If you have any questions, please contact us and we will reply to you as quickly as possible.