Digital art has been so successful in the digital world because it allows for creative expression in ways never seen before computers. It can be used to create pieces that are highly detailed and realistic, as well as abstract and imaginative.
Digital art can be used to create illustrations, animations, virtual reality, and video game designs. It is a medium that transcends the traditional two-dimensional boundaries of art and allows for more creative freedom.
Artists can combine different mediums, such as photography and painting, to create unique compositions, such as digital prints. The digital environment allows for quick, easy, and precise adjustments to be made, which can result in more dynamic and innovative works.
Learn how to sell digital art and prints on Shopify in the best possible way below. Also, learn how to sell videos and films on Shopify here.
What do I need?
You need this app because Shopify doesn't have an in-built system for selling digital files. They do have their own app, but it's very poor and got a bad rating. We go in-depth about it further in this article.
Quick overview
If you already have a Shopify store, install the DDA app for free and begin uploading your digital art or prints to the app.
Next, simply attach those digital files to your relevant Shopify products, and now you're armed and ready to start selling. Once a customer places an order for a product, then any files attached to that product will be delivered instantly. Follow the below guide to learn more.
Look at these easy-to-follow video steps to see exactly how to use the app.
Why choose the DDA app?
The DDA app was created by Shopify experts who have built a lot of digital stores over the years. They know best how digital art & prints should be delivered. They have first-hand experience.
Plus, Shopify's Digital Downloads app historically isn't that great. Just look at the reviews and the rating.
The DDA app features the best file protection features out of any other digital download app for Shopify. It also features the most user-friendly tutorials for everything. See below:
Shopify's app:
Can only attach 1 file to each product
Doesn't support customer account downloads
Doesn't have email tracking
5GB total storage per file
Issues with cookies in some browsers
Confusing to use
No upgrade options
No protection features
Cannot use your own email
No store branding features
Advantages of this app:
No limits on file size or type
Order bandwidth & download tracking
Attach unlimited assets to products
Expire an order (block customer's downloads)
Data reports
How to sell digital art & prints on Shopify
It's super simple to add digital art or prints. If you want to watch a video tutorial, scroll to the bottom and take a look.
Important preparation
I am assuming you have signed up for Shopify and are in your dashboard. Please do this now if you haven't.
You need to make sure that you have created your products in the Shopify dashboard "Products" page. You will need to create them before going to Step 1 below.
Mark your products in Shopify as "Digital". This can be done via the product editor.
Step 1 – Install the digital product delivery app on your store
Once you have logged into Shopify, follow the next steps below.
You can click this link – DDA and then click the "App app" button to install it to your store.
When you get to the pricing page, scroll down and click the free plan or simply select a free trial of a paid plan.
Step 2 – Upload your digital files to the app
Click "Upload" in the main navigation
Upload your digital files to the app
Step 3 – Attach the digital art prints to your Shopify products
Make sure that you have created your Shopify products in your store. All your Shopify products will automatically sync to DDA.
Click on an uploaded asset (blue link on the asset name)
Go to the search box and select products to attach them to
Repeat the process for all assets
If you have lots of assets and products, you can do this in bulk by attaching assets to products using a CSV. Please see our bulk CSV guide to learn more.
Step 4 – Customize your settings to suit your brand
There are a lot of different settings that you can use to set up the app. Here are some of those features: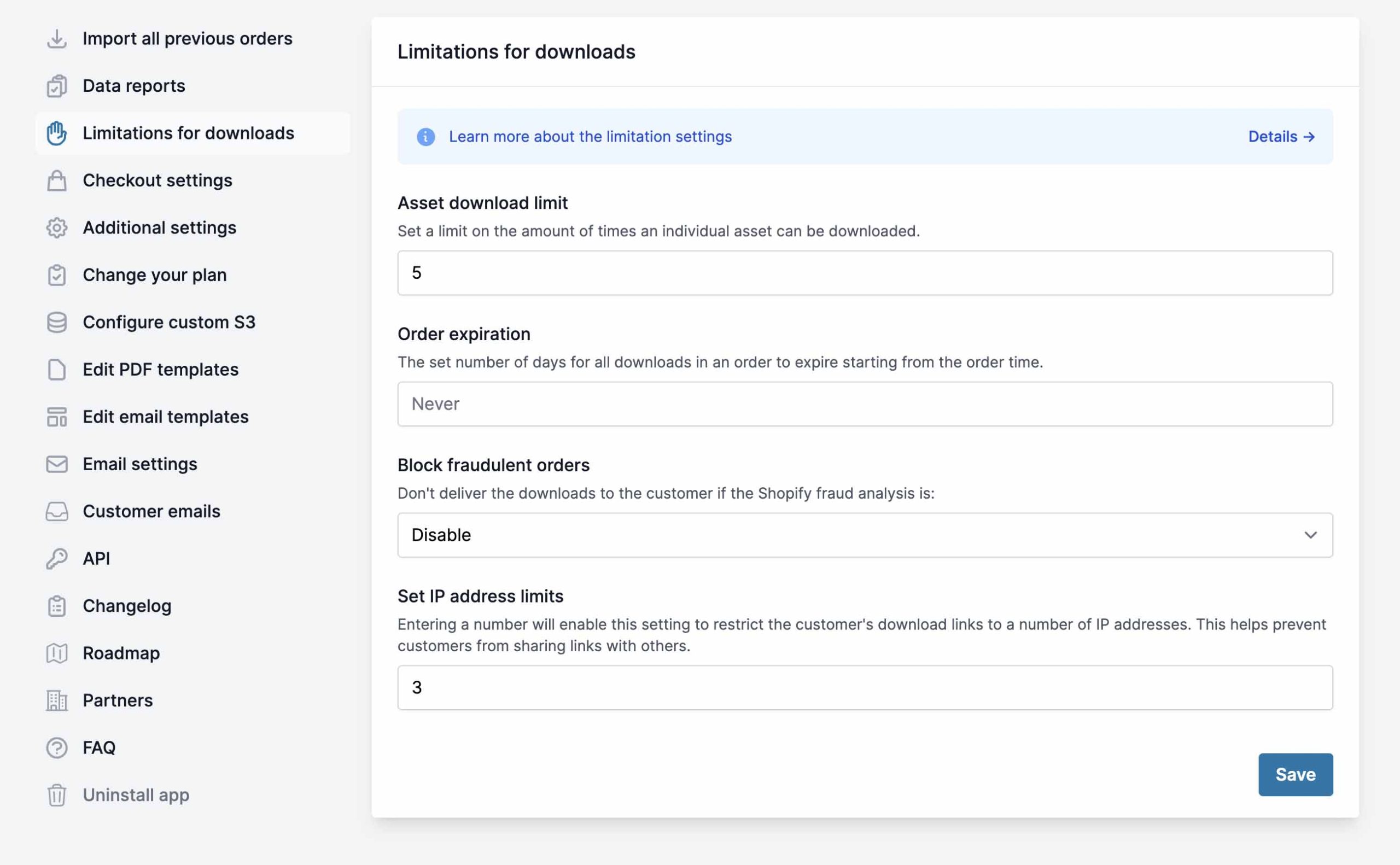 Now you're done!
That's all you need to sell digital art or prints on Shopify. It's much easier than you think. I hope this article has made you realise how straightforward it is. If you get stuck with anything, please contact us, and we're always happy to help with stuff like this (for free!).
Selling large digital files? Go check our guide on the best route to sell large digital files on Shopify.
Video tutorial – sell digital art & prints on Shopify
Assuming you have already got products in your Shopify store, you can follow this tutorial to find out exactly how to set up your digital products on Shopify.
Marketing your digital products
Marketing is one of the most powerful skills in the world. You could have the best product, but if you don't know how to sell it, then you're not going to get any sales.
You need to make sure you have a solid list of platforms you can try and sell your digital art and prints on. Make sure that you have a plan too.
The best marketing platforms (from our experience) are listed as follows:
Influencers
Google ads (YouTube and Google)
Meta ads
TikTok ads
Twitter ads
Snapchat ads
Reddit ads
LinkedIn ads
You will also need to get some help with creating video or photo content. This isn't easy at all to do yourself as it takes so long to get the right stuff.
Where can I find content creators to help with marketing?
There is a wide range of places where you can find great content creators:
Social media
Simply look on social media and see their profiles. There are a lot of great creators out there these days who are super keen to create. Drop them a DM, and they will surely get back to you if you offer something.
Upwork or People Per Hour
Upwork or PeoplePerHour can be good for finding content creators, but don't expect the quality to be amazing. There are a lot of people on there who don't really know what they're doing. But you will find the odd gem here and there.
Word of mouth
Nothing is better than word of mouth, getting suggested someone by someone else who has had a great experience.
Mistakes to avoid when selling digital products
There are a lot of mistakes you can make when selling digital products. I would highly recommend you check out our guide 19 mistakes to avoid when selling digital products guide before you start!
If you have any questions, just contact us.
What are the best digital products to sell?
The question is, what digital products can I sell? We have one of the most successful digital download apps on Shopify with tonnes of data. We've compiled the best-selling digital files to help give you inspiration on what you can sell.
See our guide on best-selling digital products to learn more.
In short, there are a few that really sell more than others. See our list of the best-selling digital files:
PDF files (best-seller)
Zip files
Images
Audio files
Video
Documents
Digital art
Surprised? It's quite awesome seeing what the most popular file types are for selling on Shopify. If you are looking for more inspiration on what to sell, visit our guide above.